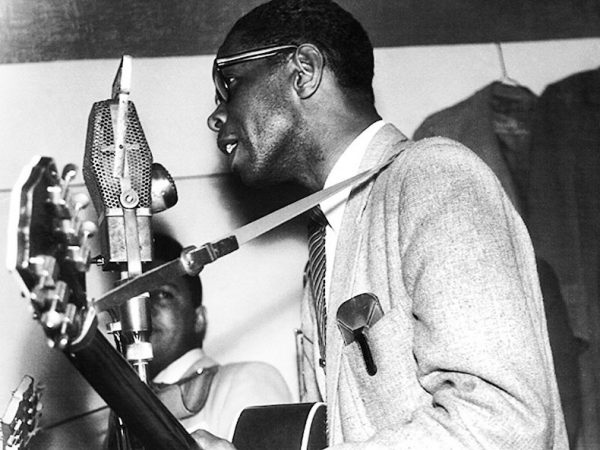 Dust My Broom: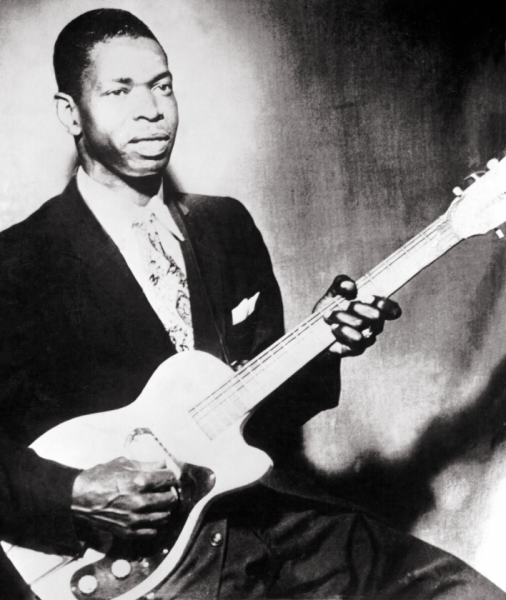 Wikipedia:
Birth name
Elmore Brooks
Born
January 27, 1918
Richland, Holmes County, Mississippi, United States
Died
May 24, 1963 (aged 45)
Chicago, Illinois, United States
Genres
Blues
Occupations
Musician, singer-songwriter
Instruments
Guitar, vocals
Elmore James (January 27, 1918 – May 24, 1963) was an American blues guitarist, singer, songwriter, and band leader. He was known as King of the Slide Guitar but he was also noted for his use of loud amplification and his stirring voice.
The Sky Is Crying:
Influence:
The Rolling Stones' Brian Jones (Keith Richards wrote in his book that at the time he met Brian Jones, Brian called himself Elmo Lewis, and that he wanted to be Elmore James)
John Mayall included "Mr. James" on his 1969 "Looking Back" album as a dedication to James
James' songs "Done Somebody Wrong" and "One Way Out" were often covered by The Allman Brothers Band, who were influenced by James
James was also covered by blues-rock band Stevie Ray Vaughan and Double Trouble many times in concert
The most famous guitarist who admired James was Jimi Hendrix. Early in his career Hendrix styled himself variously as 'Maurice James' and subsequently as 'Jimmy James.' This, according to former bandmate and recording partner Lonnie Youngblood, was a tribute to Elmore James.
James is mentioned in The Beatles' song "For You Blue": while John Lennon plays the slide guitar (James' trademark)
The Grateful Dead, John Primer (Blue Steel CD), Billy Gibbons and Eric Clapton are other notable artists to have recorded Elmore James covers. Clapton also recorded a song with Jimmy Page called "Tribute to Elmore" that first appeared on the 1968 compilation album Blues Anytime Vol. 1.
On the 1974 record Second Album, Roy Buchanan included an instrumental song he wrote titled "Tribute to Elmore James," which begins with James' classic slide guitar riff, and uses his soloing style throughout.
It Hurts Me Too:
Shake Your Money Maker:
–
James died of a heart attack in Chicago in 1963, as he was about to tour Europe with that year's American Folk Blues Festival. He was buried in the Newport Baptist Church Cemetery, in Ebenezer, Mississippi.
–
Other January 27:
Michael Allan "Mike" Patton (born January 27, 1968) is an American singer-songwriter, multi-instrumentalist, producer, and actor, best known as the lead singer of the metal/experimental rock band Faith No More. He has also sung for Mr. Bungle (which preceded his involvement with FNM), Tomahawk, Fantômas, Lovage, The Dillinger Escape Plan and Peeping Tom.


Robert Calvin Bland (born January 27, 1930) better known as Bobby "Blue" Bland, is an American singer of blues and soul. He is an original member of the Beale Streeters, and is sometimes referred to as the "Lion of the Blues". Along with such artists as Sam Cooke, Ray Charles, and Junior Parker, Bland developed a sound that mixed gospel with the blues and R&B.


Bobby Bland was inducted into the 

Blues Hall of Fame

 in 1981, the 

Rock and Roll Hall of Fame

 in 1992, and received the 

Grammy Lifetime Achievement Award

 in 1997.

Mahalia Jackson (October 26, 1911 – January 27, 1972) was an African-American gospel singer. Possessing a powerful contralto voice, she was referred to as "The Queen of Gospel".

 

Jackson became one of the most influential gospel singers in the world, and was heralded internationally as a singer and civil rights activist; entertainer Harry Belafonte called her "the single most powerful black woman in the United States". She recorded about 30 albums (mostly for Columbia Records) during her career, and her 45 rpm records included a dozen "golds"—million-sellers.

– Egil