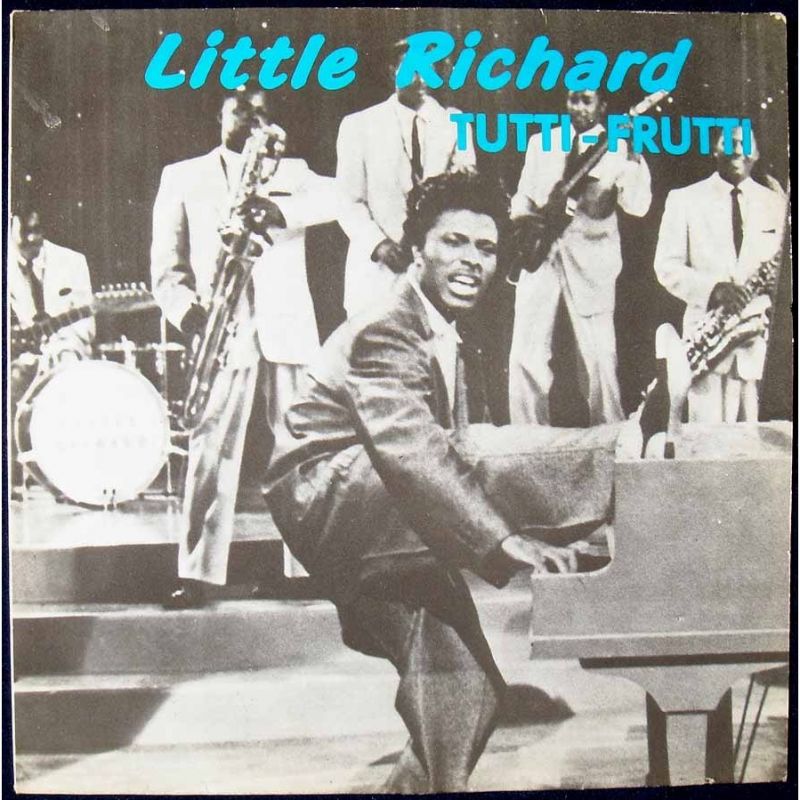 The phrase next to Robert Zimmerman's picture in the 1959 Hibbing High School Yearbook was "To join Little Richard."

"Bob Dylan is my brother. I love him same as Bobby Darin is my baby. I feel Bob Dylan is my blood brother. I believe if I didn't have a place to stay, Bob Dylan would buy me a house. He sat by my bed; he didn't move for hours. I was in pain that medicine couldn't stop. My tongue was cut out, leg all tore up, bladder punctured. I was supposed to be dead. Six feet under. God resurrected me; that's the reason I have to tell the world about it."
– Little Richard (to John Waters, 1987)
Tutti Frutti (meaning "all fruits" in Italian) is a song written by Little Richard (Richard Wayne Penniman) along with Dorothy LaBostrie that was recorded in 1955 and became his first major hit record. With its opening cry of "A-wop-bom-a-loo-mop-a-lomp-bom-bom!" (a verbal rendition of a drum pattern that Little Richard had imagined) and its hard-driving sound and wild lyrics, it became not only a model for many future Little Richard songs, but also a model for rock and roll itself. The song introduced several of rock music's most characteristic musical features, including its loud volume and vocal style emphasizing power, and its distinctive beat and rhythm.
It was recorded in September 1955 and released in November the same year.
In 2007, an eclectic panel of renowned recording artists voted "Tutti Frutti" No. 1 on Mojo's The Top 100 Records That Changed The World, hailing the recording as "the sound of the birth of rock and roll." In 2010, the U.S. Library of Congress National Recording Registry added the recording to its registry, claiming the "unique vocalizing over the irresistible beat announced a new era in music". In April 2012, Rolling Stone magazine declared that the song "still contains what has to be considered the most inspired rock lyric ever recorded: ""A-wop-bom-a-loo-mop-a-lomp-bom-bom!!"
Here's Little Richard is the debut album from Little Richard, released on March 1957. He had scored six Top 40 hits the previous year, some of which were included on this recording. It was his highest charting album, at 13 on the Billboard Pop Albums chart. In 2003, the album was ranked number 50 on Rolling Stone magazine's list of the 500 greatest albums of all time. It is included in the book 1001 Albums You Must Hear Before You Die. The album contained two of Richard's biggest hits, "Long Tall Sally", which reached #6 in the U.S. Pop charts, and "Jenny, Jenny", which reached #10 in the U.S. Pop charts. Tutti Frutti was the album opener.