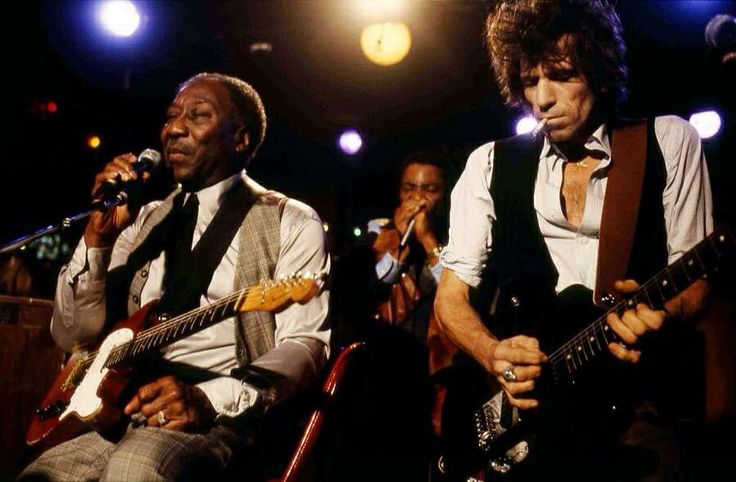 Live at the Checkerboard Lounge, Chicago 1981 is a concert video and live album by American blues musician Muddy Waters and members of British rock band the Rolling Stones. In the middle their American tour, the Rolling Stones arrived in Chicago for a three-night run at the Rosemont HorizonOn their night off, several of the Stones hit Buddy Guy's club, the Checkerboard Lounge, to see Muddy Waters and his band (which featured guitarist John Primer and harpist George "Mojo" Buford at the time). An impromptu blues jam ensued, and before the night was done, Mick Jagger, Keith Richards, Ron Wood, Ian Stewart, Lefty Dizz, Junior Wells, and Guy himself had all appeared on the stage with Waters and his band. (Allmusic)
It was recorded on November 22, 1981 by David Hewitt on the Record Plant Black Truck, mixed by Bob Clearmountain, and released on July 10, 2012.
The Checkerboard Lounge was a blues club in Bronzeville, on the South Side of Chicago, which was established in 1972 by Buddy Guy and L.C. Thurman. During the club's existence, it frequently hosted musical acts including Stevie Ray Vaughan, Eric Clapton, Magic Slim, Vance Kelly, and Chuck Berry.
(Muddy Waters) moves like no other blues singer and watching his somewhat oddly shaped hands both pound and caress his guitar constitute both a sensual and spiritual experience. His performance early in the night of "Baby Please Don't Go" manages to break your heart, send shivers up your spine, and leave you more or less destroyed. Even as one of the aging elder statesmen of the Chicago blues in 1981, he exudes an aura of sex and power, showing off every attribute that so inspired Mick and Keith and that became an ineffable part of their own music and their persona.
– Popmatters
SETLIST (Video footage)
0:03 introduction
1:44 You Don't Have to Go (Jimmy Reed cover)
7:27 Baby, Please Don't Go (Big Joe Williams cover)
8:30 Rolling Stones arrival
18:29 Hoochie Coochie Man (written by Willie Dixon)
23:27 Long Distance Call
28:08 Mannish Boy
38:31 Champagne & Reefer
Tracklist (Audio):
01 – You're Gonna Miss Me When I'm Gone 05:30
02 – Sweet Little Angel 03:35
03 – Flip Flop And Fly 01:50
04 – Introduction 01:40
05 – You Don't Have To Go 05:40
06 – Country Boy 10:15
07 – I'm A King Bee 04:30
08 – Trouble No More 02:50
09 – County Jail 04:50
10 – Baby Please Don't Go 11:00
11 – Hoochie Coochie Man 04:10
12 – Long Distance Call 04:55
13 – Mannish Boy 10:25
14 – Got My Mojo Workin' 03:20
15 – Next Time You See Me 10:50
16 – One Eyed Woman 09:40
17 – Baby Please Don't Go (Instrumental) 02:00
18 – Clouds In My Heart 06:20
19 – Champagne And Reefer 05:50
20 – Muddy Waters (Instrumental 1) 03:05
21 – Muddy Waters (Instrumental 2) 04:25
Total Lenght: 01:56:10
Personnel:
Muddy Waters and His Band
Muddy Waters – vocals, guitar
Rick Kreher – guitar
John Primer – guitar
Lovie Lee – piano
Earnest Johnson – bass
Ray Allison – drums
George "Mojo" Buford – harmonica
Guests:
Mick Jagger – lead vocals
Keith Richards – guitar
Ronnie Wood – guitar
Ian Stewart – piano
Buddy Guy – vocals, guitar
Lefty Dizz – vocals, guitar
Junior Wells – vocals, harmonica
Rick Kreher – guitar
Nick Charles – bass