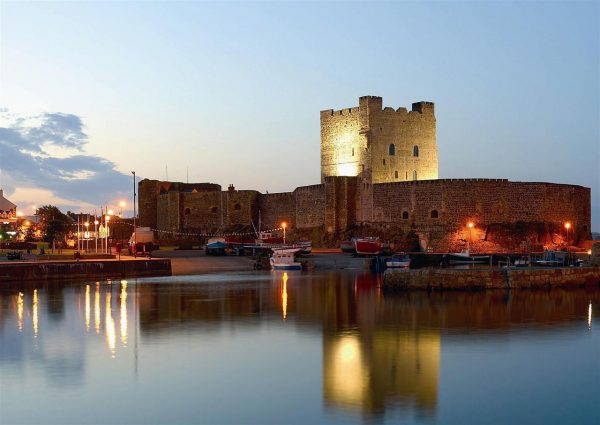 [vc_row][vc_column][vc_message message_box_color="mulled_wine" icon_fontawesome="fa fa-quote-left"]I wished I had you in Carrickfergus
Only for nights in Ballygrand
I would swim over the deepest ocean
The deepest ocean to be by your side[/vc_message][/vc_column][/vc_row]
"Carrickfergus" is an Irish folk song, named after the town of Carrickfergus in County Antrim, Northern Ireland. It was first recorded, under the name "The Kerry Boatman", by Dominic Behan on an LP called "The Irish Rover", released in 1965.
–
Van Morrison has performed "Carrickfergus" 86 times live (1988, 1989, 1990, 1994, 2002 & 2003) – top year was 1989 with 31 performances.
I love this song, and no one does it better than Van Morrison. Here are three brilliant versions.
From the album "Irish Heartbeat" w/The Chieftains:

But the sea is wide and I can't swim over
And neither have I wings to fly
I wish I could find me a handy boatman
To ferry me over to my love and die

My childhood days bring back sad reflections
To happy times spend so long ago
My boyhood friends and my own relations
Have all passed on like the melting snow

But I'll spend my days in endless roving
Soft is the grass and my bed is free
Oh, to be home now in Carrickfergus
On the long road down to the salty sea
Beacon Theater New York – 30 November 1989:

And in Kilkenny it is reported
On marble stone there as black as ink
'With gold and silver I did support her
But I'll sing no more now till I get a drink'

I'm drunk today and I'm rarely sober
A handsome rover from town to town
Oh, but I am sick now and my days are numbered
So come ye young men and lay me down"
The Joker Club on St Patrick's Night 1990:

[vc_row][vc_column][vc_separator][vc_btn title="Alldylan / Borntolisten @ Facebook" color="blue" i_icon_fontawesome="fa fa-facebook-official" add_icon="true" link="url:https%3A%2F%2Fwww.facebook.com%2FJohannasVisions%2F||target:%20_blank|"][/vc_column][/vc_row][vc_row][vc_column][vc_message message_box_style="outline" icon_fontawesome="fa fa-link" css_animation="bounceIn"]Check out:
[/vc_message][/vc_column][/vc_row]
-Egil