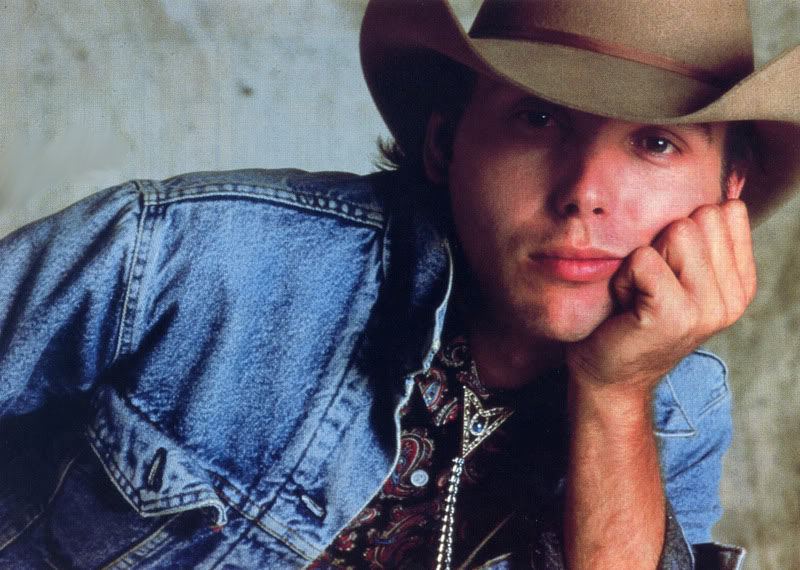 The primary purpose in [performing] is to receive that pure inspiration that I derived from it when I was a kid the first time I saw one of those guitar slingers on television cock his leg and throw that guitar down and start doing a song and became completely infatuated with that and the moment that I was able to transport myself to another place, another plane of existence, by doing it alone in a room, you know, and realizing the enormous satisfaction from doing that … I don't ever want to risk losing that as the primary catalyst for what I do musically.
~Dwight Yoakam
From Wikipedia:
Birth name
Dwight David Yoakam
Born
October 23, 1956 (age 60)
Pikeville, Kentucky,United States
Origin
Columbus, Ohio, United States
Genres
Country Rock
Occupations
Singer-songwriter, actor, director
Instruments
Guitar, vocals
Years active
1984–present
Labels
Reprise
Audium
New West
Warner Bros. Nashville
Associated acts
Buck Owens
Website
http://www.dwightyoakam.com/
Dwight David Yoakam (born October 23, 1956) is an American singer-songwriter, actor and film director, most famous for his pioneering country music. Popular since the early 1980s, he has recorded more than twenty-one albums and compilations, charted more than thirty singles on the Billboard Hot Country Songs charts, and sold more than 25 million records.
Guitars, Cadillacs:

From allmusic.com – Stephen Thomas Erlewine:
With his stripped-down approach to traditional honky tonk and Bakersfield country, Dwight Yoakamhelped return country music to its roots in the late '80s. Like his idols Buck Owens, Merle Haggard, andHank Williams, Yoakam never played by Nashville's rules; consequently, he never dominated the charts like his contemporary Randy Travis. Then again, Travis never played around with the sound and style of country music like Yoakam. On each of his records, he twists around the form enough to make it seem like he doesn't respect all of country's traditions. Appropriately, his core audience was composed mainly of roots rock and rock & roll fans, not the mainstream country audience. Nevertheless, he was frequently able to chart in the country Top Ten, and he remained one of the most respected and adventurous recording country artists well into the '90s.
…read more over @ allmusic.com 
a medley performed @ The Grand Ole Opry:



–
Album of the day – Guitars, Cadillacs, etc etc (1986):
From allmusic.com – Thom Jurek:
Dwight Yoakam's Guitars, Cadillacs, Etc., Etc. began as an EP issued on the California Oak label. When Reprise signed him, they added four more tracks to the mix to round it out as an album. Yoakam, a Kentuckian, brought country music back into its own medium by reviving the classic Bakersfield sound with the help of his producer and lead guitarist, former Detroiter Pete Anderson. As a result, the "new traditionalist" movement was born, but Yoakam was always a cut or three above the rest, as this album displays in spades. Guitars, Cadillacs, Etc., Etc. kicks off with a smoking cover of Johnny Horton's "Honky Tonk Man," a song now so closely associated with Yoakam, the original has all but been forgotten. But this is only the beginning. Yoakam's own songs such as "Bury Me," a duet with Maria McKee, and "South of Cincinnati" reference both the pastoral and dark sides of his native state. "South of Cincinnati" is a paean to those who left Kentucky for Ohio in search of jobs, and "Bury Me" celebrates the land itself. In addition, the title track, with Anderson's Don Rich-influenced guitar style, walks the Buck Owens line until the line extends to Yoakam. With fiddles and backing vocals, Yoakam's street poetry is both poignant and profound, built into a barroom anthem. In addition to this there is the gorgeous "Miner's Prayer," an acoustic number powered by dobro (courtesy of David Mansfield), flat-picked guitar, and Yoakam's singing of his grandfather and generations like him who lived and died in the mines of Kentucky. Here Bill Monroe meets Ralph Stanley meets Bob Dylan.  .. read more @ allmusic.com
-Egil