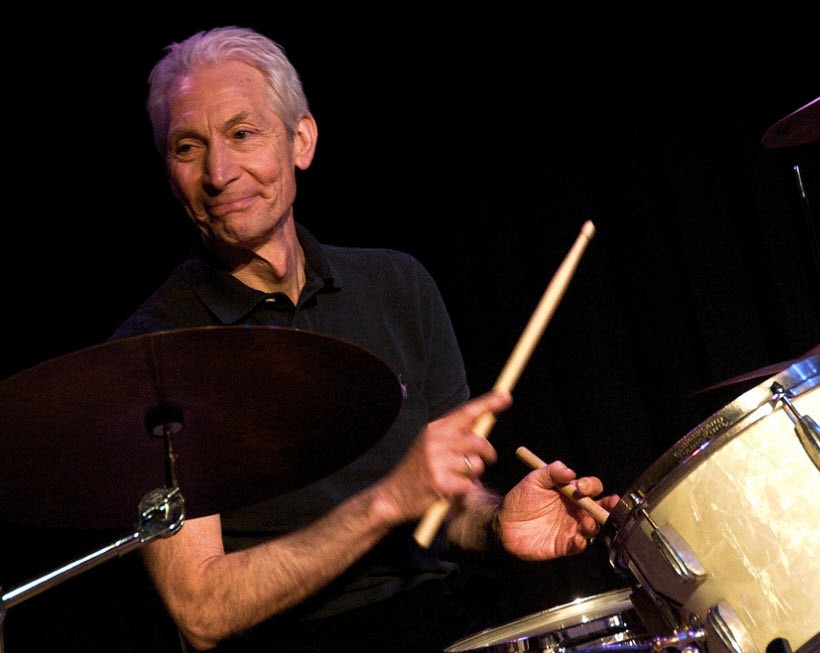 Rock and roll has probably given more than it's taken.
~Charlie Watts

Usually I can hear the pianos, the saxophone, and usually I can hear Ronnie. But I really need to listen to Keith and Mick. The rest of the band is sort of an embellishment to that.
~Charlie Watts

People say I play real loud. I don't, actually. I'm recorded loud and a lot of that is because we have good engineers. Mick knows what a good drum sound is as well, so that's part of the illusion really. I can't play loud.
~Charlie Watts
Nice tribute from youtube:

The Rolling Stones performing "All Down The Line", live in Texas, June 1972:

Wikipedia:
Charles Robert "Charlie" Watts (born 2 June 1941) is an English drummer, best known as a member of the Rolling Stones. He is also the leader of a jazz band, a record producer, commercial artist, and horse breeder.
Birth name
Charles Robert Watts
Born
2 June 1941 
Kingsbury, London, England
Genres
Rock, jazz, blues, blues rock,R&B, rock and roll, psychedelic rock
Occupations
Musician, composer, producer
Instruments
Drums, percussion
Years active
1960–present
Labels
Decca, Rolling Stones, Virgin
Associated acts
Blues Incorporated, the Rolling Stones, The Charlie Watts Tentet
There are many instances where Jagger and Richards have lauded Watts as the key member of The Rolling Stones. Richards went so far as to say in a 2005 Guitar Player magazine interview that the Rolling Stones would not be, or could not continue as, the Rolling Stones without Watts. An example of Watts's importance was demonstrated in 1993, after Bill Wyman had left the band. After auditioning several bassists, Jagger and Richards asked Watts to choose the new bass player. Watts selected the respected session musician Darryl Jones, who had previously been a sideman for both Miles Davis and Sting.
Charlie Watts "If It Ain't Got That Swing":
A musical journey guided by Charlie Watts from The Rolling Stones.

–
A famous anecdote relates that during the mid-1980s, an intoxicated Jagger phoned Watts' hotel room in the middle of the night asking "Where's my drummer?". Watts reportedly got up, shaved, dressed in a suit, put on a tie and freshly shined shoes, descended the stairs, and punched Jagger in the face, saying: "Don't ever call me your drummer again. You're my fucking singer!"
–
Just about everyone considers Charlie Watts to be the coolest man in rock, but he would be just as happy to be considered one of the coolest men in jazz.

Bringing the sensibilities of a jazz drummer to rock music has always been at the heart of what has made Charlie Watts one of the most respected musicians in the world
~rollingstones.com
–
The Rolling Stones performing "Gimme Shelter", live at the Shanghai Grand Stadium, 8th April 2006.

-Egil