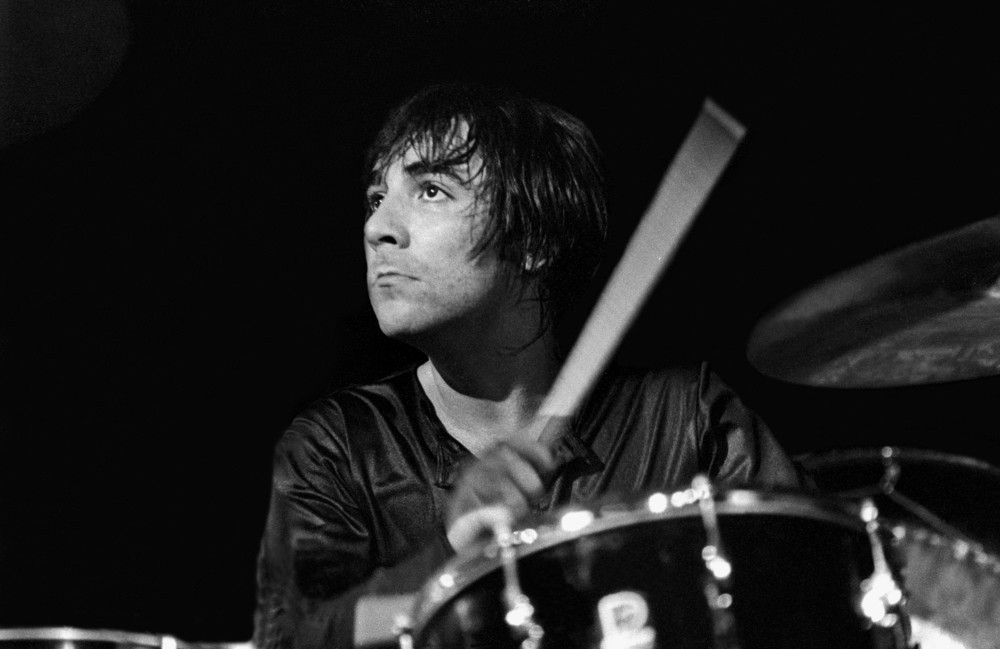 Keith Moon Tribute (featuring clips from the life of Moonie, song: Baba O'Riley):

From Wikipedia:
Birth name
Keith John Moon
Born
23 August 1946
Wembley, Middlesex, England
Died
7 September 1978 (aged 32)
Westminster, London
Genres
Rock, art rock, hard rock,power pop
Occupations
Musician, songwriter, producer, actor
Instruments
Drums, percussion, vocals,bugle, trumpet, tuba
Years active
1962–1978
Associated acts
The Who, Plastic Ono Band, Jeff Beck Group
Keith John Moon (23 August 1946 – 7 September 1978) was an English musician, best known for being the drummer of the English rock group The Who. He gained acclaim for his exuberant and creative drumming style, and notoriety for his eccentric and often self-destructive behaviour, earning him the nickname "Moon the Loon". Moon joined The Who in 1964. He played on all albums and singles from their debut, 1964's "Zoot Suit", to 1978's Who Are You, which was released three weeks before his death.
Moon was known for dramatic, suspenseful drumming—often eschewing basic back beats for a fluid, busy technique focused on fast, cascading rolls across the toms, ambidextrous double bass drum work and wild cymbal crashes and washes. He is mentioned in the Rock and Roll Hall of Fame as one of the greatest of all rock and roll drummers, and was posthumously inducted into the Rock Hall as a member of The Who in 1990.
Moon's legacy, as a member of The Who, as a solo artist, and as an eccentric personality, continues to garner awards and praise, including a Rolling Stone readers' pick placing him in second place of the magazine's "best drummers of all time" in 2011, nearly 35 years after his death.
Moon led a very destructive lifestyle. He laid waste to hotel rooms, the homes of friends and even his own home…….
Along with his drum sets, Moon's infamous (and favourite) calling card was to flush powerful explosives down toilets. It has been estimated that his destruction of toilets and plumbing ran as high as UK£300,000 (US$500,000). His levels of destruction forced The Who to stay outside of New York City when the band performed there, and his repeated practice of blowing up toilets with explosives led to Moon being banned for life from lodging at several hotel chains around the world, including all Holiday Inn, all Sheraton, and all Hilton Hotels, as well as the Waldorf Astoria. Moon became so notorious for this practice that when Nick Harper was asked about his childhood memories spent around The Who, his first recollection was, "I remember Keith blowing up the toilets."

Moon & Iggy Pop
Legacy:
Keith Moon is often cited by critics as one of the greatest and most eccentric drummers in rock music. Holly George-Warren, editor and author of The Rock and Roll Hall of Fame: The First 25 Years, argues: "With the death of Keith Moon in 1978, rock arguably lost its single greatest drummer."

 

In the words of Pete Townshend, "The production of our [The Who's] records has nothing to do with sound. It's got to do with trying to keep Keith Moon on his fucking drum stool."

 

Dave Marsh's The New Book of Rock Lists ranks Moon at No. 1 on its list of The 50 Greatest Rock 'n' Roll Drummers.

 

Similarly, he was ranked at No. 2 on Rolling Stone's "The Best Drummers of All Time" readers poll in 2011.

 
Keith Moon bio from "Amazing Journey":

The Who – Baba O'Riley (Live In Texas '75):

Album of the day: Live at Leeds

– Egil & Hallgeir