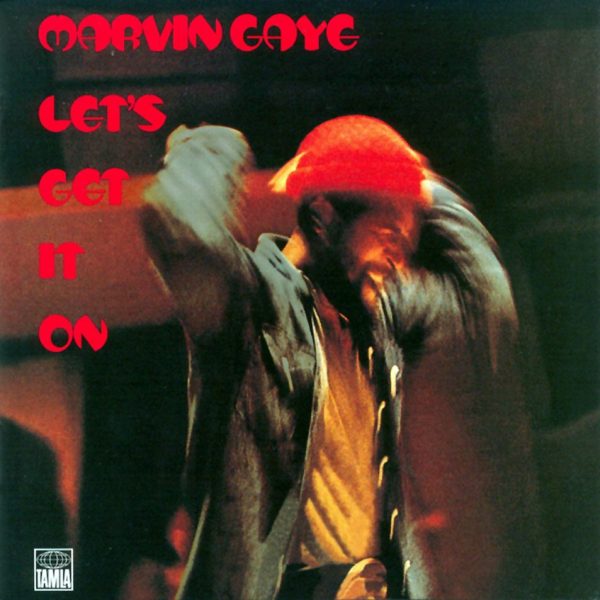 Let's Get It On:

From Wikipedia:
Released
August 28, 1973
Recorded
June 1, 1970 – April 11, 1972
Hitsville U.S.A., Golden World
(Detroit, Michigan)
February 1 – July 26, 1973
Hitsville West
(Los Angeles, California)
Genre
Soul, funk
Length
31:36
Label
Tamla
T-329V1
Producer
Marvin Gaye, Ed Townsend
Let's Get It On is the twelfth studio album by American recording artist Marvin Gaye, released August 28, 1973, on Tamla Records. Recording sessions for the album took place during June 1970 to July 1973 at Hitsville U.S.A. and Golden World Studio in Detroit, and at Hitsville West in Los Angeles. Serving as Gaye's first venture into the funk genre and romance-themed music, Let's Get It On incorporates smooth soul, doo-wop, and quiet storm. It has been noted by critics for its sexually suggestive lyrics, and was cited by one writer as "one of the most sexually charged albums ever recorded".
Following the breakthrough success of his socially conscious album What's Going On (1971), the album helped establish Marvin Gaye as a sex icon and furthered his mainstream appeal. It spawned three singles, "Let's Get It On", "Come Get to This", and "You Sure Love to Ball", that each attained Billboard chart success. Let's Get It On became the most commercially successful album of Gaye's recording career, and it further expanded his creative control during his tenure with Motown. Its sexual balladry, multi-tracking of Gaye's vocals, and seductive, funk sound influenced later R&B artists and production.
The album has been regarded by many music writers and critics as a landmark recording in soul music. It furthered funk music's popularity during the 1970s, and its smooth soul sound marked a change for his record label's previous success with the "Motown Sound" formula. Let's Get It On has been named one of the best albums of all time by various critics and publications. In 2001, it was reissued by Motown Records as a two-disc deluxe edition release.
After brilliantly surveying the social, political, and spiritual landscape with What's Going On, Marvin Gaye turned to more intimate matters with Let's Get It On, a record unparalleled in its sheer sensuality and carnal energy. Always a sexually charged performer, Gaye's passions reach their boiling point on tracks like the magnificent title hit (a number one smash) and "You Sure Love to Ball"; silky and shimmering, the music is seductive in the most literal sense, its fluid grooves so perfectly designed for romance as to border on parody. With each performance laced with innuendo, each lyric a come-on, and each rhythm throbbing with lust, perhaps no other record has ever achieved the kind of sheer erotic force of Let's Get It On, and it remains the blueprint for all of the slow jams to follow decades later — much copied, but never imitated.
~Jackson Ankeny (allmusic.com)
—
Accolades:
It was ranked number 58 on The Times's 1993 publication of the 100 Best Albums of All Time.

 

Blender magazine ranked the album number 15 on its list of the 100 Greatest American Albums of All Time.

 

In 2003, it was ranked number 165 on Rolling Stone's 500 Greatest Albums of All Time publication, his second highest entry on the list,

 

as well as one of three Marvin Gaye albums to be included; What's Going On (number 6) and Here, My Dear (number 462).

 

In 2004, Let's Get It On was inducted into the Grammy Hall of Fame and cited by The Recording Academy as a recording of "historical significance".
You Sure Love to Ball:

Come Get To This – Live:

Album of the day – "Let's Get It On" (1973):

-Egil