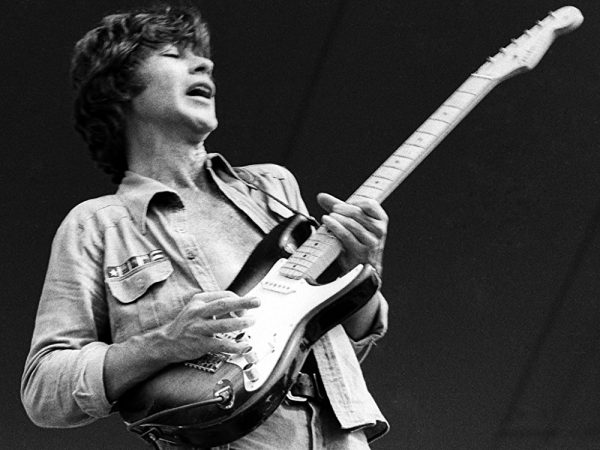 Eric Clapton inducts the Band into the Rock and Roll Hall of Fame in 1994:

The Band – The Night They Drove Old Dixie Down (Last Waltz):

From Wikipedia:
| | |
| --- | --- |
| Birth name | Jaime Robert Klegerman |
| Born | July 5, 1943 (age 75), Toronto, Ontario, Canada |
| Origin | Toronto, Ontario, Canada |
| Genres | Rock, country rock, rhythm and blues |
| Occupations | Musician, songwriter, producer, creative executive, actor |
| Instruments | Guitar, vocals, piano, bass, harmonica, autoharp, melodica |
| Years active | 1960–present |
| Labels | Capitol, Geffen, Warner, 429 |
| Associated acts | The Band, Ronnie Hawkins & The Hawks, Bob Dylan, John Hammond Jr. |
| Website | robbie-robertson.com |
Robbie Robertson, OC (born Jaime Robert Klegerman; July 5, 1943) is a Canadian singer-songwriter, and guitarist. He is best known for his membership as the guitarist and primary songwriter within The Band. He was ranked 59th in Rolling Stone magazine's list of the 100 Greatest Guitarists of All Time. The Band has been inducted into the Rock and Roll Hall of Fame and the Canadian Music Hall of Fame. As a songwriter Robertson is responsible for such classics as "The Weight", "The Night They Drove Old Dixie Down", "Up On Cripple Creek", "Broken Arrow" and "Somewhere Down the Crazy River", and has been inducted into the Canadian Songwriters Hall of Fame.
Once in the midsummer madness [late 60's after the motorcycle accident] I was riding in a car with Robbie Robertson, the guitar player in what later was to be called The Band. I felt like I might as well have been living in another part of the solar system. He says to me, "Where do you think you're gonna take it?"
I said, "Take what?"
"You know, the whole music scene." The whole music scene! The car window was rolled down about an inch. I rolled it clown the rest of the way, felt a gust of wind blow into my face and waited for what he said to die away—it was like dealing with a conspiracy. No place was far enough away. I don't know what everybody else was fantasizing about but what I was fantasizing about was a nine-to-five existence, a house on a tree-lined block with a white picket fence, pink roses in the backyard. That would have been nice. That was my deepest dream.
~Bob Dylan (Chronicles Volume One)
Robbie Robertson – Somewhere down the crazy river (official video):

Check out this great interview:
Discography
Albums with The Band
1968 Music from Big Pink
1969 The Band
1970 Stage Fright
1971 Cahoots
1972 Rock of Ages
1973 Moondog Matinee
1975 Northern Lights – Southern Cross
1977 Islands
1978 The Last Waltz
1995 Live at Watkins Glen
Albums with Bob Dylan and The Band
1966 Blonde on Blonde
1970 Self Portrait
1974 Planet Waves
1974 Before the Flood
1975 The Basement Tapes
1998 The Bootleg Series Vol. 4: Bob Dylan Live 1966, The "Royal Albert Hall" Concert
Solo recordings
1987 Robbie Robertson
1991 Storyville
1994 Music for The Native Americans
1998 Contact from the Underworld of Redboy
2011 How to Become Clairvoyant (US No. 13, UK #56)
Here is a real gem from youtube – The Band, performing live at The Syria Mosque, Pittsburgh, PA, recorded on November 1st, 1970.
Performing: Time to Kill, The Weight, This Wheel's on Fire, Up on Cripple Creek
Album of the day:
The Band (1969)
..it was The Band's sound that stood out the most, from Helm's (and occasionally Manuel's) propulsive drumming to Robertson's distinctive guitar fills and the endlessly inventive keyboard textures of Garth Hudson, all topped by the rough, expressive singing of Manuel, Helm, and Rick Danko that mixed leads with harmonies. The arrangements were simultaneously loose and assured, giving the songs a timeless appeal, while the lyrics continued to paint portraits of 19th century rural life (especially Southern life, as references to Tennessee and Virginia made clear), its sometimes less savory aspects treated with warmth and humor.
~William Ruhlmann (allmusic.com)
Check out:
– Hallgeir & Egil