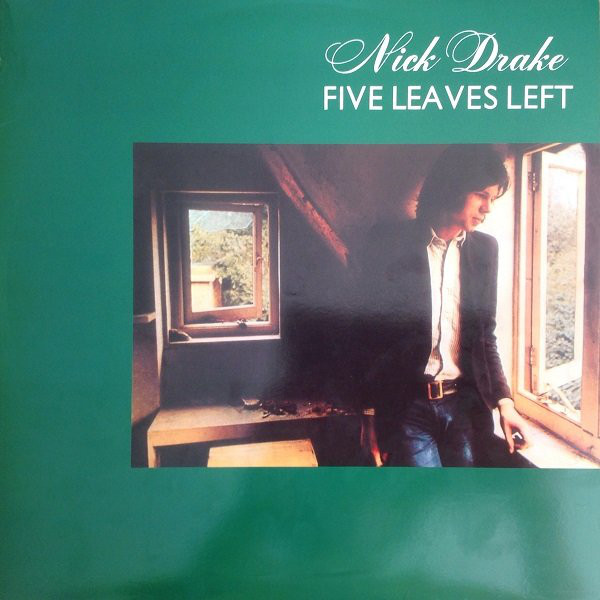 River Man:

Released
3 July 1969
Recorded
July 1968 – June 1969 at Sound Techniques, London, England
Genre
Folk
Length

41

:

43

Label
Island
Producer
Joe Boyd
Wikipedia:
Five Leaves Left was recorded between July 1968 and June 1969 at Sound Techniques in London, England. Engineer John Wood recalled that "[Drake] would track live, singing and playing along with the string section" without the use of any overdubbing. For the song "River Man", producer Joe Boyd described Drake playing on a stool in the centre of the studio while surrounded by a semi-circle of instruments. The studio's environment was also an important factor as it had multiple levels to it which enabled the creation of interesting sounds and atmospheres.
Among his various backing musicians, Drake was accompanied by Richard Thompson from Fairport Convention and Danny Thompson of Pentangle. Robert Kirby, a friend of Drake's from his youth, arranged the string instruments for several tracks while Harry Robinson arranged the strings for "River Man".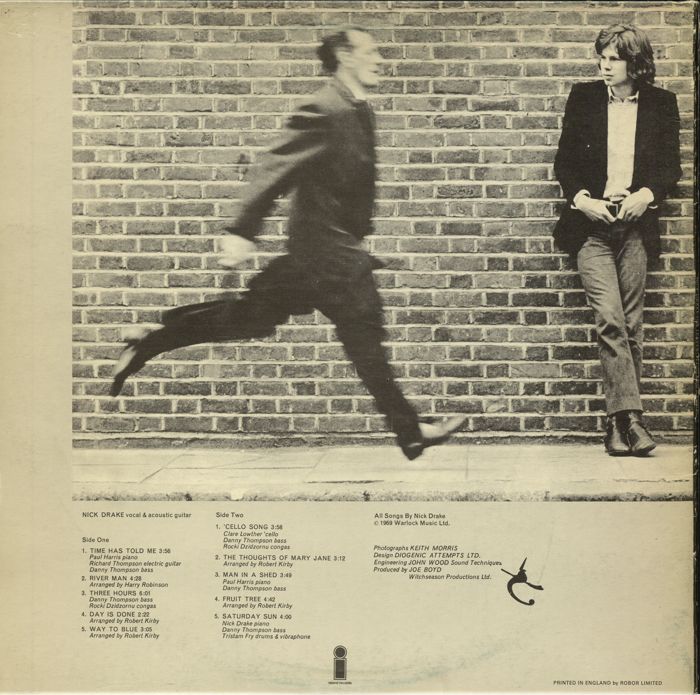 Time Has Told Me:

Way To Blue:

Accolades
The album was ranked number 283 on Rolling Stone magazine's original 2003 list of "The 500 Greatest Albums of All Time".
NME ranked it at number 258 on their 2013 list of "NME's The 500 Greatest Albums of All Time", noting that "his maudlin songs are brought vividly to life with orchestration from Fairport Convention, Pentangle and arranger Robert Kirby".
A list of the "200 Greatest Albums of All Time" in Uncut in 2016 placed the album at number 183.
A list of "The 100 Greatest Debut Albums" in Uncut in 2006 placed Five Leaves Left at number 29.
The record was also included in a list of "Debut Albums That Changed Music" in Q magazine in 2017.
In a 2007 Mojo article titled "100 Records That Changed the World" Five Leaves Left was placed at number 78.
It is also included in the book 1001 Albums You Must Hear Before You Die, which called it "a remarkable work: stuffed with complex, introspective music but leavened with arrangements and production straight off the top shelf … the record is full of glittering, warm sounds that have not aged a jot in the interim", and concluded that Drake "rarely excelled himself more than on this first album".
Track listing
All tracks written by Nick Drake.
Side A
No.
Title
Length
1.
"Time Has Told Me"
4:27
2.
"River Man"
4:21
3.
"Three Hours"
6:16
4.
"Way to Blue"
3:11
5.
"Day Is Done"
2:29
Side B
No.
Title
Length
6.
"'Cello Song"
4:49
7.
"The Thoughts of Mary Jane"
3:22
8.
"Man in a Shed"
3:55
9.
"Fruit Tree"
4:50
10.
"Saturday Sun"
-Egil