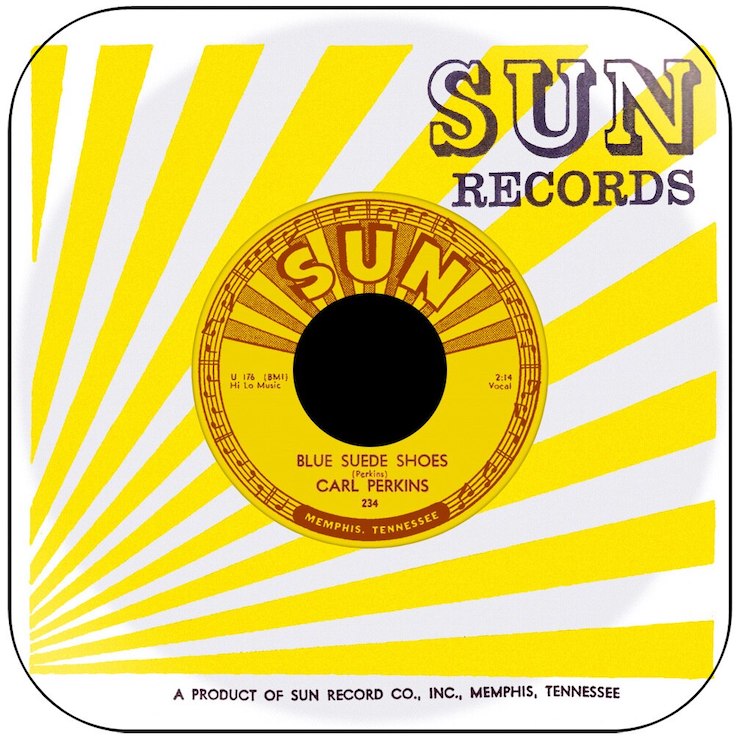 [vc_row][vc_column][vc_message message_box_color="mulled_wine" icon_fontawesome="fa fa-quote-left"]Well it's one for the money, two for the show
Three to get ready, now go cat go
But don't you, step on my blue suede shoes[/vc_message][/vc_column][/vc_row]
Wikipedia:
Recorded
December 19, 1955
Studio
Memphis Recording Service, Memphis, Tennessee
Genre
Rockabilly, rock and roll
Length

2

:

14

Label
Sun

Songwriter(s)

Carl Perkins

Producer(s)

Sam Phillips
"Blue Suede Shoes" is a rock-and-roll standard written and first recorded by Carl Perkins in 1955. It is considered one of the first rockabilly records, incorporating elements of blues, country and pop music of the time. Perkins' original version of the song was on the Cashbox Best Selling Singles list for 16 weeks and spent two weeks at the number two position.
Carl Perkins
1956

Elvis Presley
1956

Jimi Hendrix
Eddie Cochran
The Dave Clark Five
1965

John Lennon & Plastic Ono Band
1969 – Toronto

Paul McCartney & Eric Clapton
Motorhead
Black Sabbath
Jerry Lee Lewis
Ry Cooder
Johnny Cash
1976

"Blue Suede Shoes" was chosen by the Rock and Roll Hall of Fame as one of the "500 Songs That Shaped Rock and Roll". In 1986, Perkins' version was inducted in the Grammy Hall of Fame and in 1999, National Public Radio included "Blue Suede Shoes" in the NPR 100, in which NPR's music editors sought to compile the 100 most important American musical works of the 20th century.
[vc_row][vc_column][vc_separator][vc_btn title="Borntolisten @ Facebook" color="blue" i_icon_fontawesome="fa fa-facebook-official" add_icon="true" link="url:https%3A%2F%2Fwww.facebook.com%2FJohannasVisions%2F||target:%20_blank|"][/vc_column][/vc_row][vc_row][vc_column][vc_message message_box_style="outline" icon_fontawesome="fa fa-link" css_animation="bounceIn"]Check out:
[/vc_message][/vc_column][/vc_row]