I've got a problem but it ain't like what you think
I drink because I'm lonesome and I'm lonesome 'cause I drink
~Whiskey and You

"A lot of my earliest memories of music were listening to music in the car with my dad, he listened to a lot of outlaw country, Merle Haggard and things like that and then old R&B: Ray Charles, Aretha Franklin. Hopefully, some of this record reflects some of that and I think that he would have liked it. I like to think he would have, anyway."
– Chris Stapleton (PasteMagazine)

Really, it's unfair to peg him as country's savior: because records like this transcend genre altogether, created to mend souls, not sales.
~americansongwriter.com
Chris Stapleton released one of this year's strongest albums back in back in May. It's a fantastic record of soulful country songs. When I say soulful, I mean that the whole album is dripping with just as much soul as country. This isn't a new thing in country music (or the soul genre, for that matter), but it has been very long since we've heard it done this good.
The delivery is top notch and the melodic sense is out of this world. He is also a first class guitar slinger, but most of all he is an incredible singer and songwriter.
What is happening in country music right now is fantastic, good albums top the charts. We have gotten an alternative to the washed out pop crossover country that has dominated the lists for years. We have gotten artists with great credibility and quality, Jason Isbell, Kacey Musgraces, Sturgill Simpson, Ashley Monroe to name some. And this year we got Chris Stapleton, we are living in interesting times!
Let's here some soaring blues from Chris Stapleton, Sometimes I Cry (Jimmy Fallon):

wikipedia:
Released
May 5, 2015
Studio
RCA Studio A in Nashville
Genre
Length

63

:

29

Label
Mercury Nashville
Producer

Dave Cobb
Chris Stapleton
Traveller is the debut studio album by American country music singer Chris Stapleton. The album was produced by Dave Cobb and was released on May 5, 2015, through Mercury Nashville.
Described by critics as an old-school country record mixed with Southern rock, Traveller was named Album of the Year at the 2015Country Music Association Award. Furthermore, it received two nominations at the 58th Grammy Awards: Album of the Year andBest Country Album. It reached number one on the Billboard 200 chart, and was later certified gold by the Recording Industry Association of America (RIAA), for sales exceeding 500,000.
Chris Stapleton: NPR Music Tiny Desk Concert.
Songs:
"More Of You"
"When The Stars Come Out"
"Whiskey And You"

As a songwriter in Nashville, Chris Stapleton has written hits for Kenny Chesney, George Strait and Darius Rucker. As a singer, he once led the bluegrass band The SteelDrivers, and more recently stepped into the solo spotlight with Traveller, his debut album. It's the kind of country record that gets better the more you wear it in: When NPR Music named it one of our favorite albums of the first half of 2015, critic Ann Powers compared it to a "soft denim jacket … pulled out time after time, lending comfort, suiting every occasion, with treasure stuffed in every pocket."
It's easy to understand why other singers took to his songs — Stapleton writes lyrics that sound classic but never dated — but his softly creaking voice gives them the home they deserve.
even though those songs stand plenty well on their own, it's nice to have a little support. When Stapleton stepped behind the Tiny Desk to play selections from Traveller, he was joined by his wife Morgane on harmony vocals. Between patient, detailed songs of devotion to love, Los Angeles and liquor, they paused for banter about the summer heat in D.C. and the large number of guitars Chris owns ("Not supposed to tell that part," he said to Morgane).
Watch him hide behind a large hat, a beard and a battered vintage guitar; watch her smile at him during "More Of You" with a combination of admiration and affection. Like the songs themselves, their performance is full of private moments worth sharing widely.
– NPR (YouTube)
Stapleton's Album of the Year-winning Traveller is also his debut as a solo artist, and it encapsulates everything that makes him one of the most powerful and unique voices in country music today: gravelly, soulful and full of songs that ring like instant classics without ever resting too deeply in the past. With a voice like his, that can hit steeple-high notes in one breath and rumble like a twangy Ray Charles the next, he is capable of making most anything sound good – but paired with his stellar songwriting and ingenious knack for bending modern melody around Nashville tradition, Traveller is the complete package.
~rollingstone.com
Kix TV: Chris Stapleton interview (plus singing Whiskey and You):

"He has a variety of songs here, too, casually switching gears between bluegrass waltz, Southern rockers, crunching blues, soulful slow-burners, and swaggering outlaw anthems — every one of them belonging to a tradition, but none sounding musty due to Stapleton's casualness. Never once does he belabor his range, nor does he emphasize the sharply sculpted songs. Everything flows naturally, and that ease is so alluring upon the first spin of Traveller that it's not until repeated visits that the depth of the album becomes apparent."
– Thomas Erlewine (Allmusic)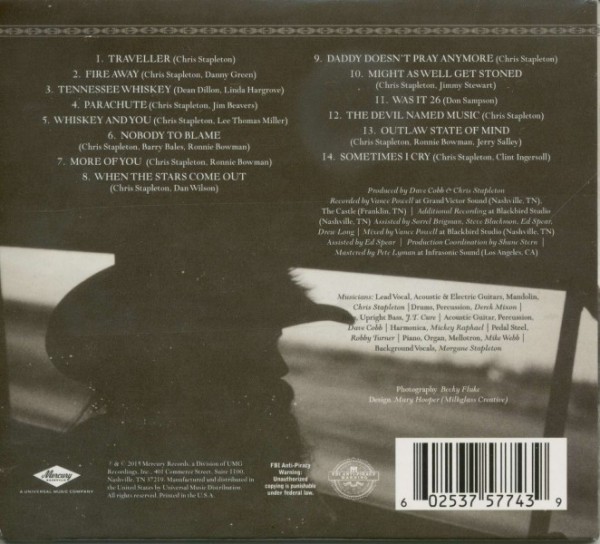 – Hallgeir & Egil
Bonus track:
Chris Stapleton rips through Allman Brothers's Whipping Post: