Irish Heartbeat is the eighteenth studio album by Northern Irish singer-songwriter Van Morrison and is a collaboration with the traditional Irish musical group The Chieftains, released in 1988. The album was recorded at Windmill Lane Studios in Dublin, Ireland and reached number 18 in the UK album charts.
The album was recorded on dates from September to December 1987 and in January 1988. The Chieftains and Van Morrison had met years before at the Edinburgh rock festival. They joined up in Belfast during Morrison's No Guru tour and afterwards, Morrison and Paddy Moloney discussed recording an album together during a walk. They each had a list of songs and reached a consensus to cover two of Morrison's previously released tracks (the title track was one) and the rest from traditional Irish songs.
Recalled Moloney:
I think at that time Van was searching for his Irish roots. It was this man of blues, of rock 'n' roll, jazz and more importantly soul, coming home to his Irishness with The Chieftains and the music we'd been playing for so many years. Musically we were going to meet each other half way.
In October 1987 they performed together at Balmoral Studio in Belfast. The concert was broadcast on St. Patrick's Day in 1988.
Here is a great show from Ulster Hall, Belfast.
Van Morrison and Chieftains Live September, 1988:

Set list:
Tore Down A La Rimbaud
In The Garden
Rave On John Donne
Did Ye Get Healed?
Star Of The County Down
She Moved Through The Fair
Ta Mo Chleamhnas Deanta
I'll Temm Me Ma
Carrickfergus
Celtic Ray
Marie's Wedding
Goodnight Irene
Moondance.
Arty McGlynn (guitar), Dave Early (drums), Clive Culbertson (bass), Ritchie Buckley (sax), Derek Bell (keyboards), June Boyce (backing vocals)
The Chieftains : Paddy Maloney, Matt Molloy, Kevin Conneff, Sean Keane and Martin Fay.
The album consists of eight traditional Irish songs, plus re-workings of the Morrison songs "Celtic Ray" (which first appeared on 1982's Beautiful Vision) and the title track "Irish Heartbeat" (which first appeared on 1983's Inarticulate Speech of the Heart). "Carrickfergus" is described as "a melancholic air worthy of Otis Redding" by critic Denis Campbell. "on Raglan Road" was adapted from a poem by Patrick Kavanagh and is the story of "a man ensnared by a beautiful revenant whom he had mistaken for 'a creature made of clay'." In 1994, Billy Connolly recorded a live cover of the song "Irish Heartbeat" during his World Tour of Scotland. The performance was used as the closing theme to the BBC series.
Star of the County Down (live, 1999):

"The result was a highlight in both of their '80s productions: the traditional Irish Heartbeat, with Morrison on lead vocals and a guest appearance from the Mary Black. Morrison and Moloney's production puts the vocals up front with a sparse background, sometimes with a backdrop of intertwining strings and flutes, the same way Morrison would later use the Chieftains on his Hymns to the Silence. The arrangement and the artist's engaged singing leads to a brilliant result, and these Irish classics are made very accessible without being transformed into pop songs."
– Lars Lovén (Allmusic)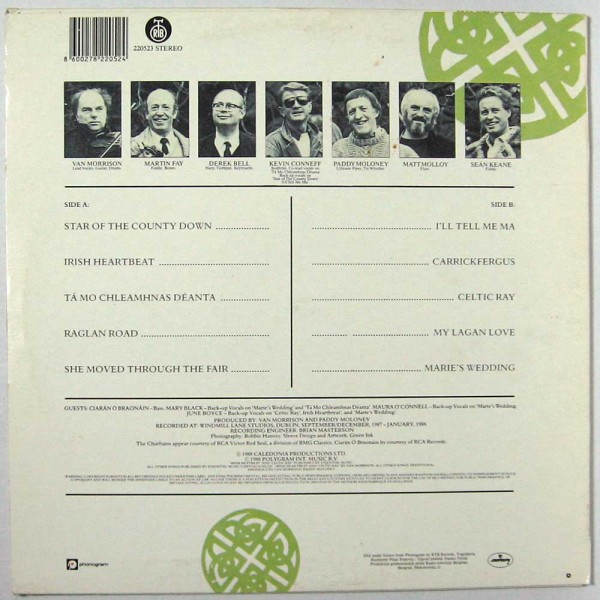 Irish Heartbeat at Spotify:

– Hallgeir