And Songs of Love and Hate captured Cohen in one of his finest hours as a songwriter, and the best selections (especially "Famous Blue Raincoat," "Joan of Arc," and "Love Calls You by Your Name") rank with the most satisfying work of his career. If Songs of Love and Hate isn't Cohen's best album, it comes close enough to be essential to anyone interested in his work.
~Mark Deming (allmusic.com)
Avalanche

–
Released
March 19, 1971
Recorded
September 22–26, 1970 at Columbia Studio A, Nashville (Second mix)
August 31, 1970 at Isle of Wight, Trident Studios, London (First mix)
Genre
Folk, folk rock
Length
44:21
Label
Columbia
Producer
Bob Johnston
Songs of Love and Hate is the third studio album by Canadian singer-songwriter Leonard Cohen. Produced by Bob Johnston, the album was released on March 19, 1971, through Columbia Records.
Last Year's Man

–
Recording
Cohen reunited with producer Bob Johnson, who was at the helm for the singer's previous album Songs From a Room, and also brought back guitarist Ron Cornelius, who acted as leader of Cohen's new crew of backing musicians, christened The Army. The album was mainly recorded in Columbia Studio A in Nashville September 22–26, 1970. "Sing Another Song, Boys" was recorded at the Isle of Wight Festival on August 30, 1970. Further recording took place at Trident Studios in London. The album title is descriptive, outlining its main themes, and it features several of Cohen's most famous compositions, including "Joan of Arc," "Avalanche," and "Famous Blue Raincoat."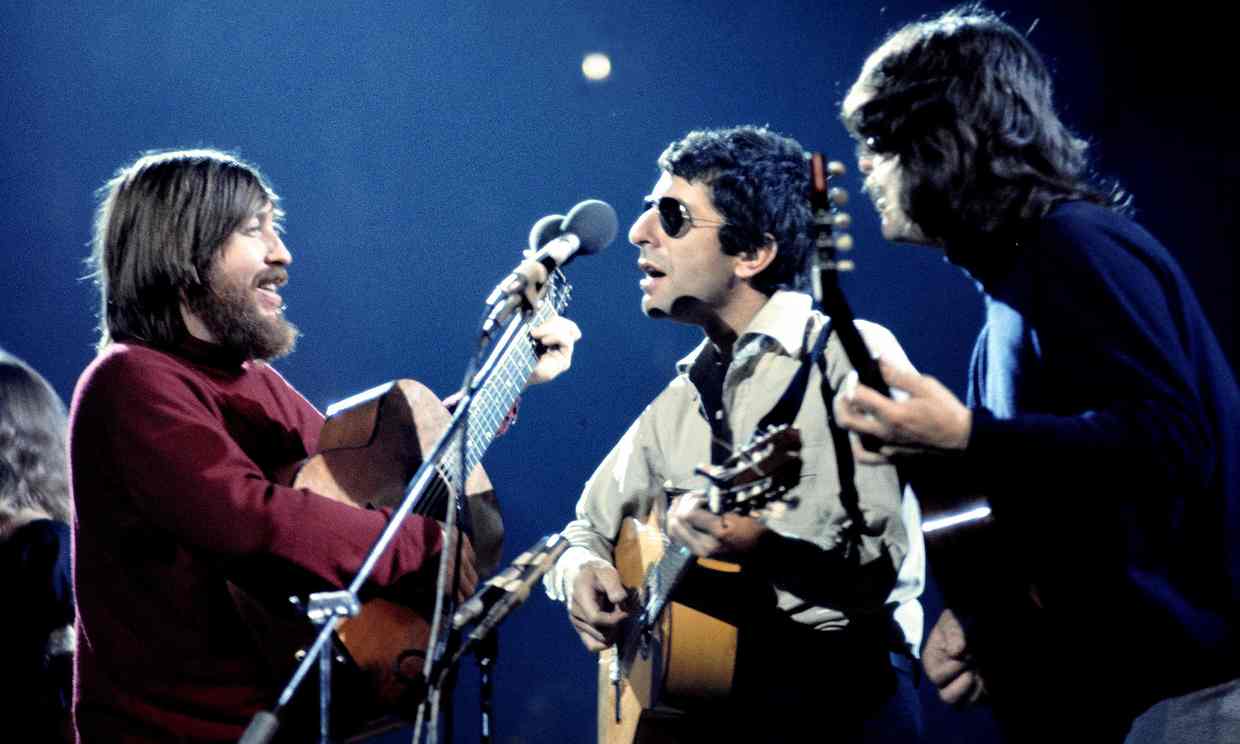 It's four in the morning, the end of December
I'm writing you now just to see if you're better
New York is cold, but I like where I'm living
There's music on Clinton Street all through the evening.
Famous Blue Raincoat

–
"Joan of Arc" is constructed mainly as a dialogue between Joan of Arc and the fire which is consuming her as she burns at the stake, after having been found guilty of heresy (in 1431). In the song, Joan says that she is "tired of the war" and tells how she would rather be wearing a white wedding dress (one of the charges against her was that she dressed as a man). Joan's surrender to the fire, as its bride, may also be seen as a symbol of her religious fervor and commitment.
"I was thinking more of this sense of a destiny that human beings have and how they meet and marry their destiny…I don't want to suggest in that song that what she really wanted to be was a housewife. What I mean to say is that as lonely and as solitudinous as she was she had to meet and be embraced by her destiny…seen from the point of view of the woman's movement she really does stand for something stunningly original and courageous."
~Leonard Cohen In a 1988 interview with John McKenna of RTE Ireland
Joan of Arc

–
In 2012, Rolling Stone ranked the album no. 295 on its list of the 500 Greatest Albums of all Time, the only Cohen album to make the list.

It was ranked no. 74 on Pitchfork Media's 2004 list of the 100 best albums of the 1970s.

"Famous Blue Raincoat" was voted #3 by in a Rolling Stone readers poll of the top ten greatest Leonard Cohen songs.
–
Track listing
All songs written by Leonard Cohen.
Side one
"Avalanche" – 5:07
"Last Year's Man" – 6:02
"Dress Rehearsal Rag" – 6:12
"Diamonds in the Mine" – 3:52
Side two
"Love Calls You by Your Name" – 5:44
"Famous Blue Raincoat" – 5:15
"Sing Another Song, Boys" (Live at the Isle of Wight Festival, August 31, 1970) – 6:17
"Joan of Arc" – 6:29
–
Personnel
Leonard Cohen – acoustic guitar, vocals
Ron Cornelius – acoustic and electric guitars
Charlie Daniels – acoustic guitar, bass guitar, fiddle
Elkin "Bubba" Fowler – acoustic guitar, banjo, bass guitar
Bob Johnston – piano, production
Corlynn Hanney – vocals
Susan Mussmano – vocals
The Corona Academy, London – children's voices
Michael Sahl – strings on third verse of "Last Year's Man"
Paul Buckmaster – string and horn arrangements, conductor
Youtube playlist:

Spotify:

Sources: Wikipedia, allmusic.com
-Egil