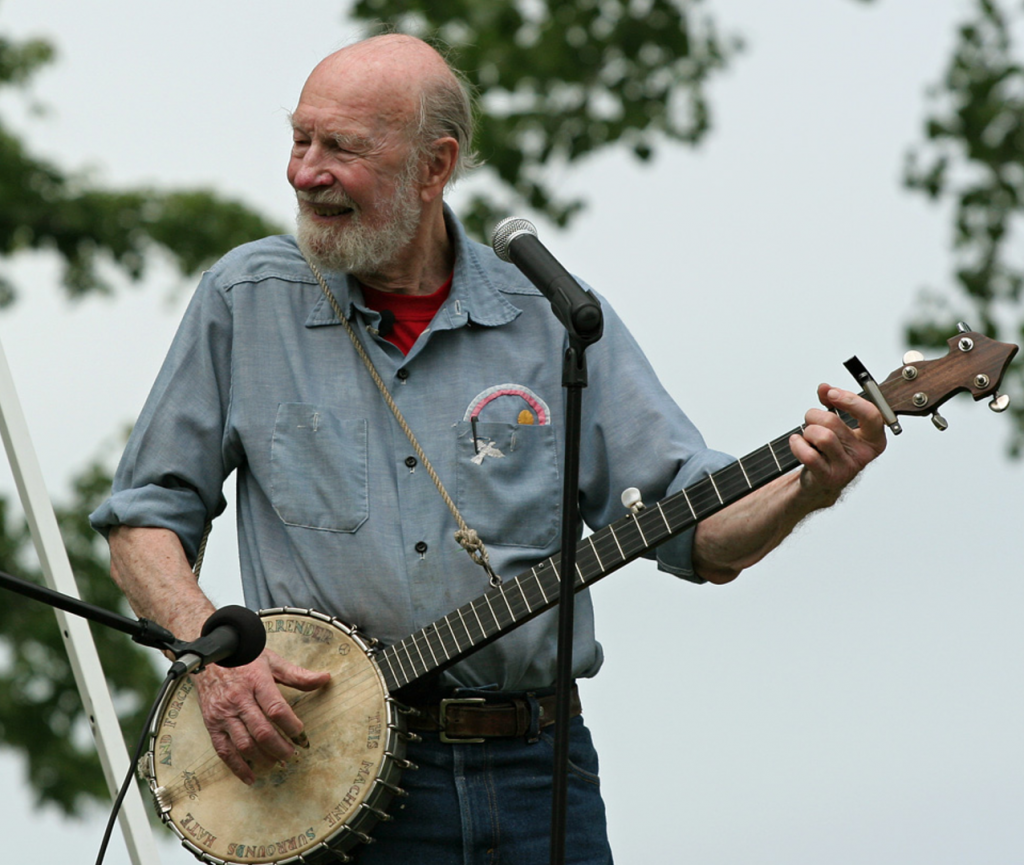 Being generous of spirit is a wonderful way to live.
– Pete Seeger

He's a great man, Pete Seeger.
-Bob Dylan (Paul Zollo interview April, 1991)
Harry Belafonte and Arlo Guthrie induct Pete Seeger into the Rock and Roll Hall of Fame during the 1996 Rock and Roll Hall of Fame Induction Ceremony:

Pete Seeger & Bruce Springsteen – This Land is Your Land – Obama Inauguration (2009)

As Pete and I traveled to Washington for President Obama's Inaugural Celebration, he told me the entire story of "We Shall Overcome." How it moved from a labor movement song, and with Pete's inspiration, had been adapted by the civil rights movement. That day as we sang "This Land Is Your Land," I looked at Pete, the first black president of the United States was seated to his right, and I thought of the incredible journey that Pete had taken. My own growing up in the Sixties in towns scarred by race rioting made that moment nearly unbelievable, and Pete had 30 extra years of struggle and real activism on his belt. He was so happy that day. It was like, "Pete, you outlasted the bastards, man!" It was so nice. At rehearsals the day before, it was freezing, like 15 degrees, and Pete was there. He had his flannel shirt on. I said, man, you better wear something besides that flannel shirt! He says, yeah, I got my longjohns on under this thing.
-Bruce Springsteen
Wikipedia:
Birth name

Peter Seeger
Born
May 3, 1919
Patterson, New York, U.S.
Died
January 27, 2014 (aged 94)
Manhattan, New York, U.S.
Genres

American folk music
protest music
Americana

Occupation(s)

Musician
songwriter
television host

Instruments

Banjo
guitar
recorder
tin whistle
mandolin
piano
ukulele

Years active

1939–2014
Peter "Pete" Seeger (May 3, 1919 – January 27, 2014) was an American folk singer and social activist. A fixture on nationwide radio in the 1940s, he also had a string of hit records during the early 1950s as a member of the Weavers, most notably their recording of Lead Belly's "Goodnight, Irene", which topped the charts for 13 weeks in 1950. Members of the Weavers were blacklisted during the McCarthy Era. In the 1960s, he re-emerged on the public scene as a prominent singer of protest music in support of international disarmament, civil rights, counterculture, and environmental causes.
Down By The Riverside – Australia 1963:

Awards
Induction into the Songwriters Hall of Fame (1972)
The Eugene V. Debs Award (1979)
The Letelier-Moffitt Human Rights Award (1986)
The Grammy Lifetime Achievement Award (1993)
The National Medal of Arts from the National Endowment for the Arts (1994)
Kennedy Center Honor (1994)
The Harvard Arts Medal (1996)
The James Smithson Bicentennial Medal (1996)
Induction into the Rock and Roll Hall of Fame (1996)
Grammy Award for Best Traditional Folk Album of 1996 for his record Pete (1997)
The Felix Varela Medal, Cuba's highest honor for "his humanistic and artistic work in defense of the environment and against racism" (1999)
The Schneider Family Book Award for his children's picture book The Deaf Musicians. (2007)
The Mid-Hudson Civic Center Hall of Fame (2008)- Seeger and Arlo Guthrie performed the first public concert at the Poughkeepsie, New York not-for-profit family entertainment venue, close to Seeger's home, in 1976. Grandson Tao Rodríguez-Seeger accepted the Hall of Fame plaque on behalf of his grandfather.
Grammy Award for Best Traditional Folk Album of 2008 for his record At 89 (2009)
The Peace Abbey Courage of Conscience Award for his commitment to peace and social justice as a musician, songwriter, activist, and environmentalist that spans over sixty years. (2008)
The Dorothy and Lillian Gish Prize (2009)
Grammy Award for Best Musical Album for Children of 2010 for his record Tomorrow's Children, Pete Seeger and the Rivertown Kids and Friends (2011)
George Peabody Medal (2013)
Grammy Award for Best Spoken Word Album of 2013 nomination for Pete Seeger: The Storm King; Stories, Narratives, Poems (2014)
Woody Guthrie Prize (2014)
–
What Did You Learn In School? (BBC's 'Tonight In Person' in 1964):

American Folk Anthology (Not Now Music) [Full Album]:

-Egil