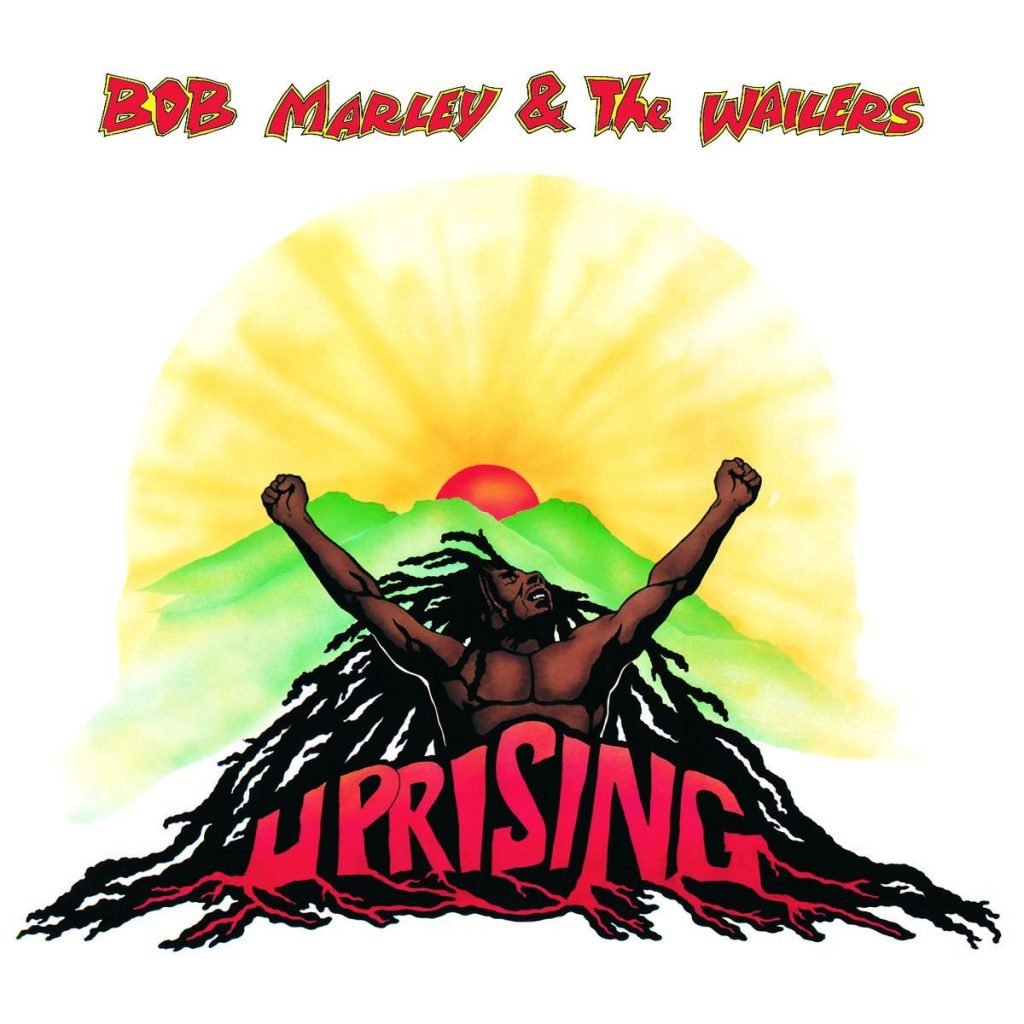 In the end, however, Bob Marley leaves us with a stark testament: "Redemption Song," which he sings solo, accompanied only by his acoustic guitar. As the artist performs this folk ballad (with its aching cry of "Won't you help to sing, these songs of freedom/'Cause all I ever had, redemption songs," so reminiscent of the young Bob Dylan), one feels a man reaching out and grappling with the dreadful possibilities of liberation and disaster. Such a tour de force, like much of Uprising, is as moving as it is deeply troubling.
-Chris Morris (rollingstone.com)
Redemption Song:

Released
10 June 1980
Recorded
January–April 1980
Studio
Tuff Gong Studios, Kingston, Jamaica
Genre
Reggae
Length

35

:

53

Label
Tuff Gong/Island
Producer
Chris Blackwell, Bob Marley
Wikipedia:
Uprising is a 1980 reggae album by Bob Marley and the Wailers. Marley died the following year, and Uprising was the final studio album released during his lifetime. This album is one of Marley's most directly religious, with nearly every song addressing his Rastafarian beliefs, culminating in the acoustic recording of "Redemption Song".
Uprising peaked at #41 on Billboard's (North America) Black Albums chart, and #45 on the Pop Albums chart. "Could You Be Loved" was #6 and #56 respectively on the Club Play Singles and Black Singles charts. The album fared better in the UK where it was a top ten hit along with the single "Could You Be Loved" which reached number 5 in the UK singles charts.
Could You Be Loved:

Uprising would be the final studio album featuring Bob Marley & the Wailers to be released during Marley's lifetime. Prophetically, it also contains some of the band's finest crafted material, as if they were cognizant that this would be their final outing. The album's blend of religious and secular themes likewise creates a very powerful and singular quest for spirituality in a material world. Although it is argued that an album's graphic design rarely captures the essence of the work inside, the powerful rebirthing image of a rock solid Marley emerging with his arms raised in triumph could not be a more accurate visual description of the musical jubilation within. .. The final track on the original pressing of Uprising is "Redemption Song." Never has an artist unknowingly written such a beautiful and apropos living epitaph. The stark contrast from the decidedly electric and group-oriented album to this hauntingly beautiful solo acoustic composition is as dramatic as it is visionary.
-Lindsay Planer (allmusic.com)
Track listing
"Coming in from the Cold" 4:30
"Real Situation" 3:08
"Bad Card" 2:50
"We and Dem" 3:12
"Work" 3:41
"Zion Train" 3:36
"Pimper's Paradise" 3:27
"Could You Be Loved" 3:57
"Forever Loving Jah" 3:52
"Redemption Song"
Musicians
Bob Marley – lead vocal, rhythm guitar, acoustic guitar
Aston "Family Man" Barrett – bass, piano, guitar, percussion
Carlton Barrett – drums, percussion
Carlton "Santa" Davis – drums
Tyrone Downie – keyboards, backing vocal
Alvin Patterson – percussion
Junior Marvin – lead guitar, backing vocal
Earl Lindo – keyboards
Al Anderson – lead guitar
I Threes (Rita Marley, Marcia Griffiths and Judy Mowatt) – backing vocals
Technical personnel
Bob Marley and the Wailers – Producers
Chris Blackwell – Executive producer
Errol Brown – engineer, mixing engineer
the Wailers and Michael Rees – mixed
Chiao Ng – assistant engineer
Ted Jensen – mastering engineer
Neville Garrick – art direction
Adrian Boot – photo
Spotify
-Egil