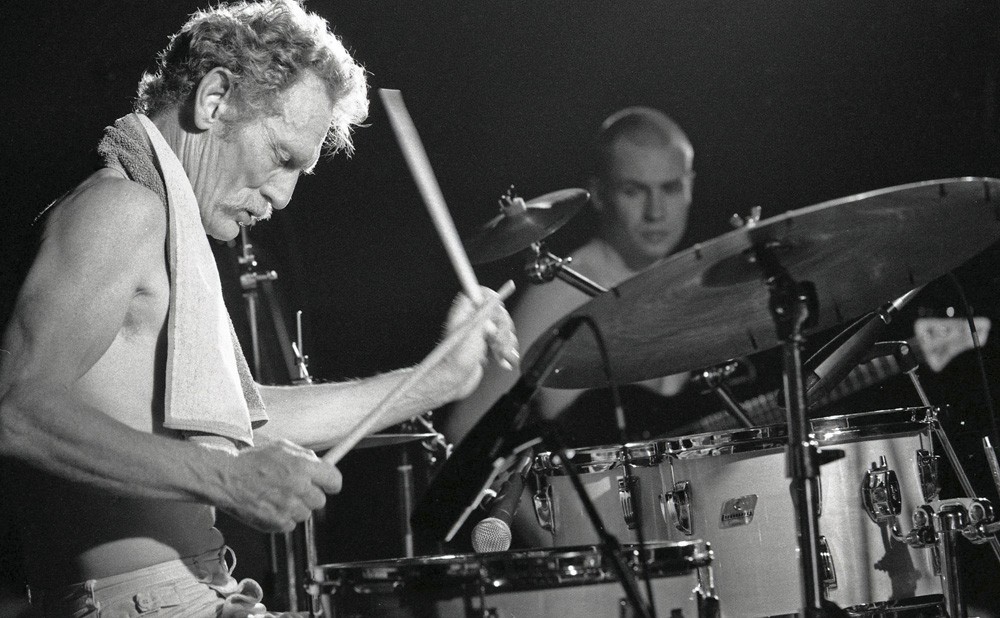 Ginger Baker Biography – youtube video:

From Wikipedia:
Birth name
Peter Edward Baker
Born
19 August 1939 (age 77)
London, England
Genres
Jazz, blues rock, psychedelic rock, hard rock, jazz fusion
Occupations
Musician, songwriter
Instruments
Drums, percussion
Years active
1958–present
Labels
Polydor, Warner Bros., Island, Universal,Atlantic
Associated acts
Blues Incorporated, Ginger Baker and Friends, Cream, Blind Faith, Baker Gurvitz Army, Ginger Baker's Air Force, Hawkwind,Public Image Ltd., Atomic Rooster, Masters of Reality, Ginger Baker Trio, BBM, Fela Kuti
Website
www.gingerbaker.com
Peter Edward "Ginger" Baker (born 19 August 1939, Lewisham, South London) is an English drummer, best known for his work with Cream and Blind Faith. He is also known for his numerous associations with World music, mainly the use of African influences. He has also had other collaborations such as with Gary Moore, Hawkwind and Public Image Ltd.
Baker's drumming attracted attention for its flamboyance, showmanship and his use of two bass drums instead of the conventional single bass kick drum (following a similar set-up used by Louie Bellson during his days with Duke Ellington). Although a firmly established rock drummer and praised as "Rock's first superstar drummer", he prefers being called a jazz drummer. Baker's influence has extended to drummers of both genres, including Billy Cobham, Peter Criss, Bill Ward, Ian Paice, Nick Mason,  and John Bonham. AllMusic has described him as "the most influential percussionist of the 1960s" and stated that "virtually every drummer of every heavy metal band that has followed since that time has sought to emulate some aspect of Baker's playing."
While at times performing in a similar way to Keith Moon from The Who, Baker also employs a more restrained style influenced by the British jazz groups he heard during the late 1950s and early 1960s. In his early days as a drummer, he performed lengthy drum solos, the best known being the five minute drum solo "Toad" from Cream's debut album Fresh Cream (1966). He is also noted for using a variety of other percussion instruments and for his application of African rhythms. He would often emphasize the flam, a drum rudiment in which both sticks attack the drumhead at almost the same time, giving a heavy thunderous sound.
"Toad" (Cream) – live at Royal Albert Hall, London. November 26th, 1968:

June 7, 1969 at Hyde Park.

—
Cream – Disraeli Gears (1967):
01 Strange Brew"
02 Sunshine of Your Love"
03 World of Pain"
04 Dance the Night Away"
05 Blue Condition"
06 Tales of Brave Ulysses"
06 SWLABR"
08 We're Going Wrong"
09 Outside Woman Blues"
10 Take It Back"
11 Mother's Lament"
Spotify

-Egil