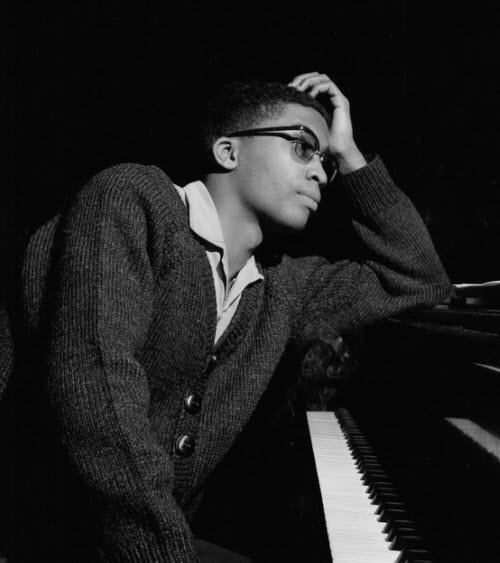 I don't look at music from the standpoint of being a musician; I look at it from the standpoint of being a human being.
~Herbie Hancock

It's not exclusive, but inclusive, which is the whole spirit of jazz.
~Herbie Hancock

Herbie Hancock is a true icon of modern music. Throughout his explorations, he has transcended limitations and genres while still maintaining his unique, unmistakable voice.
~allaboutjazz.com
April 12: Herbie Hancock was born in 1940 – Happy 78th birthday!
Chameleon (Live, Chicago 1974)

Birth name
Herbert Jeffrey Hancock
Also known as
Herbie Hancock
Born
April 12, 1940 (age 78)
Chicago, Illinois, United States
Genres
Jazz, bebop, post bop, jazz fusion, hard bop, jazz-funk, funk, R&B, electro funk, classical
Occupations
Musician, composer, bandleader
Instruments
Piano, synthesizer, organ, clavinet, keytar,vocoder
Years active
1961–present
Labels
Columbia, Blue Note, Verve, Warner Bros.
Associated acts
Miles Davis Quintet, Jaco Pastorius, Joni Mitchell, Stevie Wonder
Website
www.herbiehancock.com
Herbert Jeffrey "Herbie" Hancock (born April 12, 1940) is an American pianist, keyboardist, bandleader and composer. As part of Miles Davis's Second Great Quintet, Hancock helped to redefine the role of a jazz rhythm section and was one of the primary architects of the "post-bop" sound. He was one of the first jazz musicians to embrace music synthesizers and funk music (characterized by syncopated drum beats). Hancock's music is often melodic and accessible; he has had many songs "cross over" and achieved success among pop audiences. His music embraces elements of funk and soul while adopting freer stylistic elements from jazz. In his jazz improvisation, he possesses a unique creative blend of jazz, blues, and modern classical music, with harmonic stylings much like the styles of Claude Debussy and Maurice Ravel.
Hancock's best-known solo works include "Cantaloupe Island", "Watermelon Man" (later performed by dozens of musicians, including bandleader Mongo Santamaría), "Maiden Voyage", "Chameleon", and the singles "I Thought It Was You" and "Rockit". His 2007 tribute album River: The Joni Letters won the 2008 Grammy Award for Album of the Year, only the second jazz album ever to win the award after Getz/Gilberto in 1965.
On July 22, 2011 at a ceremony in Paris, Hancock was named UNESCO Goodwill Ambassador for the promotion of Intercultural Dialogue. Hancock recently joined the University of California, Los Angeles faculty as a professor in the UCLA music department where he will teach jazz music.
Live in Europe at Stravinski Hall- Montreux '97 – full concert:
3:20 – New York Minute
26:00 – Mercy Street
46:30 – Thieves in the Temple
1:09:00 – You've Got It Bad, Girl

–
Playlist of the day – April 12:
Other Aril 12:
Murmur is the debut album by the American alternative rock band R.E.M., released in 1983 on I.R.S. Records. Murmur drew critical acclaim upon its release for its sound, defined by singer Michael Stipe's cryptic lyrics, guitarist Peter Buck's jangly guitar style, and bassist Mike Mills' melodic basslines.


| | |
| --- | --- |
| Released | April 12, 1983 |
| Recorded | January 6 – February 23, 1983, Reflection Studios, Charlotte, North Carolina, United States |
| Genre | Alternative rock |
| Length | 44:11 |
| Language | English, French ("Talk About the Passion") |
| Label | I.R.S. |
| Producer | Don Dixon and Mitch Easter |
Vincent Grant "Vince" Gill (born April 12, 1957) is an American country singer-songwriter and multi-instrumentalist. He has achieved commercial success and fame both as frontman to the country rock band Pure Prairie League in the 1970s, and as a solo artist beginning in 1983, where his talents as a vocalist and musician have placed him in high demand as a guest vocalist, and a duet partner.
-Egil & Hallgeir