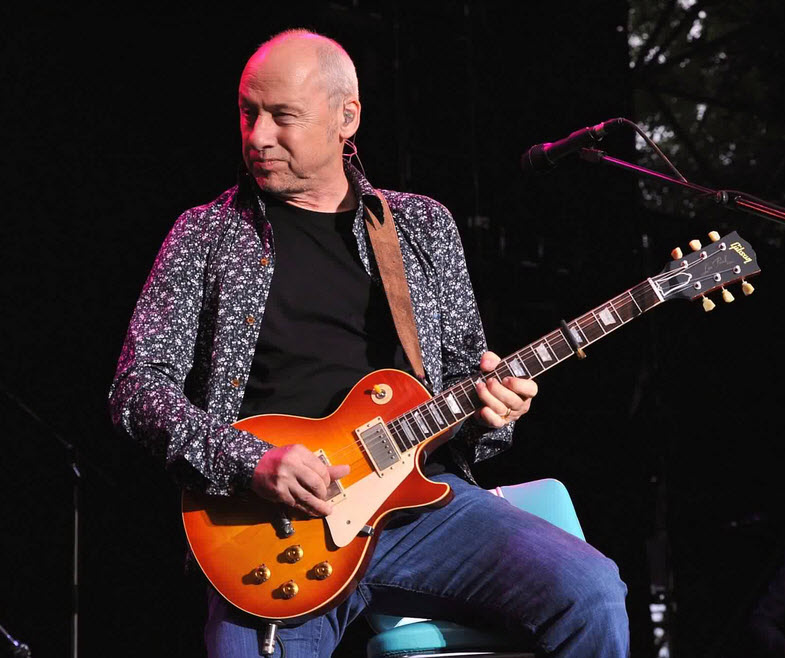 [vc_row][vc_column][vc_message message_box_color="mulled_wine" icon_fontawesome="fa fa-quote-left"]…. Actually we are soul mates. As far as guitar playing goes he never steps all over with fancy licks. Yeah, Mark was incredible. He helped make this record in a thousand ways, not only musically, which in itself would have been enough. Brilliant guy, I can't say enough about him.
~Bob Dylan (Talking about Knopfler part in the making of "Infidels" – July 1983 to Martin Killer)
The most celebrated British guitar hero to emerge in the 1970s and '80s, Mark Knopfler rose to fame as the leader of Dire Straits, and his songwriting and incisive guitar work played a decisive role in making them an international success story. At a time when punk and new wave were making technique for its own sake seem irrelevant, and metal was taking the guitar solo in noisier and unpredictable directions, Knopfler's clean but dexterous picking proved there was still room for traditionalism and chops in mainstream rock & roll.
~Mark Deming (allmusic.com)[/vc_message][/vc_column][/vc_row]
Dire Straits – Sultans Of Swing (Alchemy Live – 1983):

Wikipedia:
Birth name
Mark Freuder Knopfler
Born
12 August 1949 
Glasgow, Scotland
Origin
Newcastle upon Tyne, England, United Kingdom
Genres
Rock, roots rock, Celtic rock, blues-rock
Occupations
Film score composer, multi-instrumentalist, record producer, singer-songwriter
Instruments
Vocals, guitar, resonator guitar
Years active
1965–present
Labels
Vertigo, Mercury, Warner Bros.,Reprise
Associated acts
Dire Straits, The Notting Hillbillies, Chet Atkins, Bob Dylan, Eric Clapton, Emmylou Harris, Sonny Landreth, Sting
Website
markknopfler.com
Mark Freuder Knopfler, OBE (born 12 August 1949) is a British songwriter, film score composer, guitarist, and record producer. He is best known as the lead guitarist, vocalist, and songwriter for the rock band Dire Straits, which he co-founded with his brother, David Knopfler, in 1977.
After Dire Straits disbanded in 1995, Knopfler went on to record and produce seven solo albums, and, as with his previous tenure, produced many hit songs. He has composed and produced film scores for eight films, including Local Hero (1983), Cal (1984), The Princess Bride (1987), and Wag the Dog (1997).
In addition to his work with Dire Straits and as a solo artist and composer, Knopfler has recorded and performed with many prominent musicians, including Chet Atkins, Chris Botti, The Chieftains, Eric Clapton, Bob Dylan, Bryan Ferry,Emmylou Harris, Jools Holland, Sonny Landreth, Van Morrison, Steely Dan, Sting, and James Taylor, sometimes working as a session musician. He has produced albums for Tina Turner, Bob Dylan, and Randy Newman.
Knopfler is a fingerstyle guitarist and was ranked 27th on Rolling Stone magazine's list of 100 Greatest Guitarists of All Time. Knopfler and Dire Straits have sold in excess of 120 million albums to date. A four-time Grammy Award winner, Knopfler is the recipient of the Edison Award, the Steiger Award and the Ivor Novello Award, as well as holding three honorary doctorate degrees in music from universities in the United Kingdom.
A Night In London 1996 (full concert, DVD- version):
Darling Pretty
Walk Of Life
Imelda
Father and Son
Golden Heart
Rudiger
Cannibals
Je Suis Désolé!s
Last Exit To Brooklyn
Romeo And Juliet
Done with Bonaparte
A Night in Summer Long Ago
Brothers In Arms
Going Home
Are We In Trouble Now
Gravy Train
–
Bob Dylan & Mark Knopfler Dont Fall Apart On Me Tonight (Studio 1983):

–
Honours and awards
1983 BRIT Award for Best British Group (with Dire Straits)
1986 Grammy Award for Best Rock Vocal Group (with Dire Straits) for "Money for Nothing"
1986 Grammy Award for Best Country Instrumental Performance (with Chet Atkins) for "Cosmic Square Dance"
1986 Juno Award for International Album of the Year (with Dire Straits) for Brothers in Arms
1986 BRIT Award for Best British Group (with Dire Straits)
1987 BRIT Award for Best British Album (with Dire Straits) for Brothers in Arms
1991 Grammy Award for Best Country Vocal Collaboration (with Chet Atkins) for "Poor Boy Blues"
1991 Grammy Award for Best Country Instrumental Performance (with Chet Atkins) for "So Soft, Your Goodbye"
1993 Honorary Doctor of Music from Newcastle University
1995 Honorary Doctor of Music from the University of Leeds
1999 OBE
2001 Masiakasaurus knopfleri, a species of dinosaur, was named in his honour
2003 Edison Award for Outstanding Achievement in the Music Industry
2007 Honorary Doctor of Music from the University of Sunderland
2009 Music Producers Guild Award for Best Studio for Knopfler's British Grove Studios
2009 ARPS Sound Fellowship
2009 PRS Music Heritage Award
2011 Steiger Award
2012 Ivor Novello Lifetime Achievement Award
2018 Dire Straits inducted into the Rock and Roll Hall of Fame
—
Dire Straits Live at Wembley Arena – Brothers in Arms Tour 1985:

–
And to round of with grace, here is the best performance Mark Knopfler has ever been a part of IMHO:
Bob Dylan & Mark Knopfler – Electric version of Blind Willie McTell:

-Egil