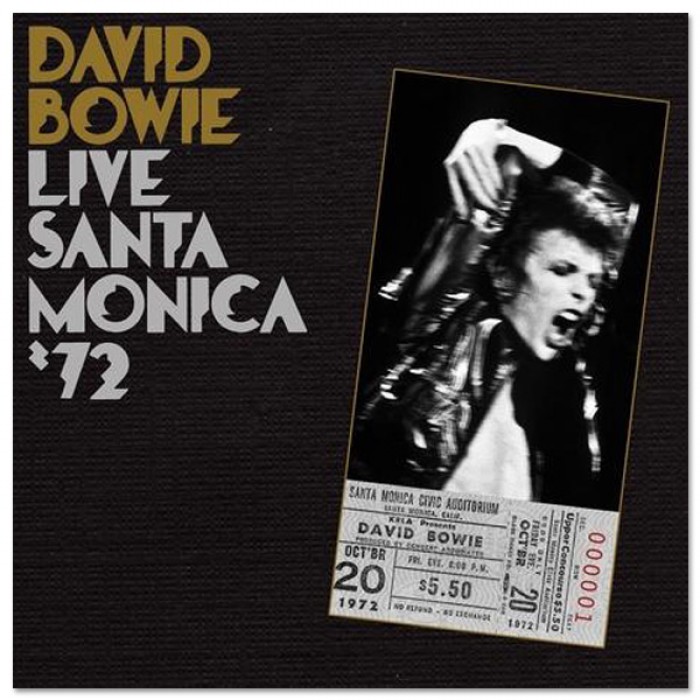 Intro & Hang On To Yourself:

Ziggy Stardust:


From Wikipedia:
Santa Monica '72 is a live album by David Bowie, recorded at Santa Monica Civic Auditorium on 20 October 1972 during the Ziggy Stardust tour. Taken from an FM radio broadcast, it was available only as a bootleg for more than 20 years; according to author David Buckley, possessing a copy was the test of a "proper Bowie fan". The recording was issued officially by the Golden Years label in 1994, with Griffin Music handling the American release in 1995.
This live album features a quite different setlist to the one found on Ziggy Stardust – The Motion Picture (1983), which was recorded nine months afterwards and similarly bootlegged prior to its belated official release. The Santa Monica recording is generally considered a superior representation of the Ziggy Stardust concerts in terms of both sound quality and standard of playing. In 1981, NME critics Roy Carr and Charles Shaar Murray called it not simply "the performer's best ever bootleg", but "far superior to either of Bowie's official location recordings" to that date, David Live (1974) and Stage (1978).
Changes:

Setlist
Intro: Ode to Joy (Beethoven's 9th Symphony – Alla Marcia)
Hang On To Yourself
Ziggy Stardust
Changes
The Supermen
Life On Mars?
Five Years
Space Oddity
Andy Warhol
My Death
The Width Of A Circle
Queen Bitch
Moonage Daydream
John, I'm Only Dancing
Waiting For The Man
The Jean Genie
Suffragette City
Rock 'N' Roll Suicide
The Supermen:

Life on Mars?:

Five Years:

A gold disc edition with the DJ's closing remarks at the end was made available in Holland, while in the U.S. a special limited box set was released that included a t-shirt, a key chain and a short video. The video was not actually from the Santa Monica show, but was previously unseen footage from a silent colour film made at a concert in Dunstable, England on 21 June 1972. The video was combined with the live audio recording from the Santa Monica concert. This box was limited to only 1000 copies. In addition, an even more limited edition was released as a small wooden box with Bowie's image carved into the lid, and a brass plate indicating the series number. Only 250 copies were made.
This semi-legal release was one in the series of mid-nineties releases by MainMan, Bowie's former management company during the seventies (other ones being RarestOneBowie and the Ava Cherry & The Astronettes album People from Bad Homes). All these albums were released without Bowie's approval and are currently deleted.
An official version — Live Santa Monica '72 — was issued by EMI/Virgin in 2008.
Space Oddity:

Andy Warhol:

My Death:

The Width Of A Circle:

Queen Bitch:

Moonage Daydream:
I'm an alligator, I'm a mama-papa coming for you
I'm the space invader, I'll be a rock 'n' rollin' bitch for you
Keep your mouth shut,
You're squawking like a pink monkey bird
And I'm busting up my brains for the words
From Rollingstone.com – Mark Kemp:
Why this album was never officially released until now remains one of the great mysteries of major-label decision making. Long bootlegged, Live Santa Monica '72 captures the glam-rock pioneer during his Ziggy Stardust prime,on his first U.S. tour, recording what is unequivocally his best concertalbum. With no needless production tricks to separate the music from thelive experience, everything, including the crowd, becomes part of thisintimate show taped at the Santa Monica Civic Center. Bowie is relaxed andchatty — he even introduces "Andy Warhol" with a goofy impersonation of thepop artist. His band, featuring the combustive guitar work of Mick Ronsonand tight rhythm section of bassist Trevor Bolder and drummer Mick "Woody"Woodmansey, was his strongest lineup ever, and here they run though nearlyall of The Rise and Fall of Ziggy Stardust and the Spiders from Mars,fleshing out the loose storyline about an alien rock star with appropriatecuts from earlier LPs, such as Hunky Dory's "Life on Mars" and Space Oddity's title song. Bowie also turns cover versions of the VelvetUnderground's junkie anthem "Waiting for the Man" and Jacques Bruel'sbeautiful and harrowing "My Death" into fitting rock & roll hymns for Ziggy.It's a near-flawless document of a character Bowie would soon leave behindfor good.
.. read more @ rollingstone.com
John, I'm Only Dancing:

Waiting For The Man:

The Jean Genie:
The jean genie lives on his back
The jean genie loves chimney stacks
Hes outrageous, he screams and he bawls
Jean genie let yourself go!
Suffragette City:

Rock 'N' Roll Suicide:
Time takes a cigarette, puts it in your mouth
You pull on your finger, then another finger, then your cigarette
The wall-to-wall is calling, it lingers, then you forget
Ohhh how how how, you're a rock n roll suicide
-Egil