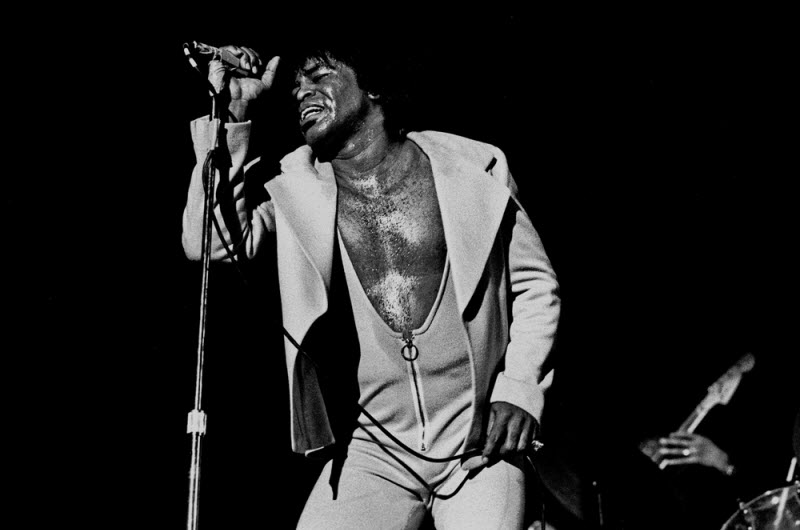 When I'm on stage, I'm trying to do one thing: bring people joy. Just like church does. People don't go to church to find trouble, they go there to lose it.
~James Brown

The one thing that can solve most of our problems is dancing.
~James Brown

"Soul Brother Number One," "the Godfather of Soul," "the Hardest Working Man in Show Business," "Mr. Dynamite" — those are mighty titles, but no one can question that James Brown earned them more than any other performer. Other singers were more popular, others were equally skilled, but few other African-American musicians were so influential over the course of popular music. And no other musician, pop or otherwise, put on a more exciting, exhilarating stage show: Brown's performances were marvels of athletic stamina and split-second timing.
~Richie Unterberger (allmusic.com)
Papa's Got a Brand New Bag – from TV program Shindig:

From Wikipedia:
Birth name
James Joseph Brown, Jr.

Born
May 3, 1933
Barnwell, South Carolina, United States
Origin
Toccoa, Georgia
Died
December 25, 2006 (aged 73)
Atlanta, Georgia

Genres
R&B, soul, funk, doo-wop, rock 'n' roll, blues, jazz
Occupations
Musician, songwriter, dancer, bandleader, record producer, actor
Instruments
Vocals, drums, percussion, piano, keyboards, organ
Years active
1954–2006
James Joseph Brown (May 3, 1933 – December 25, 2006) was an American singer, songwriter, musician, and recording artist. He is one of the founding fathers of funk music and is a major figure of 20th century popular music and dance. In a career that spanned six decades, Brown profoundly influenced the development of many different musical genres.
I Feel Good (Legends of Rock 'n' Roll):

Brown moved on a continuum of blues and gospel-based forms and styles to a profoundly "Africanized" approach to music making. First coming to national public attention in the mid 1950s as a member of the R&B singing group The Famous Flames, Brown performed in concerts, first making his rounds across the Chitlin' Circuit, and then across the country and later around the world, along with appearing in shows on television and in movies. Although he contributed much to the music world through his hitmaking, Brown holds the record as the artist who charted the most singles on the Billboard Hot 100 without ever hitting number one on that chart.

For many years, Brown's touring show was one of the most extravagant productions in American popular music. At the time of Brown's death, his band included three guitarists, two bass guitar players, two drummers, three horns and a percussionist. The bands that he maintained during the late 1960s and 1970s were of comparable size, and the bands also included a three-piece amplified string section that played during ballads. Brown employed between 40 and 50 people for the James Brown Revue, and members of the revue traveled with him in a bus to cities and towns all over the country, performing upwards of 330 shows a year with almost all of the shows as one-nighters. In 1986, he was inducted into the Rock and Roll Hall of Fame and in 2000 into the Songwriters Hall of Fame. Brown died on Christmas Day 2006 from heart failure after becoming ill two days earlier and being hospitalized for hours. He is buried in Beech Island, South Carolina.
Night Train:

Legacy
In 1983, Brown was inducted into the Georgia Music Hall of Fame
Brown was named as one of the first inductees into the Rock and Roll Hall of Fame at its inaugural induction dinner in New York on January 23, 1986
On February 25, 1992, Brown was awarded a Lifetime Achievement Award at the 34th annual Grammy Awards.
Exactly a year later, he received a Lifetime Achievement Award at the 4th annual Rhythm & Blues Foundation Pioneer Awards.
A ceremony was held for Brown on January 10, 1997 to honor him with a star on the Hollywood Walk of Fame.
On June 15, 2000, Brown was honored as an inductee for the New York Songwriters Hall of Fame
On August 6, 2002, James Brown was honored as the first BMI Urban Icon at the BMI Urban Awards. His BMI accolades include an impressive ten R&B Awards and six Pop Awards.
On November 14, 2006, Brown was inducted into the UK Music Hall of Fame, and he was one of several inductees who performed at the ceremony
In recognition of his accomplishments as an entertainer, Brown was a recipient of Kennedy Center Honors on December 7, 2003
In 2004, Rolling Stone magazine ranked James Brown as No. 7 on its list of the 100 Greatest Artists of All Time
In an article for Rolling Stone, critic Robert Christgau cited Brown as "the greatest musician of the rock era"
On August 17, 2013, the official R&B Music Hall of Fame honored and inducted James Brown at a ceremony held at the Waetejen Auditorium at Cleveland State University.
–
Documentary:
Soul Survivor – The James Brown Story

Album of the day:
Star Time (1991)
When the four-disc Star Time box was released in 1991, James Brown's catalog sorely needed an overhaul; much of it was out of print, and what was available was hardly befitting of his magnitude. Star Time got everything right: it put Brown's hugely influential career into striking perspective, helping to complete his critical renaissance, and the richness of its music set a standard for box sets in general.
~Steve Huey (allmusic.com)
-Egil & Hallgeir