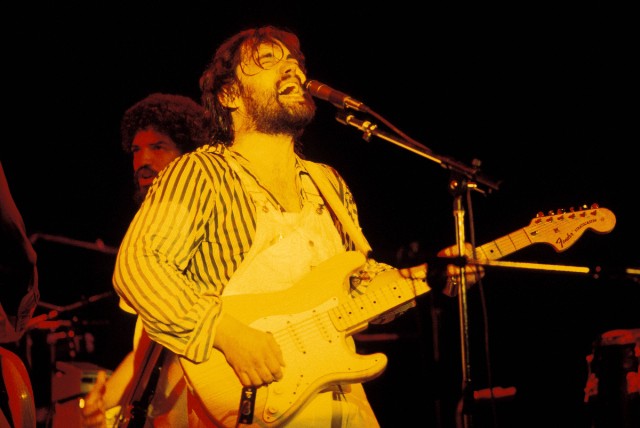 Tribute to Lowell George (R.I.P.):

Lowell Thomas George (April 13, 1945 – June 29, 1979) was an American songwriter, multi-instrumentalist, and record producer, who was the primary guitarist, vocalist, and songwriter for the rock band Little Feat.
Birth name

Lowell Thomas George
Born
April 13, 1945
Hollywood, California, United States
Died
June 29, 1979 (aged 34)
Arlington, Virginia, United States
Genres
Blues rock, rock and roll, boogie rock, southern rock, country rock, R&B, blues, funk, blue-eyed soul, swamp rock

Occupation(s)

Musician, songwriter, producer
Instruments
Guitar, vocals, harmonica, flute, saxophone, sitar

Years active

1965–1979
Labels
Warner Bros.
–
Little Feat – Dixie Chicken (with Emmylou Harris & Bonnie Raitt) Live 1977. HQ Video.

–
Lowell George Interview WHCN Hartford, CT June 22, 1979:

0:00 Lowell's intro
0:07 Little Feat – All That You Dream
3:54 Little Feat – Dixie Chicken
7:31 Interview Segment One
9:29 Lowell George – Cheek To Cheek (album)
11:45 Jackson Browne – Linda Paloma
15:51 Interview Segment Two
16:55 Little Feat – Rock and Roll Doctor
19:46 Little Feat – Willin'
22:35 Interview Segment Three
25:55 Frank Zappa & The Mothers of Invention
34:52 Interview Segment Four
39:02 Little Feat – Rocket In My Pocket
42:12 Interview Segment Five
46:03 Grateful Dead – I Need A Miracle
49:29 Interview Segment Six
51:46 Little Feat – Long Distance Love
54:22 Interview Segment Seven
55:24 Lowell George – Twenty Million Things To Do (album)
58:07 Jackson Browne – Of Missing Persons
-Egil