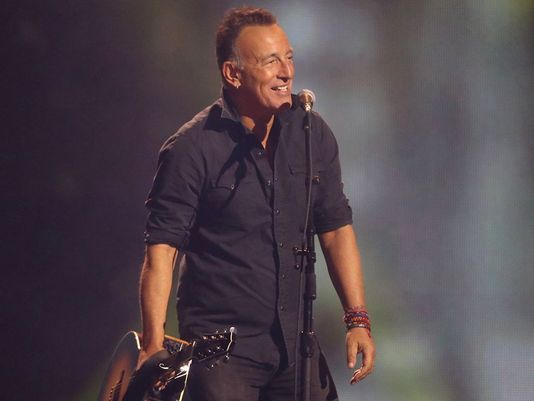 Check out:
Bruce Springsteen sings Bob Dylan songs
They call him the Boss. Well that's a bunch of crap. He's not the boss. He works FOR us. More than a boss, he's the owner, because more than anyone else, Bruce Springsteen owns America's heart.
~Bono (induction speech for at the 1999 Rock and Roll Hall of Fame)
Thunder Road – live @ Hammersmith 1975:
From Wikipedia:
Also known as
The Boss, Bad Scooter
Born
September 23, 1949 
Long Branch, New Jersey, United States
Genres
Rock, folk rock, heartland rock,roots rock
Occupations
Musician, Songwriter
Instruments
Vocals, guitar, harmonica
Years active
1969–present
Labels
Columbia
Associated acts
The E Street Band, Steel Mill,Miami Horns, The Sessions Band, Southside Johnny, The Gaslight Anthem, Dropkick Murphys
Website
www.brucespringsteen.net
Bruce Frederick Joseph Springsteen (born September 23, 1949), nicknamed "The Boss", is an American singer-songwriter and multi-instrumentalist who records and tours with the E Street Band. Springsteen is widely known for his brand of heartland rock, poetic lyrics, Americana sentiments centered on his native New Jersey and his lengthy and energetic stage performances, with concerts from the 1970s to the present decade running up to an uninterrupted 250 minutes in length.
Springsteen's recordings have included both commercially accessible rock albums and more somber folk-oriented works. His most successful studio albums, Born in the U.S.A. and Born to Run, showcase a talent for finding grandeur in the struggles of daily American life; he has sold more than 65 million albums in the United States and more than 120 million worldwide and he has earned numerous awards for his work, including 20 Grammy Awards, two Golden Globes and an Academy Award. In 2004, Rolling Stone ranked him as the 23rd Greatest Artist of all time, the 96th Greatest Guitarist of all time on their latest list and the 36th Greatest Singer of all time in 2008.
Born To Run:

In the decades following his emergence on the national scene in 1975, Bruce Springsteen proved to be that rarity among popular musicians, an artist who maintained his status as a frontline recording and performing star, consistently selling millions of albums and selling out arenas and stadiums around the world year after year, as well as retaining widespread critical approbation, with ecstatic reviews greeting those discs and shows. Although there were a few speed bumps along the way in Springsteen's career, the wonder of his nearly unbroken string of critical and commercial success is that he achieved it while periodically challenging his listeners by going off in unexpected directions, following his muse even when that meant altering the sound of his music or the composition of his backup band, or making his lyrical message overtly political. Of course, it may have been these very sidesteps that kept his image and his music fresh, especially since he always had the fallback of returning to what his fans thought he did best, barnstorming the country with a marathon rock & roll show using his longtime bandmates.
Some of his recognition's: 
October 27, 1975: Bruce Springsteen appears simultaneously on the covers of Newsweek and Time
Polar Music Prize in 1997.
Inducted into the Rock and Roll Hall of Fame, 1999.
Inducted into the Songwriters Hall of Fame, 1999.
Inducted into the New Jersey Hall of Fame, 2007.
"Born to Run" named "The unofficial youth anthem of New Jersey" by the New Jersey state legislature; something Springsteen always found to be ironic, considering that the song "is about leaving New Jersey".
The minor planet 23990, discovered September 4, 1999, by I. P. Griffin at Auckland, New Zealand, was officially named in his honor.
Ranked No. 23 on Rolling Stone magazine's 2004 list of the 100 Greatest Artists of All Time.
Ranked No. 36 on Rolling Stone magazine's 2004 list of the 100 Greatest Singers Of All Time.
Made Time magazine's 100 Most Influential People Of The Year 2008 list.
Won Critic's Choice Award for Best Song with "The Wrestler" in 2009.
Performed at the Super Bowl XLIII half time show.
Kennedy Center Honors, 2009.
Rolling Stone magazine also ranked 8 out of 16 Springsteen's studio albums in their 500 Greatest Albums Of All Time list.
Rolling Stone magazine ranked "Born to Run" and "Thunder Road" in its 500 Greatest Songs Of All Time list, in 21st and 86th, respectively.
Forbes ranked him 6th in The Celebrity 100 in 2009
John Steinbeck Award
Named 2013 MusiCares Person of the Year
2016 Presidential Medal of Freedom recipient
–
Album of the day – Darkness on the Edge of Town (1978):