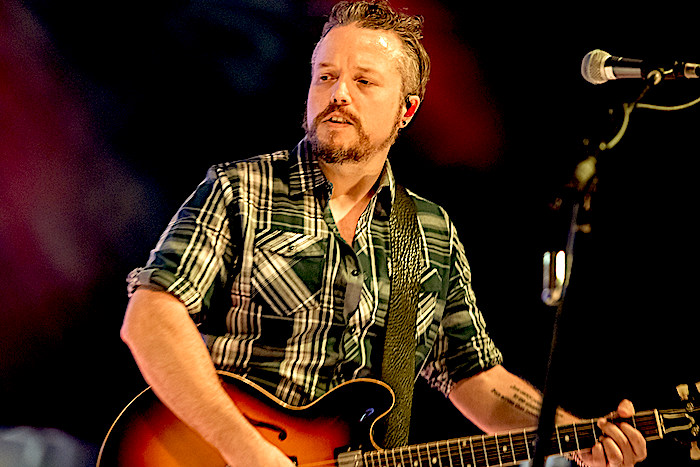 [vc_row][vc_column][vc_message message_box_color="mulled_wine" icon_fontawesome="fa fa-quote-left"]When he (Dylan) was at his best he was as good as anybody," Isbell said. "I think Dylan is a starting point that you will come back to a lot of times if you write songs for a living. I still find myself going back to his catalog and finding new things in it. … With Bob Dylan, I know I'm never going to wake up and not want to listen to Bob Dylan anymore.
–Jason Isbell (2015)[/vc_message][/vc_column][/vc_row]
Michael Jason Isbell (born February 1, 1979) is an American singer-songwriter and guitarist. He is known for his solo career, his work with the band The 400 Unit, and as a former member of Drive-By Truckers for six years, from 2001 to 2007. Isbell has won four Grammy Awards.

Isbell has a tattoo on his left arm bearing a quote from Dylan's song "Boots of Spanish Leather" that goes: "Just carry yourself back to me unspoiled/ From across that lonesome ocean."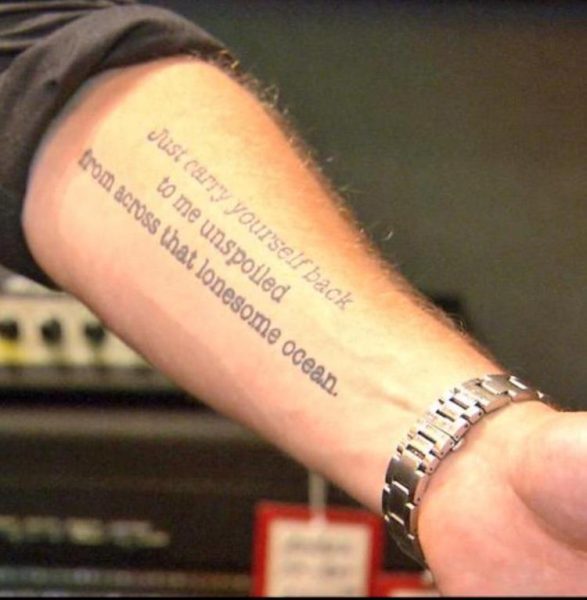 The Man In Me
[vc_row][vc_column][vc_message message_box_color="mulled_wine" icon_fontawesome="fa fa-quote-left"]The man in me will do nearly any task
And as for compensation, there's little he would ask
Take a woman like you
To get through to the man in me[/vc_message][/vc_column][/vc_row]
Bristol 2013

It's All Over Now, Baby Blue
[vc_row][vc_column][vc_message message_box_color="mulled_wine" icon_fontawesome="fa fa-quote-left"]You must leave, now take what you need
You think will last
But whatever you wish to keep
You better grab it fast[/vc_message][/vc_column][/vc_row]
Dylan Fest 2016

Everything Is Broken
[vc_row][vc_column][vc_message message_box_color="mulled_wine" icon_fontawesome="fa fa-quote-left"]Broken lines, broken strings,
Broken threads, broken springs,
Broken idols, broken heads,
People sleeping in broken beds[/vc_message][/vc_column][/vc_row]
Sheryl Crow & Jason Isbell – 2019

You're Gonna Make Me Lonesome When You Go
[vc_row][vc_column][vc_message message_box_color="mulled_wine" icon_fontawesome="fa fa-quote-left"]I've seen love go by my door
It's never been this close before
Never been so easy or so slow
I been shootin' in the dark too long[/vc_message][/vc_column][/vc_row]
Amanda Shires & Jason Isbell- Dylan Fest 2013

Lay Lady Lay
[vc_row][vc_column][vc_message message_box_color="mulled_wine" icon_fontawesome="fa fa-quote-left"]Lay, lady, lay
Lay across my big brass bed
Lay, lady, lay
Lay across my big brass bed[/vc_message][/vc_column][/vc_row]
Dylan Fest 2013

[vc_row][vc_column][vc_separator][vc_btn title="Borntolisten @ Facebook" color="blue" i_icon_fontawesome="fa fa-facebook-official" add_icon="true" link="url:https%3A%2F%2Fwww.facebook.com%2FJohannasVisions%2F||target:%20_blank|"][/vc_column][/vc_row][vc_row][vc_column][vc_message message_box_style="outline" icon_fontawesome="fa fa-link" css_animation="bounceIn"]Check out:
[/vc_message][/vc_column][/vc_row]