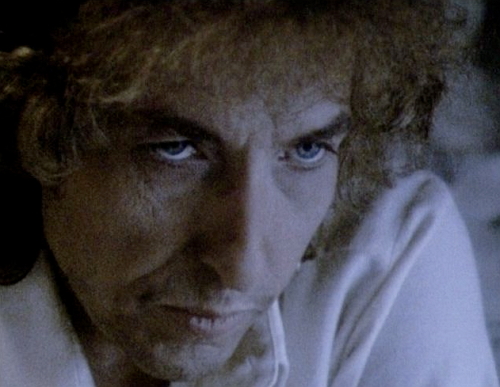 Filmed during the making of his movie Hearts On Fire (1987).
This BBC documentary captures Bob Dylan in a nice mood answering questions on songwriting, fans, etc… while sketching pictures of interviewer Christopher Sykes.
Part 1 of 4:
Listen, I've come through good times and bad times. You know? So I'm not fooled by good times, bad times. Right now. Yeah, you're makin' a movie, you know? You're playin' some big tours… but I've seen the bottom too, you know? So er, you know… if you can work, you know, that's the most… all you can ask. In this day and age, you can't take that for granted. Just, to work is, is… er… to be able to work is, is what a person should strive after, you know?
Part 2 of 4:
Well, there are people who follow me around, you know, and they have passports and they have driver's licenses and they all have Dylan as their name. Er, you know, there isn't… What can I do about that? I mean, I can't do nothing about that. They change their name on their birth certificate, and all that, you know? What are you asking me about? I don't know.
Part 3 of 4:
Say, you're passing a little pub or a little inn, and you look through the window and you see all the people eating, talking and carrying on. You watch outside the window, and you can see them all be very real with each other, as real as they're gonna be. Because when you walk into the room, it's over! You won't see them being real anymore.
Part 4 of 4: