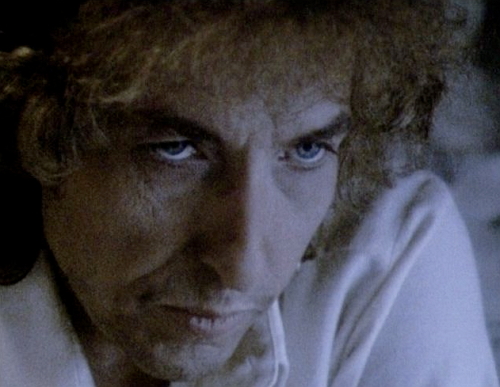 [vc_row][vc_column][vc_message message_box_color="mulled_wine" icon_fontawesome="fa fa-quote-left"]
Getting To dylan, the essential filmed portrait of the post-conversion Dylan, remains an important adjunct to "Don't Look Back", "Eat The Document", and "Renaldo and Clara", the three other films to confront the myth as it surrounds and, in "Getting To dylan", envelops the man.
~Clinton Heylin (Behind The shades)
I tend to agree with Clinton Heylin's assessment [about "Getting To Dylan"]
~Paul Williams (BD Performing Artist 1986-1990 & beyond)[/vc_message][/vc_column][/vc_row]
Filmed during the making of his movie Hearts On Fire (1987).
This BBC documentary captures Bob Dylan in a nice mood answering questions on songwriting, fans, etc… while sketching pictures of interviewer Christopher Sykes.
[vc_row][vc_column][vc_message message_box_color="mulled_wine" icon_fontawesome="fa fa-quote-left"]I just write 'em because nobody says you can't write 'em
~Bob Dylan
Far more beguiling were the interviews he gave to Christopher Sykes of BBC-TV while on the set of Hearts of Fire and shown in edited form in the 'Omnibus' arts series in September 1987. These showed a different Dylan, direct and playful, and well able to hold his own against the boredom Philip Norman had predicted
~Michael Gray (BD Ecyclopedia)[/vc_message][/vc_column][/vc_row]
Part 1 of 4:
Listen, I've come through good times and bad times. You know? So I'm not fooled by good times, bad times. Right now. Yeah, you're makin' a movie, you know? You're playin' some big tours… but I've seen the bottom too, you know? So er, you know… if you can work, you know, that's the most… all you can ask. In this day and age, you can't take that for granted. Just, to work is, is… er… to be able to work is, is what a person should strive after, you know?
Part 2 of 4:
Well, there are people who follow me around, you know, and they have passports and they have driver's licenses and they all have Dylan as their name. Er, you know, there isn't… What can I do about that? I mean, I can't do nothing about that. They change their name on their birth certificate, and all that, you know? What are you asking me about? I don't know.
Part 3 of 4:
Say, you're passing a little pub or a little inn, and you look through the window and you see all the people eating, talking and carrying on. You watch outside the window, and you can see them all be very real with each other, as real as they're gonna be. Because when you walk into the room, it's over! You won't see them being real anymore.
Part 4 of 4:
[vc_row][vc_column][vc_separator][vc_btn title="Borntolisten @ Facebook" color="blue" i_icon_fontawesome="fa fa-facebook-official" add_icon="true" link="url:https%3A%2F%2Fwww.facebook.com%2FJohannasVisions%2F||target:%20_blank|"][/vc_column][/vc_row][vc_row][vc_column][vc_message message_box_style="outline" icon_fontawesome="fa fa-link" css_animation="bounceIn"]Check out:
[/vc_message][/vc_column][/vc_row]