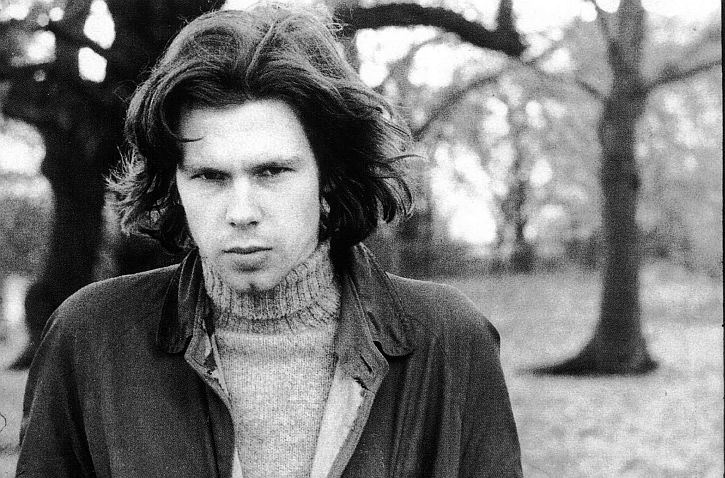 [vc_row][vc_column][vc_message message_box_color="mulled_wine" icon_fontawesome="fa fa-quote-left"]A singular talent who passed almost unnoticed during his brief lifetime, Nick Drake produced several albums of chilling, somber beauty. With hindsight, these have come to be recognized as peak achievements of both the British folk-rock scene and the entire rock singer/songwriter genre.
– Richie Unterberger (allmusic.com)[/vc_message][/vc_column][/vc_row]
Nicholas Rodney "Nick" Drake (19 June 1948 – 25 November 1974) was an English singer-songwriter and musician, known for his gentle guitar-based songs. He failed to find a wide audience during his lifetime but his work has gradually achieved wider notice and recognition. Drake signed to Island Records when he was 20 years old and a student at the University of Cambridge, and released his debut album, Five Leaves Left, in 1969. By 1972, he had recorded two more albums—Bryter Layter and Pink Moon. Neither sold more than 5,000 copies on initial release. Drake's reluctance to perform live, or be interviewed, contributed to his lack of commercial success.
Tomorrow Is A Long Time
[vc_row][vc_column][vc_message message_box_color="mulled_wine" icon_fontawesome="fa fa-quote-left"]If today was not an endless highway
If tonight was not a crooked trail
If tomorrow wasn't such a long time
Then lonesome would mean nothing to you at all[/vc_message][/vc_column][/vc_row]

Don't Think Twice, It's Alright
[vc_row][vc_column][vc_message message_box_color="mulled_wine" icon_fontawesome="fa fa-quote-left"]When your rooster crows at the break a dawn
Look out your window and I'll be gone
You're the reason I'm trav'lin' on
Don't think twice, it's all right[/vc_message][/vc_column][/vc_row]

Cocaine Blues
Not a Bob Dylan cover, but a song also covered by Bob.
[vc_row][vc_column][vc_message message_box_color="mulled_wine" icon_fontawesome="fa fa-quote-left"]Got my baby dressed in white
Hey baby won't you stay the night
Cocaine all around my brain[/vc_message][/vc_column][/vc_row]

[vc_row][vc_column][vc_separator][vc_btn title="Borntolisten @ Facebook" color="blue" i_icon_fontawesome="fa fa-facebook-official" add_icon="true" link="url:https%3A%2F%2Fwww.facebook.com%2FJohannasVisions%2F||target:%20_blank|"][/vc_column][/vc_row][vc_row][vc_column][vc_message message_box_style="outline" icon_fontawesome="fa fa-link" css_animation="bounceIn"]Check out:
[/vc_message][/vc_column][/vc_row]