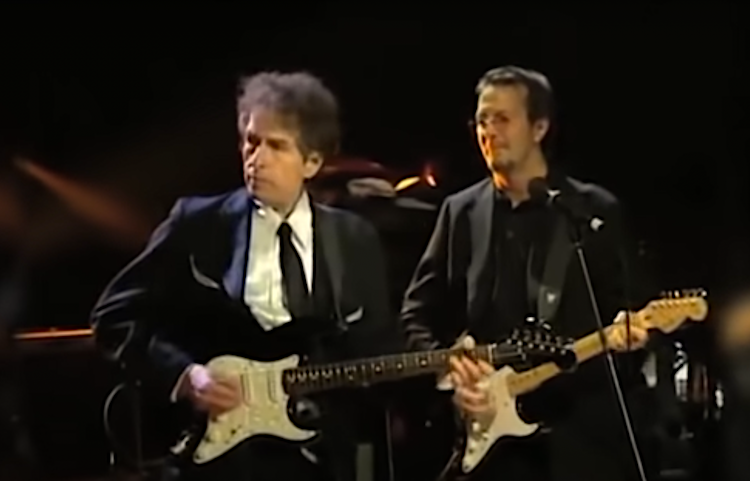 [vc_row][vc_column][vc_message message_box_color="mulled_wine" icon_fontawesome="fa fa-quote-left"]….Paul Simon writes great songs. George Harrison great songs, a lot of people, Eric Clapton produces wonderful music.
~Bob Dylan (Press Conference, July 1981)[/vc_message][/vc_column][/vc_row]
Eric Patrick Clapton, CBE (born 30 March 1945) is an English rock and blues guitarist, singer, and songwriter. He is the only three-time inductee to the Rock and Roll Hall of Fame: once as a solo artist and separately as a member of the Yardbirds and of Cream. Clapton has been referred to as one of the most important and influential guitarists of all time. Clapton ranked second in Rolling Stone's list of the "100 Greatest Guitarists of All Time" and fourth in Gibson's "Top 50 Guitarists of All Time". He was also named number five in Time magazine's list of "The 10 Best Electric Guitar Players" in 2009.
Sign Language
Shangri-La Studios
Malibu, California
March – April 1976
Eric Clapton (guitar & vocal)
Bob Dylan (guitar & shared vocal)
Robbie Robertson (guitar)
[vc_row][vc_column][vc_message message_box_color="mulled_wine" icon_fontawesome="fa fa-quote-left"]You speak to me
In sign language
As I'm eating a sandwich
In a small café
At a quarter to three
But I can't respond
To your sign language[/vc_message][/vc_column][/vc_row]

Continue reading "Eric Clapton & Bob Dylan Performing Together" →