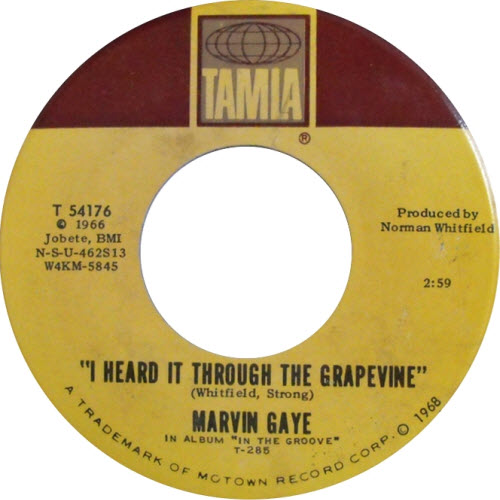 [vc_row][vc_column][vc_message message_box_color="mulled_wine" icon_fontawesome="fa fa-quote-left"]I Heard It Through the Grapevine" isn't a plea to save a love affair; it's Marvin Gaye's essay on salvaging the human spirit. The record distills four hundred years of paranoia and talking drum gossip into three minutes and fifteen seconds of anguished soul-searching.
~Dave Marsh (The Heart of Rock & Soul)[/vc_message][/vc_column][/vc_row]
Wikipedia:
Released
October 30, 1968
Recorded
April 10, 1967
Hitsville USA (Studio A), (Detroit, Michigan)
Genre
Psychedelic soul
Length
3:16
Label
Tamla

Writer(s)
Norman Whitfield
Barrett Strong
Producer
Norman Whitfield
"I Heard It Through the Grapevine" is a song written by Norman Whitfield and Barrett Strong for Motown Records in 1966, and made famous by Marvin Gaye in a single released in October 1968 on Motown's Tamla label.
Originally recorded by Smokey Robinson & the Miracles in 1966, that version was rejected by Motown owner Berry Gordy, who told Whitfield and Strong to make it stronger. After recording the song with Marvin Gaye in 1967, which Gordy also rejected, Whitfield produced a version with Gladys Knight & the Pips, which Gordy agreed to release as a single in September 1967, and which went to number two in the Billboard chart. The Marvin Gaye version was placed on his 1968 album In the Groove, where it gained the attention of radio disc jockeys, and Gordy finally agreed to its release as a single in October 1968, when it went to the top of the Billboard Pop Singles chart for seven weeks from December 1968 to January 1969 and became for a time the biggest hit single on the Motown label. The Gaye recording has since become acclaimed a soul classic:
in 2004, it was placed on the 

Rolling Stone

 list of 

The 500 Greatest Songs of All Time




On the commemorative 50th Anniversary of the 

Billboard

 Hot 100 issue of 

Billboard

 magazine

 in June 2008, Marvin Gaye's "Grapevine" was ranked 65th

It was also inducted to the 

Grammy Hall of Fame

 for "historical, artistic and significant" value
Live at Montreux, 1980:

Whitfield recorded the song with Marvin Gaye over five sessions, the first on February 3, 1967, and the final one on April 10, 1967. Recordings of this version took more than a month due to Whitfield overdubbing Gaye's vocals with that of the Andantes' background vocals, mixing in several tracks featuring the Funk Brothers on the rhythm track, and adding the string section from the Detroit Symphony Orchestra with an arrangement by Paul Riser. The session featuring Gaye led to an argument between the producer and singer. Whitfield wanted Gaye to perform the song in a higher key than his normal range, a move that had worked on David Ruffin during the recording of the Temptations' hit, "Ain't Too Proud to Beg". The mixture of Gaye's raspy vocals and the Andantes' sweeter harmonies, made Whitfield confident that he had a hit; however, despite approval from Motown's Quality Control Department, Gordy blocked the release.

Norman Whitfield
Personnel
Lead vocals by Marvin Gaye
Background vocals by The Andantes: Jackie Hicks, Marlene Barrow and Louvain Demps
Instrumentation by the Funk Brothers and the Detroit Symphony Orchestra

Organ by Earl Van Dyke

Drums by Richard "Pistol" Allen

String arrangement by Paul Riser
[vc_row][vc_column][vc_separator][vc_btn title="Alldylan / Borntolisten @ Facebook" color="blue" i_icon_fontawesome="fa fa-facebook-official" add_icon="true" link="url:https%3A%2F%2Fwww.facebook.com%2FJohannasVisions%2F||target:%20_blank|"][/vc_column][/vc_row]
-Egil