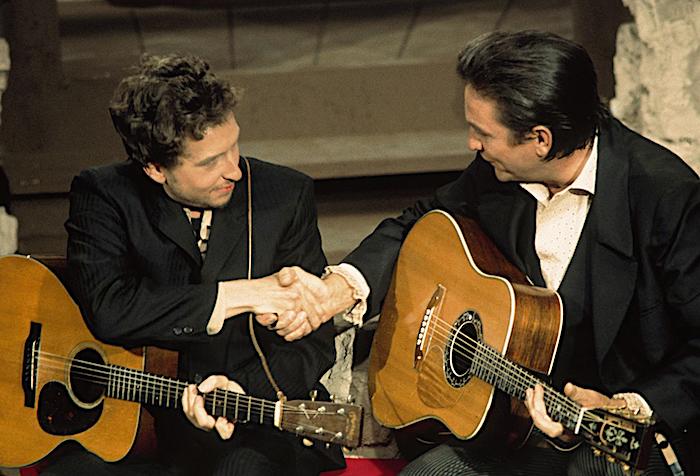 [vc_row][vc_column][vc_message message_box_color="mulled_wine" icon_fontawesome="fa fa-quote-left"]I love Bob Dylan, I really do. I love his early work, I love the first time he plugged in electrically, I love his Christian albums, I love his other albums.
~Johnny Cash[/vc_message][/vc_column][/vc_row]
From wikipedia:
John R. Cash (born J. R. Cash; February 26, 1932 – September 12, 2003) was an American singer, songwriter, musician, and actor. Much of Cash's music contained themes of sorrow, moral tribulation, and redemption, especially in the later stages of his career. He was known for his deep, calm bass-baritone voice, the distinctive sound of his Tennessee Three backing band characterized by train-like chugging guitar rhythms, a rebelliousness coupled with an increasingly somber and humble demeanor, free prison concerts, and a trademark all-black stage wardrobe which earned him the nickname "The Man in Black".
As an intro, here is a nice video where Bob Dylan talks about Johnny Cash:

Continue reading "Johnny Cash sings 7 Bob Dylan songs" →