"Folsom Prison looms large in Johnny Cash's legacy, providing the setting for perhaps his definitive song and the location for his definitive album, At Folsom Prison. The ideal blend of mythmaking and gritty reality, At Folsom Prison is the moment when Cash turned into the towering Man in Black, a haunted troubadour singing songs of crime, conflicted conscience, and jail."
~Stephen Thomas Erlewine (allmusic.com)
One of the best live albums in recording history was taped on this date in 1968, hell, it's one of the best albums period. Today it is it's 48-year anniversary.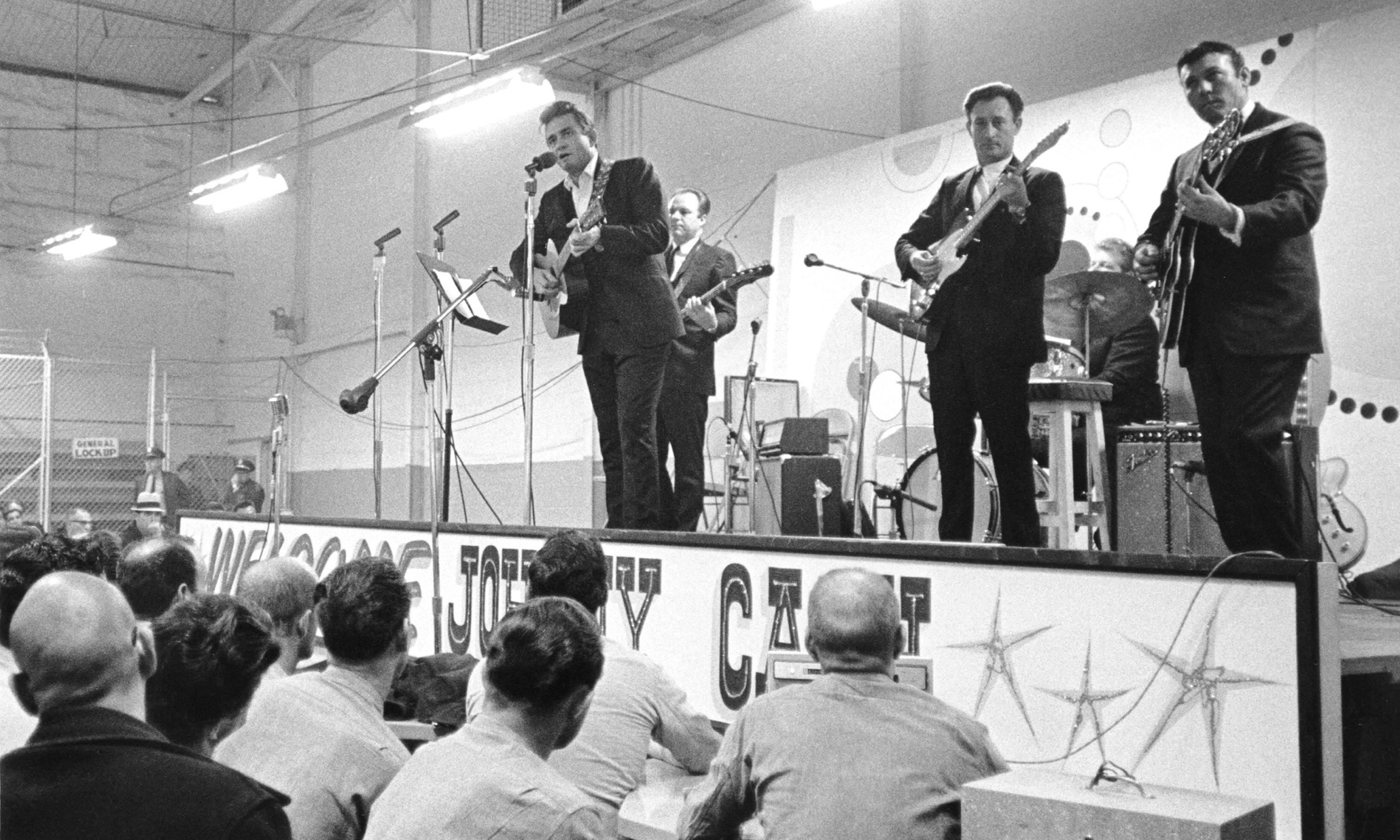 Released
May 1968
October 19, 1999 (re-release)
October 14, 2008 (Legacy Edition)
Recorded
Live at Folsom State Prison, January 13, 1968
Genre
Country
Length
55:56 (re-release)
Label
Columbia
Producer
Bob Johnston (original)
Bob Irwin (re-release)
At Folsom Prison is a live album and 27th overall album by Johnny Cash, released on Columbia Records in May 1968. Since his 1955 song "Folsom Prison Blues", Cash had been interested in performing at a prison. His idea was put on hold until 1967, when personnel changes at Columbia Records put Bob Johnston in charge of producing Cash's material. Cash had recently controlled his drug abuse problems, and was looking to turn his career around after several years of limited commercial success. Backed with June Carter, whom he married later that year; Carl Perkins and the Tennessee Three, Cash performed two shows at Folsom State Prison in California on January 13, 1968. The resulting album consisted of 15 tracks from the first show and two tracks from the second.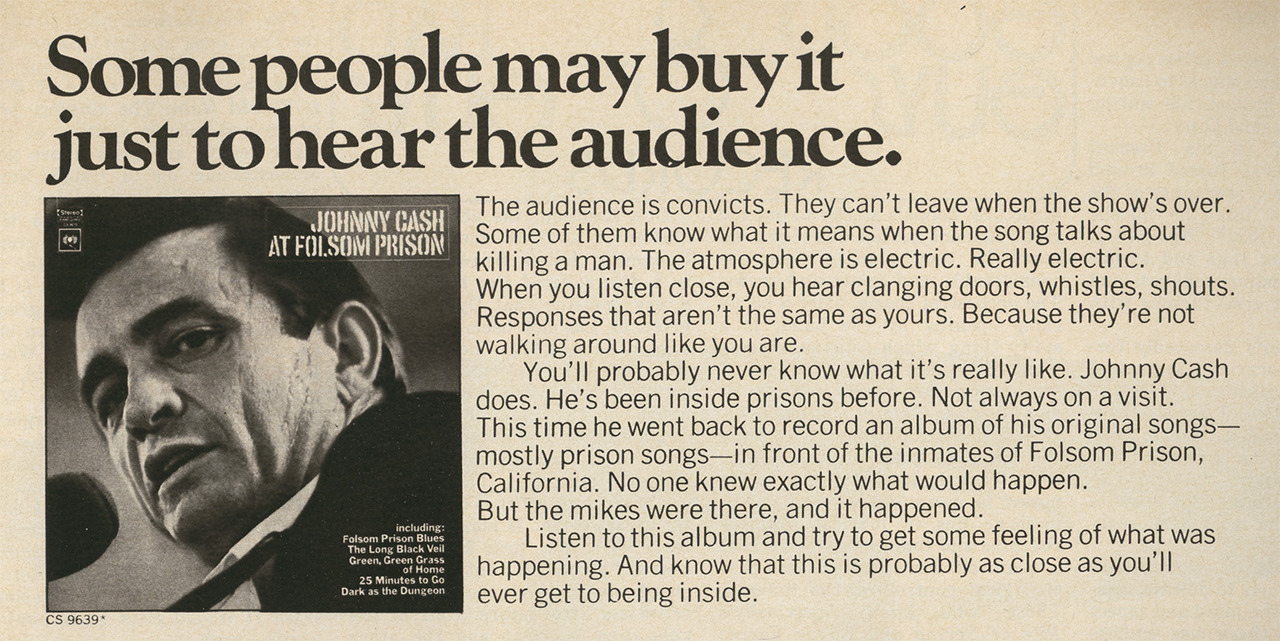 Despite little initial investment by Columbia, the album was a hit in the United States, reaching number one on the country charts and the top 15 of the national album chart. The lead single from the album, a live version of "Folsom Prison Blues", was a top 40 hit, Cash's first since 1964's "Understand Your Man".
At Folsom Prison received good reviews upon its release and the ensuing popularity revitalized Cash's career, leading to the release of a second prison album, At San Quentin. The album was re-released with additional tracks in 1999 and as a three-disc set in 2008. It was certified Gold on October 30, 1968, Platinum and 2x Platinum on November 21, 1986 and 3x Platinum on March 27, 2003 by the RIAA. (wikipedia)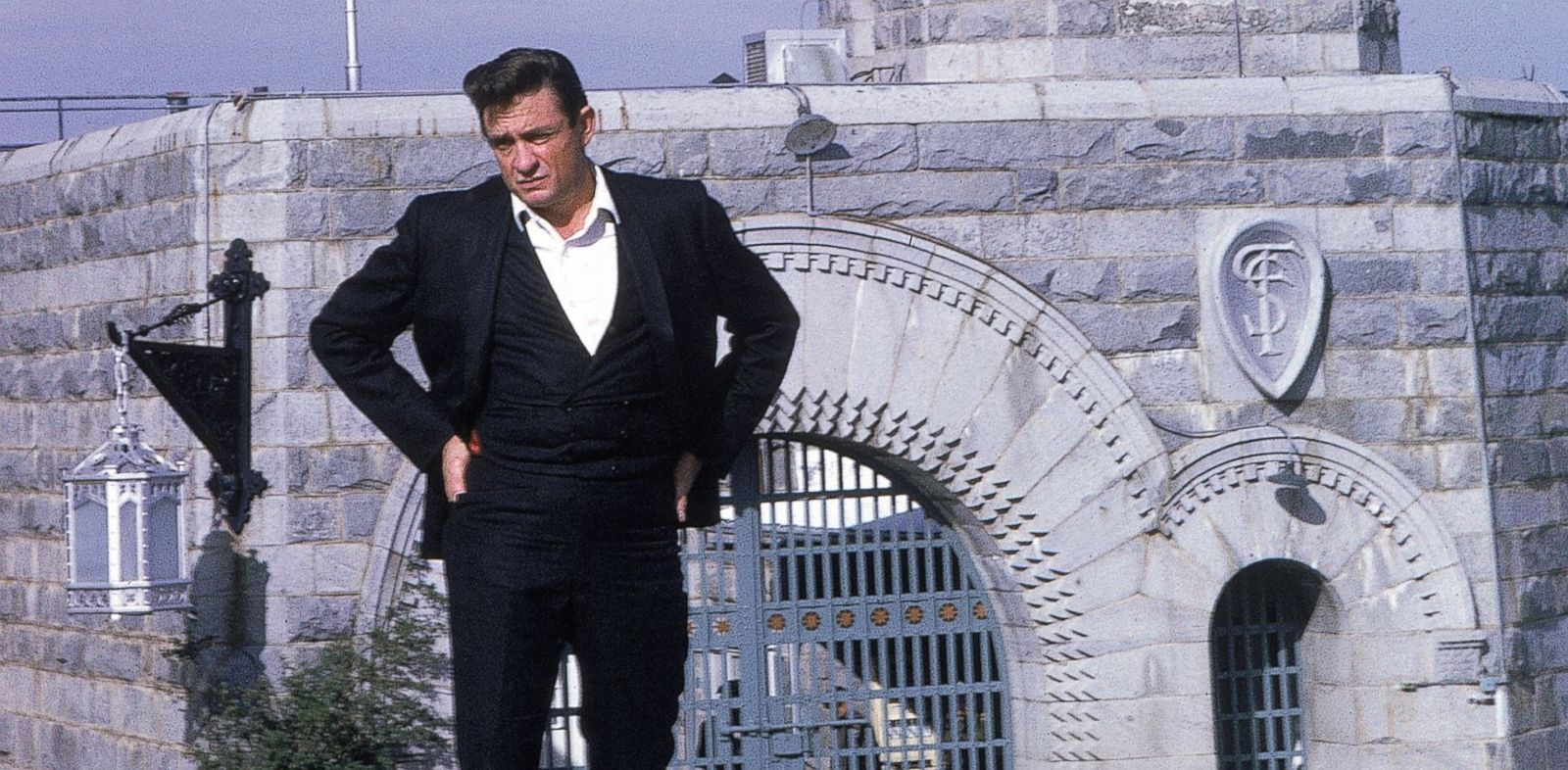 Cocaine Blues from At Folsom Prison documentary:

From Paste Magazine:
It's no exaggeration to say that Johnny Cash at Folsom Prison is his masterwork. Beginning with the 1957 release of his Sun Records debut, Johnny Cash with His Hot and Blue Guitar (which included "Folsom Prison Blues"), he created a new kind of country that encompassed the compassion of traditional folk ballads, the spit and grit of honky-tonk, the dangerous edge of blues and the glory of gospel. Cash—as much as Elvis Presley or Chuck Berry—embodied all the thorny contradictions that define post-War American popular music, from rock & roll to hip-hop.

Desperate, difficult, politically incorrect lines delivered with a breaking voice behind the clicka-clicka-chug of bass and guitar—"I shot a man in Reno, just to watch him die" ("Folsom Prison Blues"), "I can't forget the day I shot that bad bitch down" ("Cocaine Blues")—have echoed across the rock era, from the outlaw country of Johnny Paycheck to the Gothic punk of Nick Cave to the hardcore hip-hop of Tupac Shakur. But so has Cash's compassion. There's a direct link from "25 Minutes to Go," which Cash sings here from the perspective of a convict on death row, to Shakur's "16 on Death Row," in which the rapper also assumes the role of a doomed convict: "Dear Mama, they sentenced me to death / Today's my final day, I'm counting every breath." It's that mix of hard reality and soft empathy that brings Cash's prison audience to its feet, yelling and whistling its collective approval as if the proceedings might turn into a jailhouse riot at any moment. (READ MORE)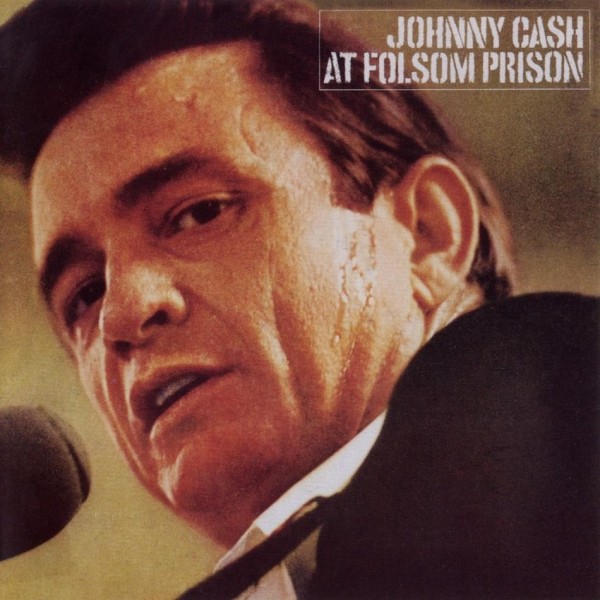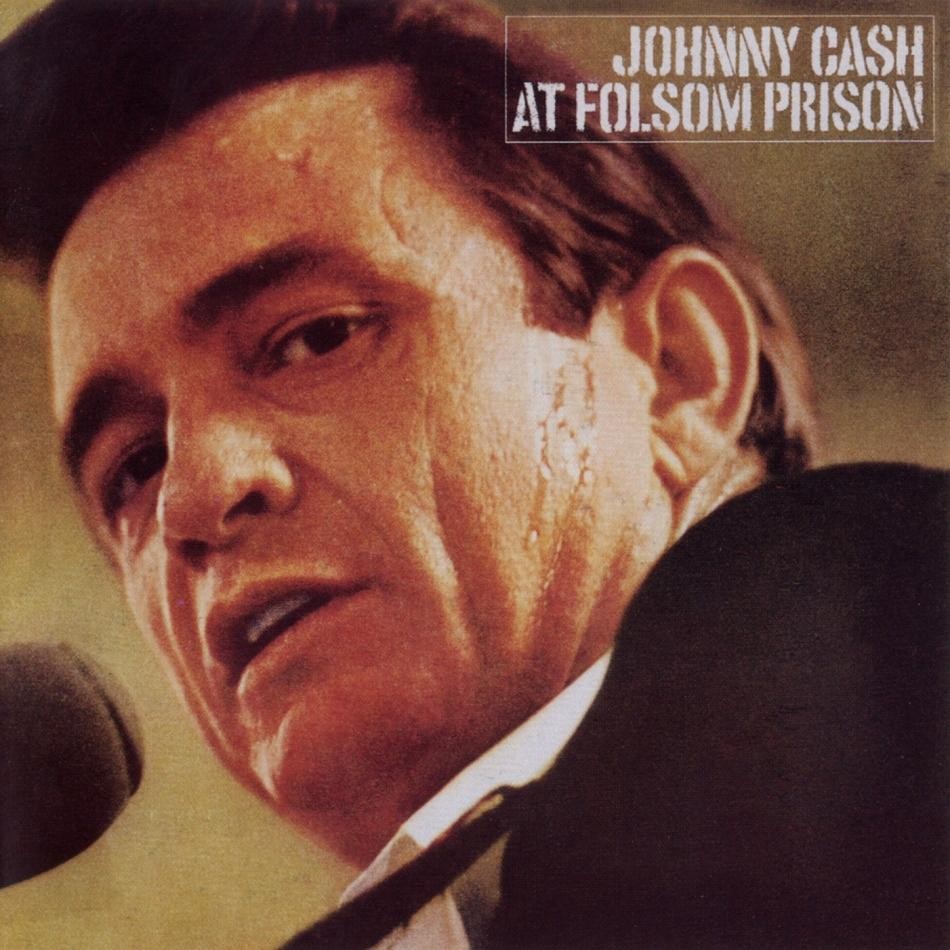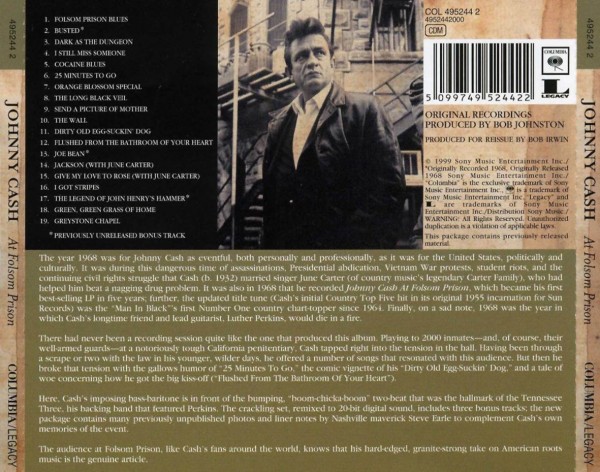 Spotify:

Personell:
Johnny Cash – vocal, guitar, harmonica
June Carter – vocal
Marshall Grant – bass guitar
W.S. Holland – drums
Carl Perkins – electric guitar
Luther Perkins – electric guitar
The Statler Brothers (Lew DeWitt, Don Reid, Harold Reid, Phil Balsley) – vocals
Bob Johnston – producer
Bob Breault, Bill Britain – engineers
Jim Marshall – photography
– Hallgeir & Egil