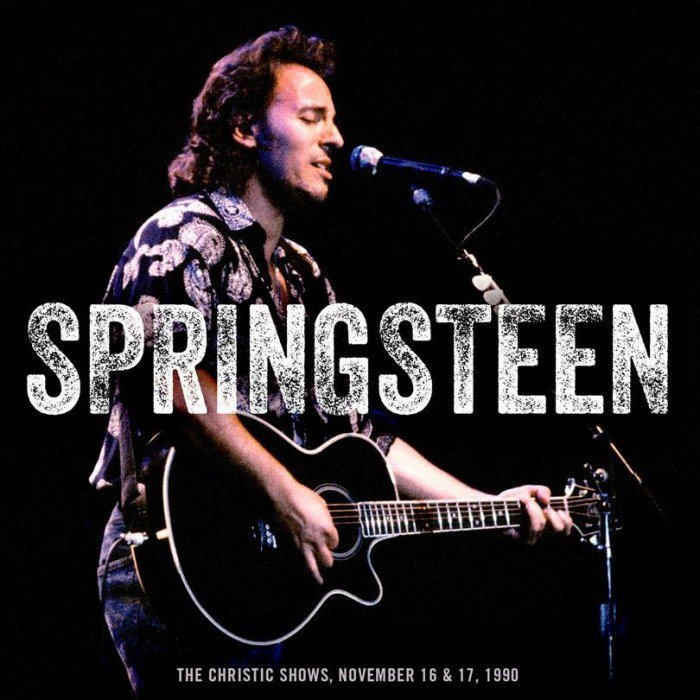 On November 17, 1990 Bruce Springsteen plays Shrine Auditorium in Los Angeles. This is the second concert (he played on November 16 as well), and a  slightly better concert than the first.
These 2 concerts are absolutely fantastic, Bruce hadn't played live for a while… and he is a bit nervous and 100% focused. These recordings are a MUST for any Springsteen fan.
Nebraska:

From worldofspringsteenbootlegs.blogspot.no:
After almost two years off from performing, not including surprise club gigs, and a year of a lot of personal change (he moved to LA, became a father, and broke up the E Street Band), Bruce agreed to do two acoustic shows for the Christic Institute, a public watchdog agency, with Bonnie Raitt and Jackson Browne. Many, many rumors of Bruce's recording activities circulated in the spring and summer of 1990, and many people wondered if Bruce was going to debut any new songs. Between the two nights, six new songs were played. The first night included the debuts of "Red Headed Woman," "When The Lights Go Out," "57 Channels," and "Real World." Other highlights from this show include a slow version on piano of "10th Avenue Freezeout," "Thunder Road" (Bruce forgets the words), and "My Hometown," as well as the acoustic premiere of "Darkness on the Edge of Town." "Real World" is performed on piano, which most fans prefer to the version later released on Human Touch.
The second show for the Christic Institute featured the premieres of "The Wish," a real rarity until the Ghost of Tom Joad Tour and later released on Tracks, and "Soul Driver," later released on Human Touch. Bruce also played "Tougher Than the Rest" on piano. "When the Lights Go Out" is never played again, but is released on Tracks.
According to an article in the Boston Globe a year later, bootleg tapes of these two shows were so good that Landau and Bruce considered releasing portions of these shows.
Setlist:
Brilliant disguise
Darkness on the edge of town
Mansion on the hill

Reason to believe

Red headed woman
57 channels (and nothin' on)
The wish
Live debut..

Tougher than the rest(solo piano)

10th avenue freeze-out(solo piano)
Soul driver
State trooper
Nebraska
When the lights go out
Thunder road(solo piano)
My hometown(solo piano)
Real World(solo piano)
Highway 61 revisited [With B.Raitt and J. Browne]
Across the borderline [With B.Raitt and J. Browne]
The whole concert (audio):

Check out:
-Egil