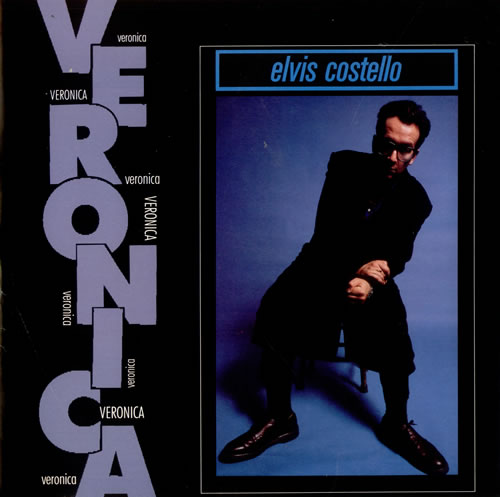 A great songwriter can take even an uncomfortable or difficult subject and turn it into an enjoyable and inviting song. When two of the best songwriters in the world come together, they can take that same subject and not only create a hit but also illuminate the subject in ways both surprising and moving.
-Jim Beviglia (Pump It Up: Elvis Costello's 100 Best Songs)
Here are some facts, original version, lyrics & live versions.
Wikipedia:
"Veronica" is a single from Elvis Costello's 1989 album Spike, co-written by Costello with Paul McCartney. The song "Veronica" was co-produced by T-Bone Burnett and Kevin Killen, and features Paul McCartney on his iconic Höfner bass. In 2004, Entertainment Weekly voted it one of Costello's top ten greatest tunes.
The song focuses on an older woman who has experienced severe memory loss. Costello's inspiration for this song was his grandmother, who suffered from Alzheimer's. When talking about the song on a VH1 interview, Costello reminisced about his grandmother having "terrifying moments of lucidity" and how this was the inspiration for "Veronica". In his 2015 autobiography, Unfaithful Music & Disappearing Ink, Costello wrote of his collaboration with McCartney, "I'd brought an early version of "Veronica" that you would have recognized […] All the words I'd already written were about my paternal grandmother, Molly, or more formally, Mabel Josephine Jackson. In fact, her Catholic confirmation name, Veronica, provided the very title of the song".
"Veronica" was also Costello's highest-charting Top 40 hit in the United States, peaking at No. 19 on the Billboard Hot 100 singles chart.
–
Official video:

Lyrics
Is it all in that pretty little head of yours?
What goes on in that place in the dark?
Well, I used to know a girl and I would have sworn that her name was Veronica
Well, she used to have a carefree mind of her own and a delicate look in her eye
These days I'm afraid she's not even sure if her name is Veronica

(Chorus:)
Do you suppose that waiting hands on eyes, Veronica has gone to hide?
And all the time she laughs at those who shout her name and steal her clothes
Veronica
Veronica
Veronica

Did the days drag by? Did the favours wane?
Did he roam down the town all the time?
Will you wake from your dream with a wolf at the door, reaching out for Veronica?
Well it was all of sixty-five years ago
When the world was the street where she lived
And a young man sailed on a ship in the sea with a picture of Veronica

On the "Empress of India"
And as she closed her eyes upon the world
And picked upon the bones of last week's news
She spoke his name out loud again

(Repeat Chorus)

Veronica sits in her favourite chair, she sits very quiet and still
And they call her a name that they never get right
And if they don't, then nobody else will
But she used to have a carefree mind of her own, with a devilish look in her eye
Saying "You can call me anything you like, but my name is Veronica"

(Repeat Chorus)
Live versions
June 6 1989 – Elvis plays for Warner Brothers employees:

–
Live unplugged at 'Late with Jools Holland' in the early nineties:

–
Woodstock 99 East Stage – July 25, 1999:

–
Morristown, NJ Nov 27, 2013:

–
The Ohana Festival Aug 27, 2016:

-Egil