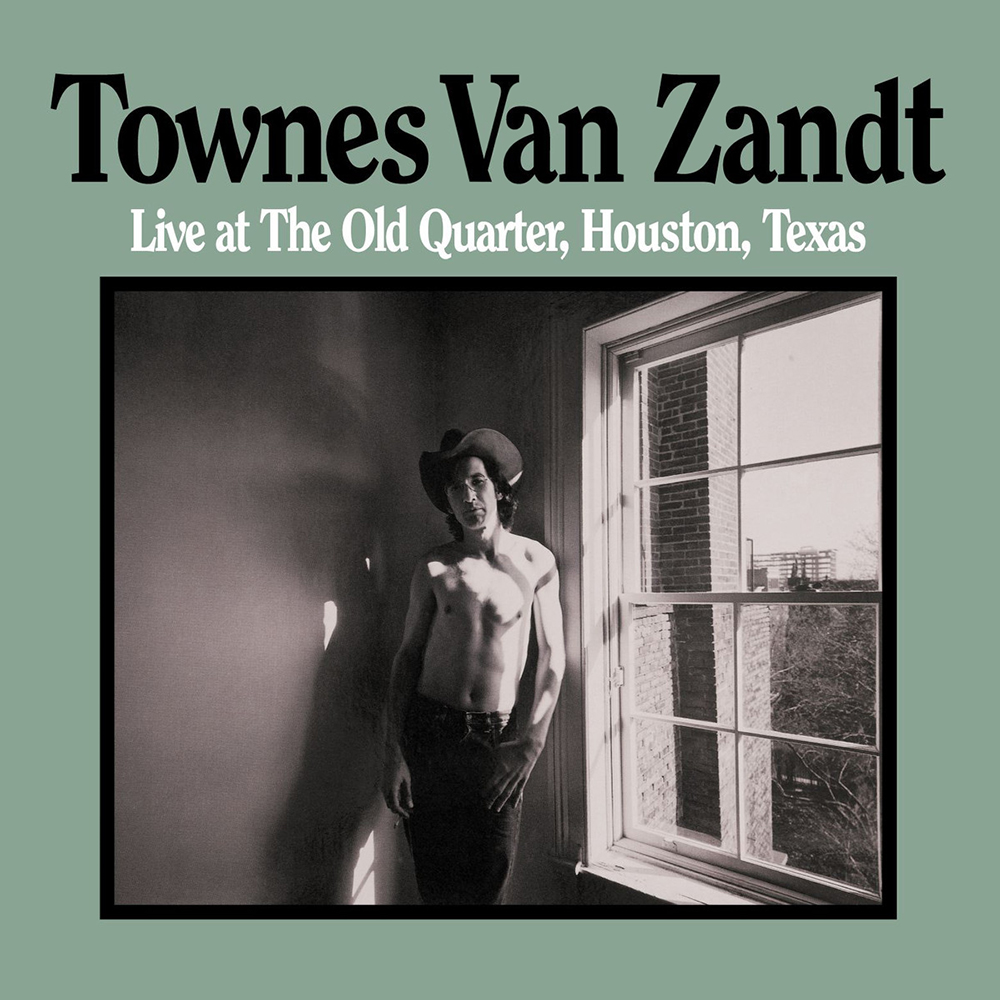 The set features 26 songs, all originals except for covers of "Cocaine Blues," "Nine Pound Hammer," and "Who Do You Love," and Van Zandt brigs these tunes to life with an easy grace that's a striking complement to the emotional gravity of his lyrics, though he also gives his lighter side an airing here, occasionally cracking jokes and offering a pair of funny talking blues numbers, "Talking Thunderbird Blues" and "Fraternity Blues." If the renditions of "Pancho & Lefty," "If I Needed You," "Rex's Blues," "For the Sake of the Song," and "Tecumseh Valley" aren't quite definitive, they're beautiful and affecting, and thanks to the sharp performances, on-point vocals, and superb set list, this is a superior document of Townes Van Zandt on-stage, and is a fine introduction to his body of work.
-Mark Deming (allmusic.com)
Amazon.com dates the CD release @ June 24, 2008, and that finally pushed me (Calendar OCD) to put out a post about this AWESOME album.
I love live music and most of the music I listen to is actually concert bootlegs (mostly Dylan, Van Morrison, Springsteen, The Stones, etc..), but there are some great officially released live albums out there as well.. and this is one of them. Recorded in July 1973, and released as a double live album in 1977.
We really love TVZ here @ borntolisten.com and when we made our "TWZ best songs" lists (a couple of years ago), the favourite versions on my list are mostly from this wonderful album (Kathleen, Lungs, If I Needed You, etc..).
Kathleen (my fav TWZ song):

It's plain to see, the sun won't shine today
But I ain't in the mood for sunshine anyway
Maybe I'll go insane
I got to stop the pain
Or maybe I'll go down to see Kathleen.
Wikipedia:
Released
1977
Recorded
July 1973
Genre
Country, Folk, Blues, singer-songwriter
Length

92

:

40

Label
Tomato (original release)
Rhino
Charly
CoraZong
Fat Possum
Producer
Earl Willis
Live at the Old Quarter, Houston, Texas is a double live album by Texas singer-songwriter Townes Van Zandt. The recording captures Van Zandt in a series of July 1973 performances in an intimate venue and there is a strong critical consensus that this recording is among the most exemplary of Van Zandt's career.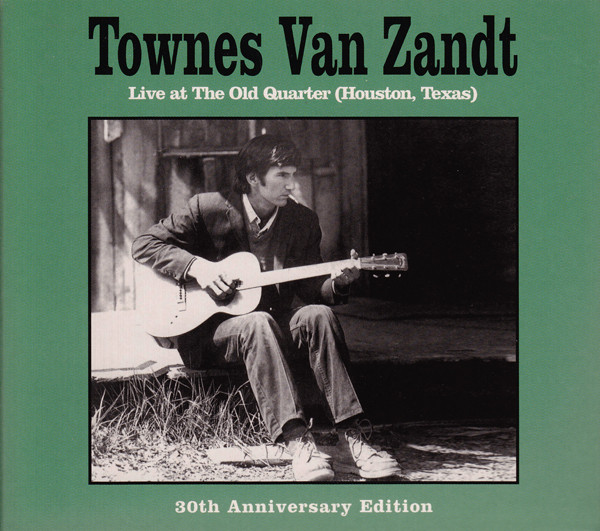 As legendary as it's reputation, Live at The Old Quarter, a small juke joint measuring only 18×38, over a hundred people were jammed in this smokey barroom back in 1973 to listen to the unique songs of Townes Van Zandt, the man and his guitar, imagine a hundred people packed in this room, passing beer mugs and sawbucks back and forth to the bar, standing on each others' shoulders, …  the words are intelligent, mesmerising, and most of all realistic…
–R. Webb (amazon.com review)

–

.. Nevertheless, Van Zandt's studio recordings were overproduced and his concert releases were less than inspired with puzzling regularity. That's what makes Live at The Old Quarter, Houston, Texas so special. It is unquestionably the definitive document, featuring the troubadour's finest songs delivered about as perfectly as one can imagine.
-John Metzger (The Music Box)
Lungs:

Won't you lend your lungs to me?
Mine are collapsing
Plant my feet and bitterly
Breathe up the time that's passing.
Breath I'll take and breath I'll give
Pray the day's not poison
Stand among the ones that live
In lonely indecision.
Track listing
All lyrics and music by Townes Van Zandt except where noted.
Disc 1:
"Announcement" (by Dale Soffar) – :44
"Pancho and Lefty" – 4:08
"Mr. Mudd & Mr. Gold" – 3:40
"Don't You Take It Too Bad" – 2:57
"Two Girls" – 3:51
"Fraternity Blues" – 3:07
"If I Needed You" – 3:18
"Brand New Companion" – 4:20
"White Freight Liner Blues" – 3:26
"To Live Is to Fly" – 3:20
"She Came and She Touched Me" – 4:09
"Talking Thunderbird Blues" – 2:33
"Rex's Blues" – 3:05
"Nine Pound Hammer" (Merle Travis) – 3:06
Disc 2:
"For the Sake of the Song" – 4:48
"Chauffeur's Blues" (Lightnin' Hopkins) – 4:33
"No Place to Fall" – 3:08
"Loretta" – 2:26
"Kathleen" – 2:54
"Why She's Acting This Way" – 5:42
"Cocaine Blues" (Traditional) – 3:21
"Who Do You Love?" (Ellas McDaniel) – 3:44
"Tower Song" – 3:47
"Waiting 'Round to Die" – 2:35
"Tecumseh Valley" – 4:30
"Lungs" – 2:34
"Only Him or Me" – 2:42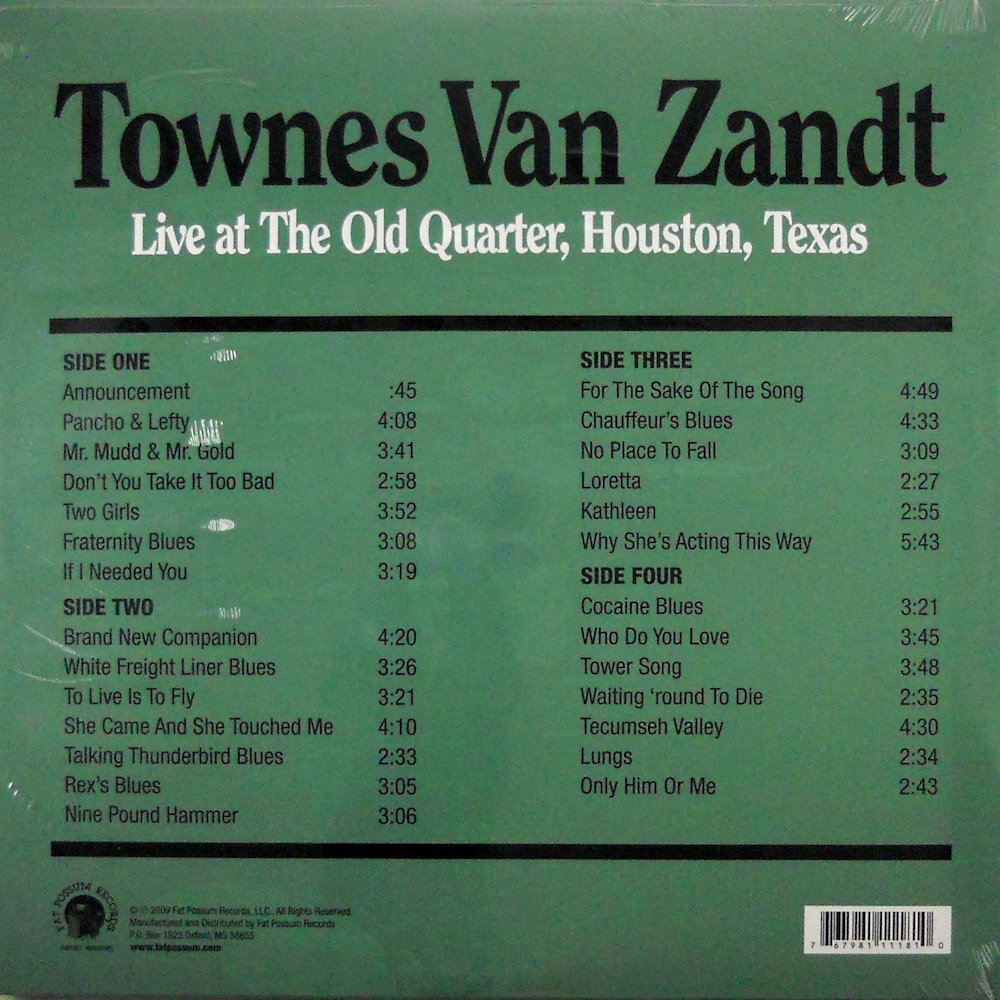 ..And btw everybody reading this needs to read this wonderful book:
–
Album @ Spotify:

-Egil