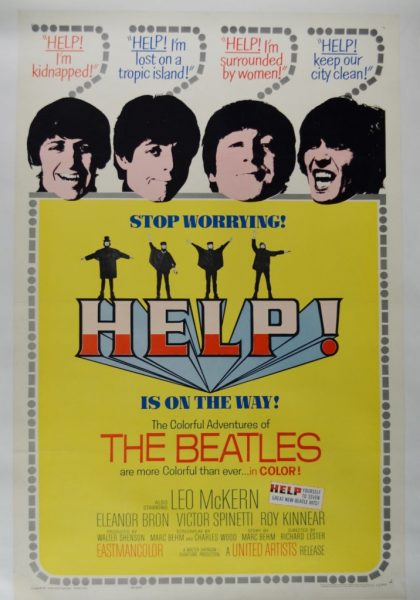 Help! is a 1965 film directed by Richard Lester, starring the Beatles – John Lennon, Paul McCartney, George Harrison and Ringo Starr—and featuring Leo McKern, Eleanor Bron, Victor Spinetti, John Bluthal, Roy Kinnear and Patrick Cargill. Help! was the second feature film made by the Beatles and is a comedy adventure which sees the group come up against an evil cult.
Not as enjoyable as A Hard Day's Night but almost, I love it!
The Beatles later said the film was shot in a "haze of marijuana". According to Starr's interviews in The Beatles Anthology, during the Austrian Alps film shooting, he and McCartney ran off over the hill from the "curling" scene set to smoke a joint.
The soundtrack was released as an album, also called Help!
Trailer for the restored version:

And another one:

The Beatles said the film was inspired by the Marx Brothers classic Duck Soup. It was also directly satirical of the James Bond series of films.
The humour of the film is strongly influenced by the abstract humour of the Goon Show, the director had personal and direct experience in the conversion of the radio format to television, and personal working experience with Peter Sellers in particular. Beatles recording producer George Martin had also produced records for the Goon Show team. McCartney has always said that the Beatles style of humour was taken from the Goon Show. Many of the film's concepts are derived from Goon Shows, such as the presence of wild animals, music, and abstractions such as the closing statement that concludes the film.
The Movie:

Swedish poster for Help!

There's a good Blu-ray release from 2013, well worth buying!
– Hallgeir & Egil