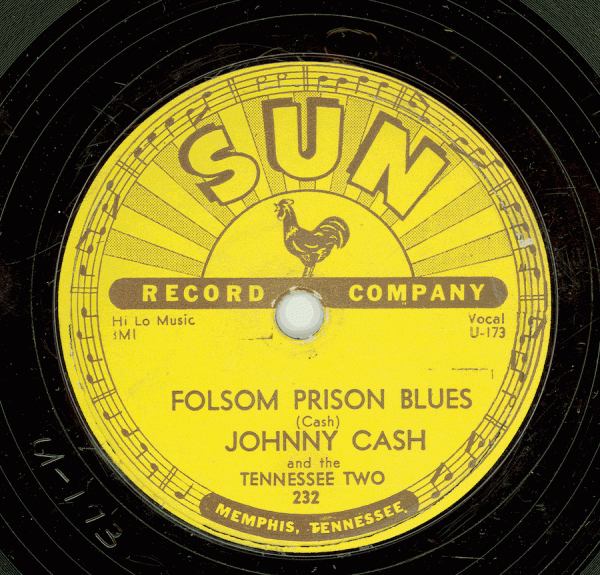 [vc_row][vc_column][vc_message message_box_color="mulled_wine" icon_fontawesome="fa fa-quote-left"]Folsom Prison looms large in Johnny Cash's legacy, providing the setting for perhaps his definitive song and the location for his definitive album, At Folsom Prison. The ideal blend of mythmaking and gritty reality, At Folsom Prison is the moment when Cash turned into the towering Man in Black, a haunted troubadour singing songs of crime, conflicted conscience, and jail.
~Stephen Thomas Erlewine (allmusic.com)
[/vc_message][/vc_column][/vc_row]
Wikipedia:
"Folsom Prison Blues" is a song written in 1953 and first recorded in 1955 by American singer-songwriter Johnny Cash. The song combines elements from two popular folk styles, the train song and the prison song, both of which Cash continued to use for the rest of his career. It was one of Cash's signature songs. It was the eleventh track on his debut album With His Hot and Blue Guitar and it was also included (same version) on All Aboard the Blue Train. A live version, recorded among inmates at Folsom State Prison itself, became a #1 hit on the country music charts in 1968.
[vc_row][vc_column][vc_message message_box_color="mulled_wine" icon_fontawesome="fa fa-quote-left"]The remarkable accomplishment of Johnny Cash's "Folsom Prison Blues" is its success in eliciting sympathy for the lonely, cold-hearted prisoner who "shot a man in Reno, just to watch him die." Riding a chugga-chugga train rhythm, the song gives voice to the frustrations of a condemned man sentenced to life in prison. Recorded for Sun records, the song was in the country Top Five in 1956, though Cash had written it while in the Air Force somewhere before 1954. "Folsom Prison Blues" follows the traditional symbol of the train whistle, as Hank Williams wrote about in "(I Heard That) Lonesome Whistle" (1951).
-Bill Janovitz (allmusic.com)
[/vc_message][/vc_column][/vc_row]
Cash was inspired to write this song after seeing the movie Inside the Walls of Folsom Prison (1951) while serving in West Germany in the United States Air Force at Landsberg, Bavaria (itself the location of a famous prison). Cash recounted how he came up with the line "But I shot a man in Reno, just to watch him die": "I sat with my pen in my hand, trying to think up the worst reason a person could have for killing another person, and that's what came to mind."
Cash took the melody for the song and many of the lyrics from Gordon Jenkins's 1953 Seven Dreams concept album, specifically the song "Crescent City Blues". Jenkins was not credited on the original record, which was issued by Sun Records. In the early 1970s, after the song became popular, Cash paid Jenkins a settlement of approximately US$75,000 following a lawsuit.
The song was recorded at the Sun Studio in Memphis, Tennessee on July 30, 1955. The producer was Sam Phillips, and the musicians were Cash (vocals, guitar), Luther Perkins (guitar), and Marshall Grant (bass). Like other songs recorded during his early Sun Records sessions, Cash had no drummer in the studio, but replicated the snare drum sound by inserting piece of paper (like a dollar bill) under the guitar strings and strumming the snare rhythm on his guitar. The song was released as a single with another song recorded at the same session, "So Doggone Lonesome". Early in 1956, both sides reached #4 on the Billboard C&W Best Sellers chart.
Lyrics
I hear the train a comin'
It's rolling round the bend
And I ain't seen the sunshine since I don't know when,
I'm stuck in Folsom prison, and time keeps draggin' on
But that train keeps a rollin' on down to San Antone..
When I was just a baby my mama told me. Son,
Always be a good boy, don't ever play with guns.
But I shot a man in Reno just to watch him die
When I hear that whistle blowing, I hang my head and cry..
I bet there's rich folks eating in a fancy dining car
They're probably drinkin' coffee and smoking big cigars.
Well I know I had it coming, I know I can't be free
But those people keep a movin'
And that's what tortures me…
Well if they freed me from this prison,
If that railroad train was mine
I bet I'd move it on a little farther down the line
Far from Folsom prison, that's where I want to stay
And I'd let that lonesome whistle blow my blues away…..
Cash included the song, considered one of his signature songs, in his repertoire for decades. Cash performed the song at Folsom Prison itself on January 13, 1968, and this version was eventually released on the At Folsom Prison album the same year.

–
Good cover versions
Bob Dylan @
New Haven Coliseum
New Haven, Connecticut
10 November 1999
Bob Dylan (vocal & guitar)
Charlie Sexton (guitar)
Larry Campbell (guitar, mandolin, pedal steel guitar & electric slide guitar)
Tony Garnier (bass)
David Kemper (drums & percussion)
–
Merle Haggard – From the album "Mama Tried" (1968)

–
Waylon Jennings – From the album "Jewels" (1968)

–
Steve Earle – Johnny Cash Memorial Tribute (2003)

–
Jerry Lee Lewis – From the album "Killer Country" (1980

[vc_row][vc_column][vc_separator][vc_btn title="Alldylan / Borntolisten @ Facebook" color="blue" i_icon_fontawesome="fa fa-facebook-official" add_icon="true" link="url:https%3A%2F%2Fwww.facebook.com%2FJohannasVisions%2F||target:%20_blank|"][/vc_column][/vc_row][vc_row][vc_column][vc_message message_box_style="outline" icon_fontawesome="fa fa-link" css_animation="bounceIn"]Check out:
[/vc_message][/vc_column][/vc_row]
-Egil