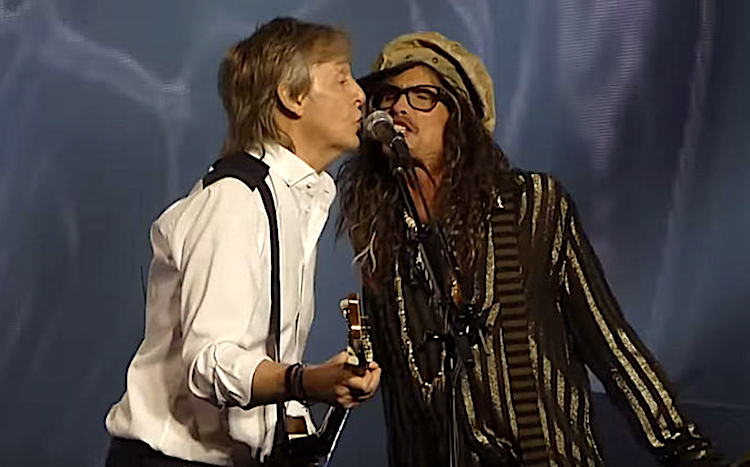 [vc_row][vc_column][vc_message message_box_color="mulled_wine" icon_fontawesome="fa fa-quote-left"]But I'm taking this piss that seems to be taking forever, and Paul says, 'Hey! Steven Tyler. I fucking love your music.' And he gives me the famous thumbs up with his one free hand. Well, that snapped my stream, right there.
–> Steven Tyler (about meeting Paul McCartney in a backstage urinal at the Hammersmith Odeon, London[/vc_message][/vc_column][/vc_row]
Steven Victor Tallarico (born March 26, 1948), known professionally as Steven Tyler, is an American singer, songwriter, musician, actor, and former television personality. He is best known as the lead singer of the Boston-based rock band Aerosmith, in which he also plays the harmonica, piano, and percussion. He is known as the "Demon of Screamin'" due to his high screams and his wide vocal range.
Abbey Road Medley
[vc_row][vc_column][vc_message message_box_color="mulled_wine" icon_fontawesome="fa fa-quote-left"]She came in through the bathroom window
Protected by a silver spoon
But now she sucks her thumb and wonders
By the banks of her own lagoon[/vc_message][/vc_column][/vc_row]
Washington December 2010

Continue reading "Steven Tyler sings 5 Beatles Songs – Happy Birthday Steven Tyler" →