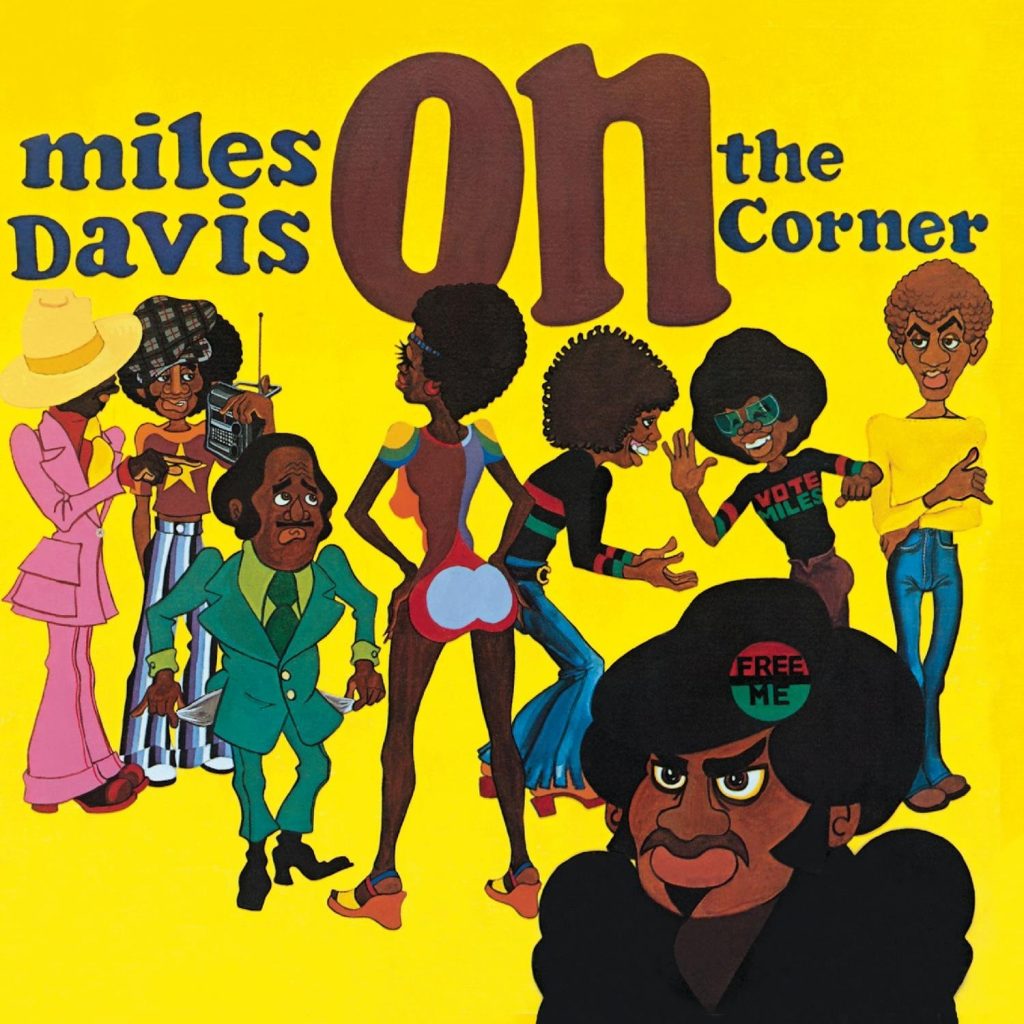 "Miles is a magician. When almost all of his contemporaries not only dismissed rock but R&B as somehow beneath their notice (for which read rival for geetz and gigs), Miles bought Sly Stone records and went to hear Jimi Hendrix. Anybody who doubts this doesn't have to ask Miles. He tells you all about it in his music."
– Rolling Stone Magazine (Album review, Dec. 1972)
On The Corner was recorded in June and July 1972 and released later that year by Columbia Records. The album continued Davis's exploration of jazz fusion, bringing together funk rhythms with the influence of experimental composer Karlheinz Stockhausen and free jazz saxophonist Ornette Coleman.
"Davis and band move the music way over to the funk side of the street — though the street funkers thought these cats were too weird with their stranded time signatures and modal fugues that begin and end nowhere and live for the way the riff breaks down into emptiness. "One and One" begins the new tale, so jazz breaks down and gets polished off and resurrected as a far blacker, deeper-than-blue character in the form of "Helen Butte/Mr. Freedom X," where guitars and horns careen off Henderson's cracking bass and Foster's skittering hi-hats. It may sound weird even today, but On the Corner is the most street record ever recorded by a jazz musician. And it still kicks."
– Allmusic.com/Thom Jurek
On the Corner was in part an effort by Davis to reach a younger African American audience who had left jazz for funk and rock and roll. Instead, it became one of his worst-selling albums and was scorned by jazz critics at the time of its release. It would be Davis's last studio album of the 1970s conceived as a complete work; subsequently, he recorded haphazardly and focused instead on live performance before temporarily retiring from music in 1975.
The critical standing of On the Corner has improved dramatically with the passage of time. Many outside the jazz community later called it an innovative musical statement and forerunner to subsequent funk, jazz, post-punk, electronica, and hip hop. In 2007, On the Corner was reissued as part of the 6-disc box set The Complete On the Corner Sessions, joining previous multi-disc Davis reissues. (source: Wikipedia entry)
"At the time, everyone loathed Miles Davis's On the Corner – even the people who played on it. But now, reports Paul Tingen, some of the coolest names in music are proud to name it as a major influence." – Guardian
Full album on YouTube:

Spotify:

– Hallgeir