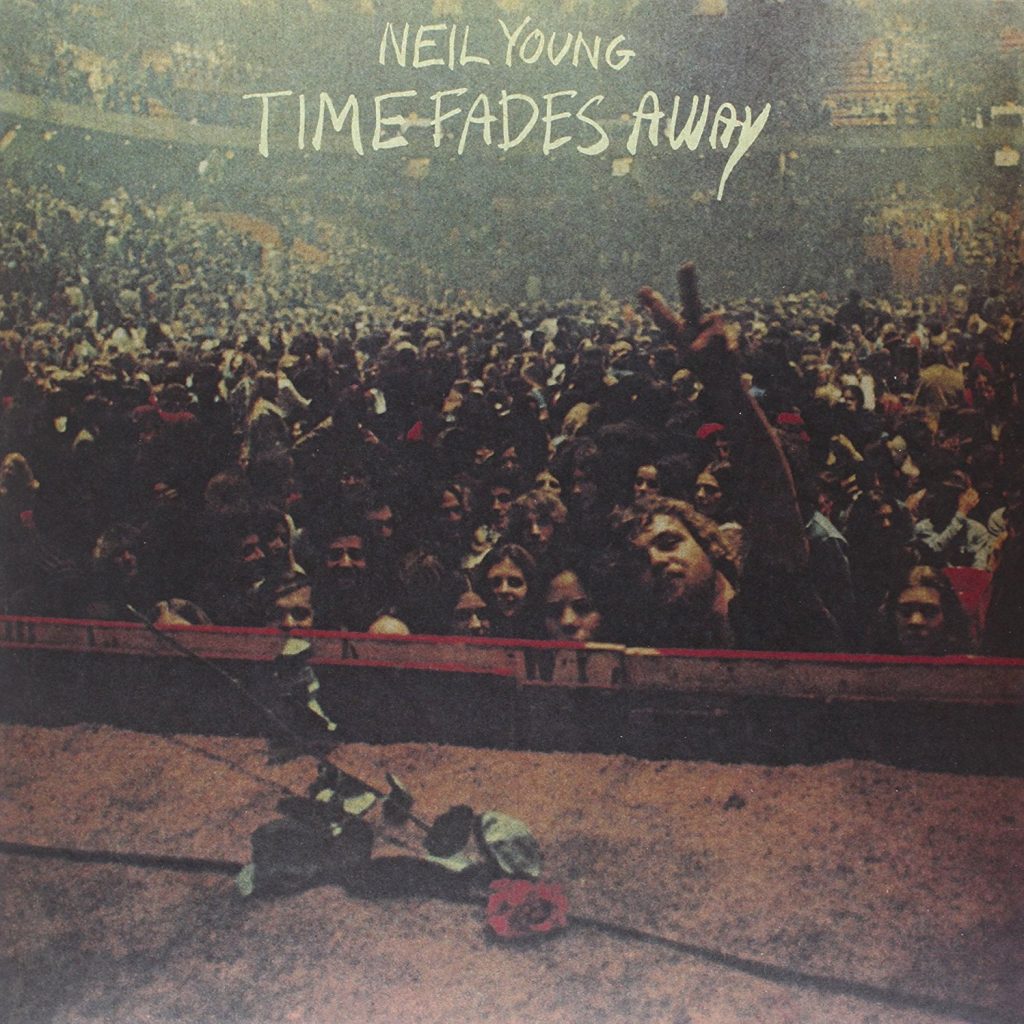 "My least favorite record is Time Fades Away. I think it's the worst record I ever made – but as a documentary of what was happening to me, it was a great record. I was onstage and I was playing all these songs that nobody had heard before, recording them, and I didn't have the right band. It was just an uncomfortable tour. It was supposed to be this big deal – I just had Harvest out, and they booked me into ninety cities."
– Neil Young
"… Time Fades Away, was a ragged musical parade of bad karma and road craziness, opening with Young bellowing "14 junkies, too weak to work" on the title cut, and closing with "Last Dance," in which he tells his fans "you can live your own life" with all the optimism of a man on the deck of a sinking ship. While critics and fans were not kind to Time Fades Away upon first release, decades later it sounds very much of a piece with Tonight's the Night and On the Beach, albums that explored the troubled zeitgeist of America in the mid-'70s in a way few rockers had the courage to face."
– Mark Deming (Allmusic)
Time Fades Away is a 1973 live album by Neil Young. Consisting of previously unreleased material, it was recorded with The Stray Gators on the support tour following 1972's highly successful Harvest. Due to Young's dissatisfaction with the tour, it was not reissued on CD. Nevertheless, Time Fades Away received much critical praise and was widely pirated after lapsing out of print because of the ensuing demand from fans. It was initially reissued on vinyl only as part of the Official Release Series Discs 5-8 Vinyl Box Set for Record Store Day in 2014, also finally released on CD in 2017.
Neil Young – Don't Be Denied, London, England, September 14, 1974:


It's hard to see how the album could get bad reviews (not by everyone) when it was released, to me it sounds like a natural successor to Harvest.
Those who participate:
Neil Young — vocals; guitar on "Time Fades Away", "Yonder Stands the Sinner", "L.A.", "Don't Be Denied", and "Last Dance"; piano on "Journey thru the Past", "Love in Mind", and "The Bridge"; harmonica on "Time Fades Away" and "The Bridge"; bass† on "L.A."
Ben Keith — pedal steel, vocal on "L.A.", "Don't Be Denied", and "Last Dance"; slide guitar on "Time Fades Away" and "Yonder Stands the Sinner"; vocal on "Time Fades Away"
Jack Nitzsche — piano on "Time Fades Away", "Yonder Stands the Sinner", "L.A.", "Don't Be Denied", and "Last Dance"; vocal on "Don't Be Denied"
David Crosby — guitar on "Yonder Stands the Sinner"; vocal on "Yonder Stands the Sinner" and "Last Dance"
Graham Nash — guitar, vocal on "Last Dance"
Tim Drummond — bass on "Time Fades Away", "Yonder Stands the Sinner", "Don't Be Denied", and "Last Dance"
Johnny Barbata — drums on "Time Fades Away", "Yonder Stands the Sinner", "L.A.", "Don't Be Denied", and "Last Dance"
"Neil Young, having tasted fame and fortune with After the Goldrush and Harvest, famously said he would rather head for the ditch than stay in the middle of the road. And that's just what he did with Time Fades Away. Young recorded the stoned, muddy, hard-rocking album on a stadium tour to confused audiences who had never heard the songs before. No atmosphere, no acoustic balladry, just memories of getting a kicking in the schoolyard and an extended moan about LA. Young's profile duly disappeared."
—Bob Stanley of The Guardian, talking about the album's release in 2008