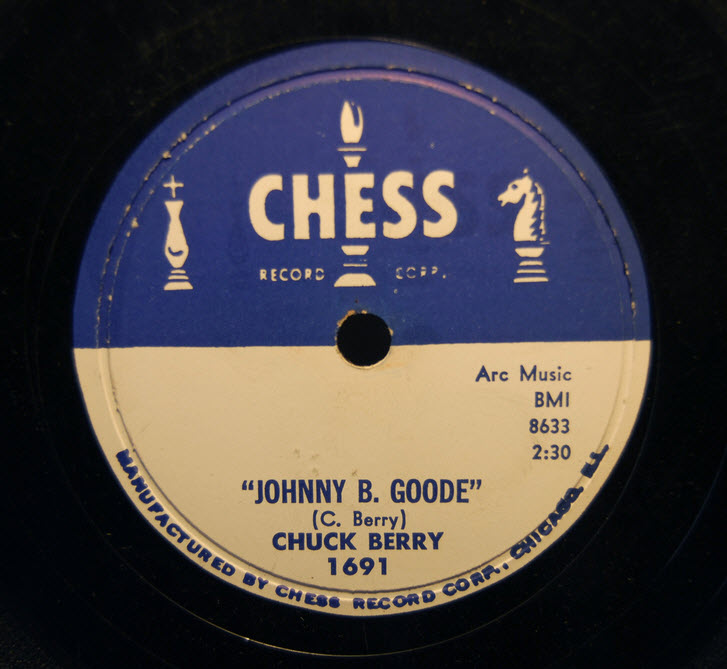 DeepdowninLouisiana'crossfromNewOrleans,
waybackupinthewoodsamongtheevergreens.
There stood a log cabin made of earth and wood
Where lived a country boy named Johnny B. Goode,
Who never ever learned to read or write so well
But he could play a guitar just like a ringin' a bell.

You can't copyright guitar licks and maybe that's good, because if you could, Chuck might have hoarded them as he does his Cadillacs. Without The Chuck Berry Riff, we'd lose not just the Beach Boys, but essential elements of the Beatles, the Rolling Stones, Bob Dylan, Bob Seger, and Bruce Springsteen — to mention only the most obvious examples. In a way, what was at the center of the first wave of the British Invasion could be described as a Chuck Berry revival.
~Dave Marsh (The Heart of Rock and Soul)
Live 1958:

 From Wikipedia:
| | |
| --- | --- |
| Released | March 31, 1958 |
| Format | 7″ 45 RPM, 10″ 78 RPM |
| Recorded | January 6, 1958 at Chess Studios, Chicago, Illinois |
| Genre | Rock and roll |
| Length | 2:30 |
| Label | Chess |
| Writer(s) | Chuck Berry |
| Producer | Little "Bongo" Kraus |
"Johnny B. Goode" is a 1958 rock and roll song written and originally performed by Chuck Berry. The song was a major hit among both black and white audiences peaking at #2 on Billboard magazine's Hot R&B Sides chart and #8 on the Billboard Hot 100.

The song is one of Chuck Berry's most famous recordings, has been covered by many artists, and has received several honors and accolades. It is also considered to be one of the most recognizable songs in music history.
another version:

Go Go
Go Johnny Go Go (x4)
Johnny B. Goode
Written by Berry in 1955, the song is about a poor country boy who plays a guitar "just like ringing a bell," and who might one day have his "name in lights." Berry has acknowledged that the song is partly autobiographical, and originally had "colored boy" in the lyrics, but he changed it to "country boy" to ensure radio play. The title is suggestive that the guitar player is good, and hints at autobiographic elements because Berry was born at 2520 Goode Avenue in St. Louis. The song was initially inspired by Berry's piano player, Johnnie Johnson, though developed into a song mainly about Berry himself. Though Johnnie Johnson played on many other Chuck Berry songs, it was Lafayette Leake who played piano on this song.

The opening guitar riff on "Johnny B. Goode" is essentially a note-for-note copy of the opening single-note solo on Louis Jordan's "Ain't That Just Like a Woman" (1946), played by guitarist Carl Hogan.

Louis Jordan – Ain`t That Just Like A Woman:

Musicians
Chuck Berry – vocals, guitar
Lafayette Leake – piano
Willie Dixon – bass
Fred Below – drums
Bruce Springsteen & Chuck Berry – Johnny B Goode (Live 1995):

Legacy
Berry's recording of the song was included on the Voyager Golden Record, attached to the Voyager spacecraft as representing rock and roll, one of four American songs included among many cultural achievements of humanity.
When Chuck Berry was inducted into the Rock and Roll Hall of Fame in 1986, he performed "Johnny B. Goode" and "Rock and Roll Music," backed by Bruce Springsteen and theE Street Band. The Hall of Fame included these songs and "Maybellene" in their list of the 500 songs that shaped Rock and Roll.
It was inducted into the Grammy Hall of Fame in 1999, for its influence as a rock & roll single.

Accolades
| List | Publisher | Rank | Year of Publication |
| --- | --- | --- | --- |
| 500 Greatest Songs of All Time | Rolling Stone | 7 | 2010 |
| 100 Greatest Guitar Tracks | Q | 42 | 2005 |
| 100 Greatest Guitar Songs of All Time | Rolling Stone | 1 | 2008 |
| Top 3000 Songs | Acclaimed Music | 6 | N/A |
| 500 Songs That Shaped Rock | Rock & Roll Hall of Fame | N/A | 1995 |
| 50 Greatest Guitar Solos | Guitar World | 12 | 2009 |
And Dave Marsh put in on number 2 in his brilliant list of "The 1001 Greatest Singles Ever Made"..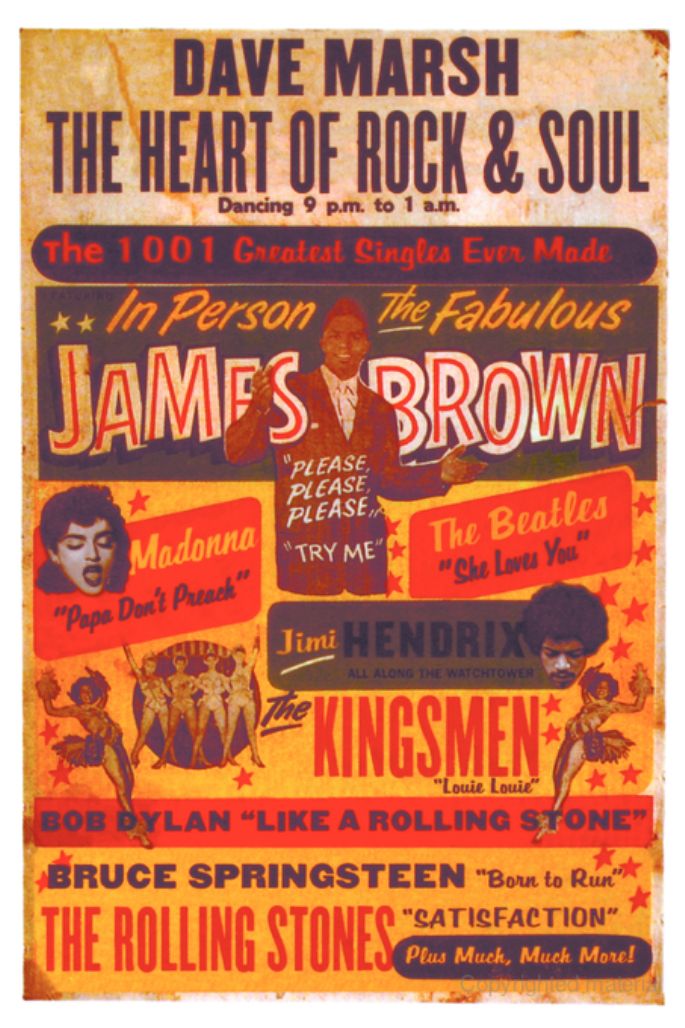 Album of the day:
The Anthology (2000):
Other January 06:
Earl Eugene Scruggs (January 6, 1924 – March 28, 2012) was an American musician noted for perfecting and popularizing a three-finger banjo-picking style (now called "Scruggs style") that is a defining characteristic of bluegrass music. Although other musicians had played in three-finger style before him, Scruggs shot to prominence when he was hired by Bill Monroe to fill the banjo slot in his group, the Blue Grass Boys.

Kim Wilson (born January 6, 1951) is an American blues singer and harmonica player. He is best known as the lead vocalist andfrontman for The Fabulous Thunderbirds on two hit songs of the 1980s; "Tuff Enuff", and "Wrap It Up."

Roger Keith "Syd" Barrett (6 January 1946 – 7 July 2006) was an English singer-songwriter, guitarist, and painter, best remembered as a founder member of the band Pink Floyd. He was the lead vocalist, guitarist, and primary songwriter during the band's psychedelicyears, providing major musical and stylistic direction in their early work. He is credited with creating their name, but left the group in April 1968 amid speculations of mental illness exacerbated by drug use, and was briefly hospitalised.
– Egil & Hallgeir