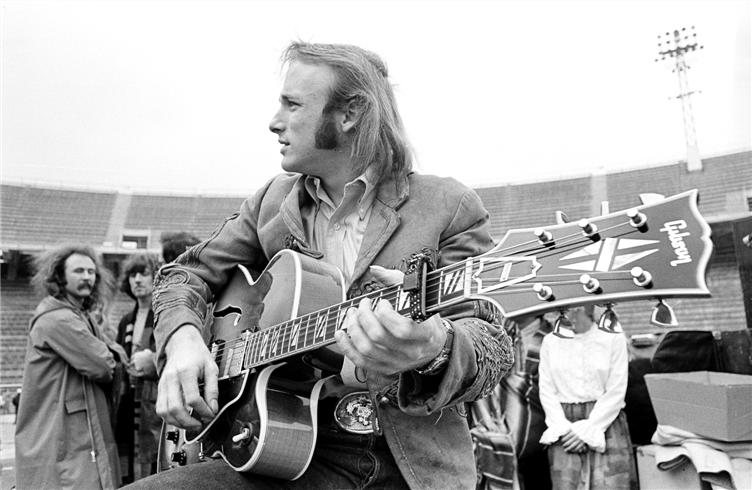 An artist cannot be responsible for what people make of their art. An audience loathe giving up preconceived images of an artist.
~Stephen Stills

One thing the blues ain't, is funny.
~Stephen Stills

He's a musical genius
~Neil Young
Photo Credit: Eleanor Stills
James Taylor Inducts Crosby, Stills and Nash into the Rock & Roll Hall of Fame in 1997:

Buffalo Springfield – For What It's Worth 1967:

From Wikipedia:
Birth name
Stephen Arthur Stills
Born
January 3, 1945 
Dallas, Texas, United States
Genres
Rock, folk rock, blues rock, latin
Occupations
Musician, songwriter, producer, political activist
Instruments
Vocals, guitar, bass, piano,organ, percussion, drums, viola
Years active
1962–present
Labels
Columbia, Atlantic, Reprise, Vision, Raven, Titan/Pyramid
Associated acts
Buffalo Springfield, Crosby, Stills, Nash & Young, The Stills-Young Band, Au Go Go Singers, The Continentals, Manassas
Website
Official website
Manassas – Stephen Stills – it doesn't matter (1972):

Stephen Arthur Stills (born January 3, 1945) is an American multi-instrumentalist and singer/songwriter best known for his work with Buffalo Springfield and Crosby, Stills & Nash (and Young). He has performed on a professional level in several other bands as well as maintaining a solo career at the same time. Stills was ranked #28 in Rolling Stone Magazine's 2003 list of "The 100 Greatest Guitarists of All Time". Stills became the first person to be inducted twice on the same night into the Rock and Roll Hall of Fame for his work with CSN and Buffalo Springfield. He is often considered one of the greatest musician/songwriters of the 20th century.
Album of the day:
Manassas (1972):
A sprawling masterpiece, akin to the Beatles' White Album, the Stones' Exile on Main St., or Wilco's Being There in its makeup, if not its sound. Rock, folk, blues, country, Latin, and bluegrass have all been styles touched on in Stephen Stills' career, and the skilled, energetic musicians he had gathered in Manassas played them all on this album. What could have been a disorganized mess in other hands, though, here all gelled together and formed a cohesive musical statement.
~Rob Caldwell (allmusic.com)
-Egil & Hallgeir