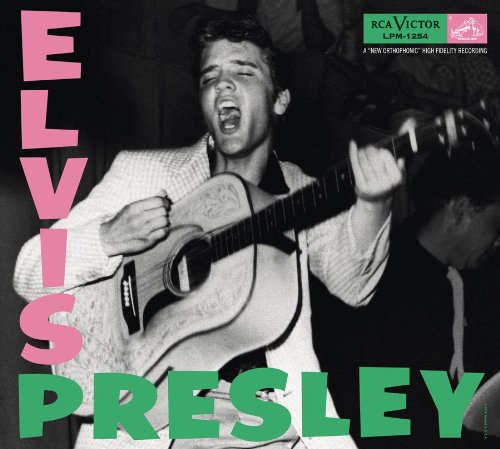 This was as startling a debut record as any ever made, representing every side of Elvis' musical influences except gospel — rockabilly, blues, R&B, country, and pop were all here in an explosive and seductive combination. Elvis Presley became the first rock & roll album to reach the number one spot on the national charts, and RCA's first million dollar-earning pop album.
-Bruce Eder (allmusic.com)
Blues Sued Shoes:

Elvis Presley (released in the UK as Elvis Presley Rock n' Roll) is the debut studio album by American singer and musician Elvis Presley. It was released on RCA Victor, in mono, catalogue number LPM 1254, in March 1956. The recording sessions took place on January 10 and January 11 at the RCA Victor recording studios in Nashville, Tennessee, and on January 30 and January 31 at the RCA Victor studios in New York. Additional material originated from sessions at Sun Studio in Memphis, Tennessee, on July 5, August 19 and September 10 of 1954, and on July 11, 1955.
What is more remarkable about the album is the fact it simultaneously established rock n' roll no longer as a teenage fad but as a genuine cultural movement, albeit firmly removed from its racial roots. Elvis Presley proved that a rock album could not only sell, as teenagers generally only invested in '45s in those days, but it could outsell the singles from its own and any other genre. More importantly, though the correlation is hardly incidental, it established a degree of vocal primacy on a genre not yet blessed with a number of great singers. Chuck Berry's unique selling point was his ear-splitting guitar solos and strong backbeat; Elvis' main selling point was his beautiful voice, which was only increasing in confidence and stature as he released more and more new material. By the end of the year and the release of his second album Elvis, the Memphis singer was America's most successful musician bar none.
-Dr Dave De Sylvia (sputnikmusic.com)
I Got A Woman (Ray Charles):

The album spent ten weeks at number 1 on the Billboard Top Pop Albums chart in 1956, the first rock and roll album ever to make it to the top of the charts, and the first million-selling album of that genre.
In 2003, it was ranked number 56 on Rolling Stone magazine's list of the 500 greatest albums of all time.
Elvis Presley was also one of three Presley albums to receive accolades in the reference book 1001 Albums You Must Hear Before You Die, the others being Elvis Is Back! and From Elvis in Memphis.
It was certified Gold on November 1, 1966 and Platinum on August 8, 2011 by the Recording Industry Association of America.
Track listing 
Original release
Album @ Spotify:

-Egil