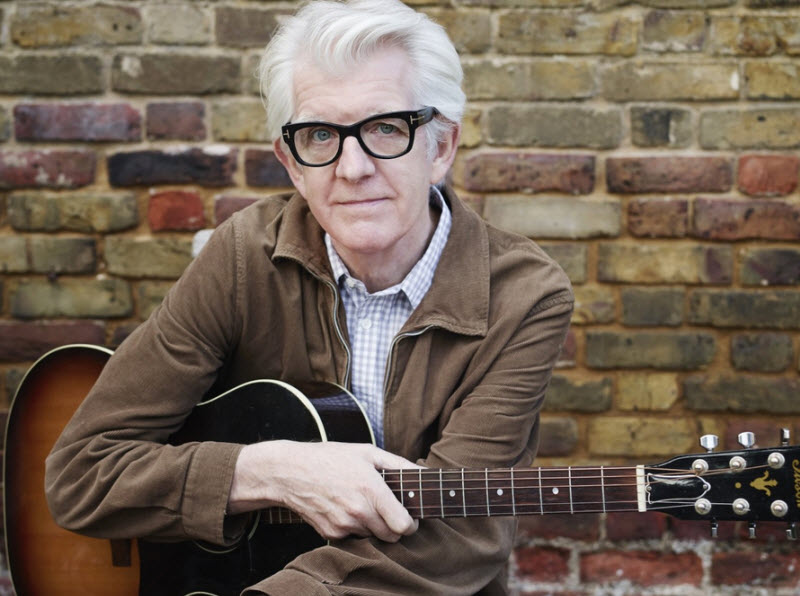 The world is full of musicians who can play great, and you wouldn't cross the road to see them. It's people who have this indefinable attitude that are the good ones.
~Nick Lowe

As long as my body holds out, I'll be grooving when I'm 70, and not some sort of horrible spectacle.
~Nick Lowe

As the leader of the seminal pub rockers Brinsley Schwarz, a producer, and a solo artist, Nick Lowe held considerable influence over the development of punk rock. With the Brinsleys, Lowe began a back-to-basics movement that flowered into punk rock in the late '70s. As the house producer for Stiff, he recorded many seminal records by the likes of the Damned, Elvis Costello, and the Pretenders. His rough, ragged production style earned him the nickname "Basher" and also established the amateurish, D.I.Y. aesthetics of punk. Despite his massive influence on punk rock, Lowe was never really a punk rocker. ..
~Stephen Thomas Erlewine (allmusic.com)
Live BBC 4 Sessions 2007 concert (59min)
00:19 Heart
03:45 What's Skakin' On The Hill
07:16 Without Love
09:55 Lately I've Let Things Slide
13:16 Has She Got A Friend?
16:05 I Trained Her To Love Me
20:23 Indian Queens
24:21 Cruel To Be Kind
27:47 You Inspire Me
31:15 Introducing The Horns
31:52 Long Limbed Girl
34:55 Hope For Us All
38:56 The Other Side Of The Coin
42:15 Shting-Shtang
45:08 The Man In Love
47:22 (What's So Funny 'Bout) Peace, Love And Understanding
51:40 I Knew The Bride
56:00 The Beast In Me
Wikipedia:
Birth name
Nicholas Drain Lowe
Born
24 March 1949
Walton-on-Thames, Surrey, England
Genres
Rock and roll, punk rock, new wave,

 

power pop
Occupation(s)
Musician, singer-songwriter
Instruments
Vocals, guitar, piano/keyboards, bass
Years active
1966–present
Labels
Columbia Records, Demon Records, F-Beat Records,Radar Records, Reprise Records, Upstart Records,Yep Roc Records, Stiff Records, Proper Records(current).
Website
nicklowe.net
Nicholas Drain "Nick" Lowe (born 24 March 1949) is an English singer-songwriter, musician, and producer.
A noted figure in UK pub rock, power pop, punk rock and new wave, Lowe has recorded a string of well-reviewed solo albums. Along with vocals, Lowe plays guitar, bass guitar, piano and harmonica. He is best known for his songs "Cruel to Be Kind" (a US Top 40 single) and "I Love the Sound of Breaking Glass" (a top 10 UK hit), as well as his production work with Elvis Costello, Graham Parker, and others. Lowe also wrote "(What's So Funny 'Bout) Peace, Love, and Understanding", a hit for Costello. He lives in Brentford, London, England.
When punk rock came along, the one thing you were not supposed to be was musical.
~Nick Lowe

I've always felt quite like an outsider, I don't really belong in the mainstream, and I quite like that.
~Nick Lowe
Cruel to be Kind
Nick Lowe's sole American hit single — it hit number 12 in the summer of 1979 — "Cruel To Be Kind" is an all-time power-pop classic, one of the finest singles of its era. This is one of those songs where seemingly everything single element of the tune and arrangement is its own hook, from Billy Bremner's galloping acoustic rhythm guitar and the strange extra flutter in every other measure of Terry Williams' backbeat to the Beach Boys-inspired backing vocals on the perfectly modulated bridge into Dave Edmund's slide guitar solo.
~Stewart Mason (allmusic.com)
–
Album of the day
Labour of Lust (1979)
Jesus of Cool was a jukebox, spinning out a series of perfectly crafted — and decidedly quirky and subversive — pop singles. In contrast, Nick Lowe's second album, Labour of Lust, is the work of a bar band, in this case Rockpile, playing the hell out of the same type of songs. Naturally, the result is a more coherent sound that may be a little less freewheelingly eclectic, but it is no less brilliant. Recorded simultaneously with Dave Edmunds' Repeat When Necessary, Labour of Lust benefits from the muscular support of Rockpile, who make Lowe's songs crackle with vitality. Working primarily in the roots rock vein of Brinsley Schwarz but energizing his traditionalist tendencies with strong pop melodies, a sense of humor, and an edgy new wave sensibility, Lowe comes up with one of his best sets of songs. ..
~Stephen Thomas Erlewine (allmusic.com)
-Egil