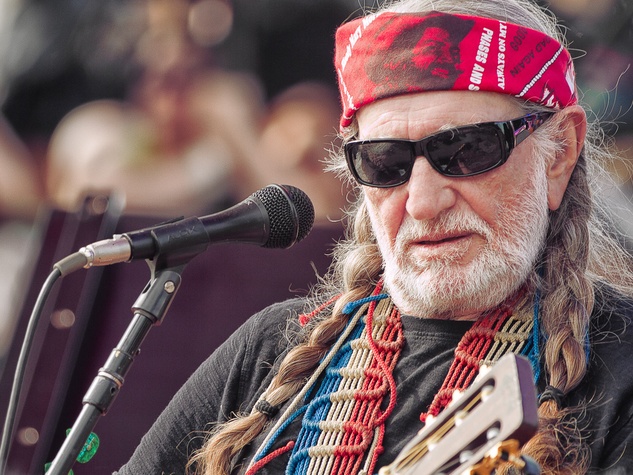 Tomorrow is Willie Nelson´s 85th birthday (born April 29, 1933).
He [Willie Nelson] takes whatever thing he's singing and makes it his. There's not many people who can do that. Even something like an Elvis tune. You know, once Elvis done a tune, it's pretty much done. But Willie is the only one in my recollection that has even taken something associated with Elvis and made it his. He just puts his sorta trip on it…
~Bob Dylan (28 April 1993)
Here are 10 wonderful songs performed & most of them written by Mr. Nelson.
 Always on My Mind
An American country music song by Johnny Christopher, Mark James and Wayne Carson, recorded first by Gwen McCrae (as "You Were Always On My Mind") and Brenda Lee in 1972.
Willie Nelson recorded and released the song in early 1982. It raced to number one on Billboard magazine's Hot Country Singles chart that May, spending two weeks on top and total of 21 weeks on the chart.
Maybe I didn't treat you
Quite as good as I should have
Maybe I didn't love you
Quite as often as I could have
Little things I should have said and done
I just never took the time

You were always on my mind
You were always on my mind
Blue Eyes Crying in the Rain
Written by songwriter Fred Rose. Originally performed by Roy Acuff, the song was later recorded by Willie Nelson as part of his 1975 album Red Headed Stranger.
In the twilight glow I see them
Blue eyes cryin' in the rain
When we kissed goodbye and parted
I knew we'd never meet again

Love is like a dyin' ember
Only memories remain
Through the ages I'll remember
Blue eyes cryin' in the rain

–
Angel Flying Too Close to the Ground
A 1981 single from the film Honeysuckle Rose. "Angel Flying Too Close to the Ground" was written and performed by Willie Nelson. The single was Willie Nelson's seventh number one on the country chart as a solo artist and stayed at number one for one week and spent a total of fourteen weeks on the country chart.
If you had not have fallen
Then I would not have found you
Angel flying too close to the ground
And I patched up your broken wing and hung around a while
Trying to keep your spirits up and your fever down

–
On the Road Again
Written by Willie Nelson.
The song, about life on tour, came about when the executive producer of the film Honeysuckle Rose approached Nelson about writing the song for the film's soundtrack. "On the Road Again" became Nelson's 9th Country & Western No. 1 hit overall (6th as a solo recording act) in November 1980, and became one of Nelson's most recognisable tunes.
On the road again
Just can't wait to get on the road again
The life I love is making music with my friends

And I can't wait to get on the road again
On the road again
–
Whiskey River
Co-written and recorded by American country music singer Johnny Bush. He released the song in 1972 through RCA Victor and included it on his album Whiskey River. 
Whiskey river, take my mind
Don't let her memory torture me
Whiskey river, don't run dry
You're all I got, take care of me
–
Lovin' Her Was Easier (Than Anything I'll Ever Do Again)
Written, composed, first recorded, and first released by Kris Kristofferson.
Willie Nelson and Dyan Cannon recorded the song as "Loving Her Was Easier (Than Anything I'll Ever Do Again)" for film "Honeysuckle Rose"
I have seen the morning burning golden on the mountain in the skies
Aching with the feeling of the freedom of an eagle when she flies
Turning on the world, the way she smiled upon my soul as I lay dying
Healing as the colors in the sunshine and the shadows of her eyes
Loving her was easier than anything I'll ever do again
–
Time of the Preacher
Written by Nelson for his brilliant 1975 album "Red Headed Stranger".
It was a time of the preacher
When the story began
Of the choice of a lady
And the love of a man
How he loved her so dearly
He went out of his mind
When she left him for someone
That she'd left behind
And he cried like a baby
And he screamed like a panther
In the middle of the night
And he saddled his pony
And he went for a ride
It was a time of the preacher
In the year of O-one
Now the preachin' is over
And the lesson's begun
–
Seven Spanish Angels
Written by Troy Seals and Eddie Setser, and recorded by American country music artist Willie Nelson as a duet with Ray Charles. It was released in November 1984 as the first single from the album Half Nelson. "Seven Spanish Angels" was the most successful of Ray Charles' eight hits on the country chart. The single spent one week at number one and a total of twelve weeks on the country chart.
She reached down and picked the gun up,
That lay smokin' in his hand.
Said, "Father please forgive me,
I can't make it without my man."
And she knew the gun was empty,
And she knew she couldn't win.
But her final prayer was answered,
When the rifles fired again.
–
Bloody Mary Morning
Nelson wrote the song inspired by his struggles to become a "better parent". It was originally released in the 1970 RCA Records release Both Sides Now.
Well, it's a bloody Mary morning
Baby left me without warning
Sometime in the night
So I'm flyin' down to Houston
Forgetting her's the nature of my flight
–
Night Life
Nelson was inspired to write the song during one of his trips from his home in Pasadena, Texas, to his work, singing at the Esquire Ballroom in Houston.
When the evening sun goes down you will find me hanging round
Oh the night life ain't no good life but it's my life
Many people just like me dreaming of old used-to-be
Oh the night life ain't no good life but it's my life
–
Spotify playlist:
Sources
Facts from wikipedia
Videos from youtube
Spotify playlist from my spotify account
-Egil