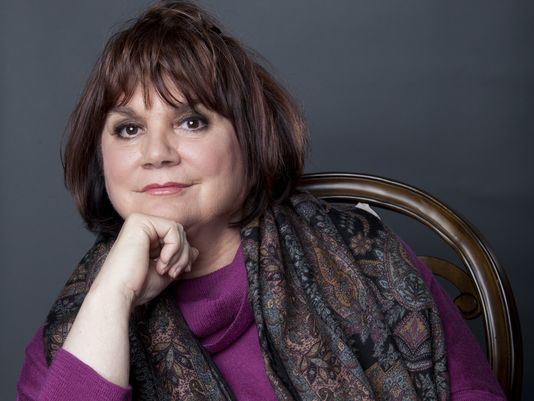 [vc_row][vc_column][vc_message message_box_color="mulled_wine" icon_fontawesome="fa fa-quote-left"]I have always believed that one learns more from failure than from success.
~Linda Ronstadt, Simple Dreams: A Musical Memoir
The essential elements of singing are voice, musicianship, and story. It is the rare artist that has all three in abundance.
~Linda Ronstadt
Ronstadt is Blessed with arguably the most sterling set of pipes of her generation … rarest of rarities – a chameleon who can blend into any background yet remain boldly distinctive … It's an exceptional gift; one shared by few others.
~Christopher Loudon (Jazz Times, 2004)[/vc_message][/vc_column][/vc_row]
Ronstadt was inducted into the Rock and Roll Hall of Fame in April 2014.
Part 1

Part 2

Wikipedia:
Linda Maria Ronstadt (born July 15, 1946) is an American popular music singer. She has earned 11 Grammy Awards, three American Music Awards, two Academy of Country Music awards, an Emmy Award, an ALMA Award, and numerous United States and internationally certified gold, platinum and multiplatinum albums. She has also earned nominations for a Tony Award and a Golden Globe award.
Ronstadt has collaborated with artists from a diverse spectrum of genres including Bette Midler, Billy Eckstine, Frank Zappa, Rosemary Clooney, Flaco Jiménez,Philip Glass, Warren Zevon, Emmylou Harris, Gram Parsons, Dolly Parton, Neil Young, Johnny Cash, and Nelson Riddle. She has lent her voice to over 120 albums and has sold more than 100 million records, making her one of the world's best-selling artists of all time. 
In total, she has released over 30 studio albums and 15 compilation or greatest hits albums. Ronstadt charted 38 Billboard Hot 100 singles, with 21 reaching the top 40, 10 in the top 10, three at number 2, and "You're No Good" at number 1. This success did not translate to the UK, with only her single "Blue Bayou" reaching the UK Top 40. Her duet with Aaron Neville, "Don't Know Much", peaked at number 2 in December 1989. In addition, she has charted 36 albums, 10 top-10 albums and three number 1 albums on the Billboard Pop Album Chart.
[vc_row][vc_column][vc_message message_box_color="mulled_wine" icon_fontawesome="fa fa-quote-left"]Everybody has their own level of doing their music. … Mine just happened to resonate over the years, in one way and another, with a significant enough number of people so that I could do it professionally.
~Linda Ronstadt
Music is meant to lighten your load. By singing it … you release (the sadness). And release yourself … an exercise in exorcism. … You exorcise that emotion … and diminish sadness and feel joy.
~Linda Ronstadt
Your musical soul is like facets of a jewel, and you stick out one facet at a time … (and) I tend to work real hard on whatever it is I do, to get it up to speed, up to a professional level. I tend to bury myself in one thing for years at a time.
~Linda Ronstadt[/vc_message][/vc_column][/vc_row]
Selected list of career achievements
On April 10, 2014, Linda Ronstadt was inducted into the Rock and Roll Hall of Fame
As of 2015, Ronstadt has earned three number 1 pop albums, ten top-ten pop albums and 37 charting pop albums on the Billboard Pop Album Charts. On the Billboard Top Country Albums chart, she has charted 15 albums, including four that hit number 1.
Also as of 2015, Ronstadt's singles have earned her a number 1 hit and three number 2 hits on the Billboard Hot 100 chart (with ten top-ten pop singles and twenty-one reaching the "Top 40"). Additionally she has scored two number 1 hits on the Billboard Hot Country Songs chart, and two number 1 hits and on the Billboard Adult Contemporary chart.
She has recorded and released well over 30 studio albums and has made guest appearances on an estimated 120 other albums. Her guest appearances included the classical minimalist Philip Glass's album Songs from Liquid Days, a hit classical record with other major pop stars either singing or writing lyrics. She also appeared on Glass's follow-up recording 1000 Airplanes on the Roof. She appeared onPaul Simon's Graceland, where she sang second voice on a song of Simon's called "Under African Skies" – a song which it appears has a verse dedicated to Ronstadt, to her amazing voice and harmonies, and to her birth in Tucson, Arizona. She voiced herself in The Simpsons episode "Mr. Plow" and sang a duet "Funny How Time Slips Away" with Homer Simpson on The Yellow Album. Ronstadt has also recorded on albums with Billy Eckstine, Emmylou Harris, the Chieftains, Dolly Parton, Neil Young, J. D. Souther, Gram Parsons, Bette Midler, Nitty Gritty Dirt Band, Earl Scruggs, the Eagles, Andrew Gold,Wendy Waldman, Hoyt Axton, Kate and Anna McGarrigle, Ann Savoy, Karla Bonoff, James Taylor, Valerie Carter, Warren Zevon, Maria Muldaur, Randy Newman, Nicolette Larson, the Seldom Scene,Rosemary Clooney, Aaron Neville, Rodney Crowell, Hearts and Flowers, Laurie Lewis, and Flaco Jiménez.
Her three biggest-selling studio albums to date are her 1977 release Simple Dreams, 1983's What's New, and 1989's Cry Like A Rainstorm, Howl Like The Wind, each one certified by the Recording Industry Association of America for over three million copies sold. Her highest-selling album to date is the 1976 compilation Greatest Hits, certified for over seven million units sold in 2001.
Ronstadt became music's first major touring female artist, selling out major venues, and she also became the top-grossing solo female concert artist for the 1970s.

 

Ronstadt remained a highly successful touring artist into the 1990s at which time she decided to "scale back" to smaller venues.
Cashbox magazine – fierce competition to Billboard in the 1970s – named Ronstadt the "#1 Female Artist of the Decade".
Her RIAA certification (audits paid for by record companies or artist for promotion) tally as of 2001, totaled 19 Gold, 14 Platinum and 7 Multi-Platinum albums.
Ronstadt's album sales have not been certified since 2001, and at the time, Ronstadt's U.S. album sales were certified by the Recording Industry Association of America at over 30 million albums sold, while Peter Asher, her former producer and manager, placed her total U.S. album sales at over 45 million.

 

Likewise, her worldwide albums sales are in excess of 100 million albums sold, according to the former president of Warner Bros. Records, Joe Smith, now member in the jury of the hitparade hall of fame.
She was the first female in music history to score three consecutive platinum albums and ultimately racked up a total of eight consecutive platinum albums.
Her album Living in the USA was the first album by any recording act in U.S. music history to ship double platinum (over two million advanced copies).
Her first Latin release, the all-Spanish 1987 album, Canciones De Mi Padre stands as the best-selling non-English-language album in U.S. music history. As of 2013, it has sold over 2½ million U.S. copies.
Ronstadt has served as record producer on various albums from musicians from her cousin David Lindley to Aaron Neville to singer-songwriter Jimmy Webb.

 

She produced Cristal – Glass Music Through the Ages, an album of classical music using glass instruments with Dennis James, and Ronstadt singing on several of the arrangements. In 1999, Ronstadt also produced the Grammy Award winning Trio II.
She has received a total of 27 Grammy Award nominations in various fields from rock, country, and pop, to Tropical Latin, and has won 11 Grammy Awards in fields including Pop, Country, Tropical Latin, Musical Album for Children, and Mexican-American.
In 2011, Ronstadt was again honored by National Academy of Recording Arts and Sciences with the Lifetime Achievement Grammy.
Ronstadt was the first female solo artist to have two Top 40 singles simultaneously on Billboard magazine's Hot 100: "Blue Bayou" and "It's So Easy" (October 1977). By December, both "Blue Bayou" and "It's So Easy" had climbed into Billboard's Top 5 and remained there for the entire month.
As a singer-songwriter, Ronstadt has also written songs covered by several artists, such as "Try Me Again", covered by Trisha Yearwood; and "Winter Light", which was co-written and composed with Zbigniew Preisner and Eric Kaz, and covered by Sarah Brightman.
Rolling Stone wrote, a whole generation "but for her, might never have heard the work of Buddy Holly, Chuck Berry, or Elvis Costello."
"Rolling Stone's 500 Greatest Albums of All Time" included Heart Like a Wheel (1974) at number 164 and The Very Best Of Linda Ronstadt (2002) at number 324. The 2012 revision kept only the compilation, but raised it to the place once occupied by Heart Like a Wheel.
In 1999, Ronstadt ranked number 21 in VH1's 100 Greatest Women of Rock & Roll. Three years later, she ranked number 40 in CMT's 40 Greatest Women in Country Music.
2016: Grammy – Lifetime Achievement Award
–
Full Concert – 12/06/75 – Capitol Theatre
0:00:00 – Colorado
0:05:46 – That'll Be The Day
0:08:12 – Love Has No Pride
0:12:49 – Silver Threads And Golden Needles
0:15:32 – Willin'
0:19:14 – Many Rivers to Cross
0:23:29 – It Doesn't Matter Anymore
0:28:08 – When Will I Be Loved
0:31:08 – Lose Again
0:35:00 – Faithless Love
0:38:51 – Roll Um Easy
0:42:00 – Hey Mister That's Me Up On The Jukebox
0:46:38 – I Can' Help It (If I'm Still In Love With You)
0:49:20 – Desperado
0:52:47 – Love Is A Rose
0:55:09 – You're No Good
0:59:26 – Heat Wave
1:02:18 – Rivers Of Babylon
1:03:39 – Heart Like A Wheel
Check out:
[vc_btn title="Alldylan /borntolisten.com @ Facebook" color="blue" i_icon_fontawesome="fa fa-facebook-official" add_icon="true" link="url:https%3A%2F%2Fwww.facebook.com%2FJohannasVisions%2F||target:%20_blank|"]
-Egil