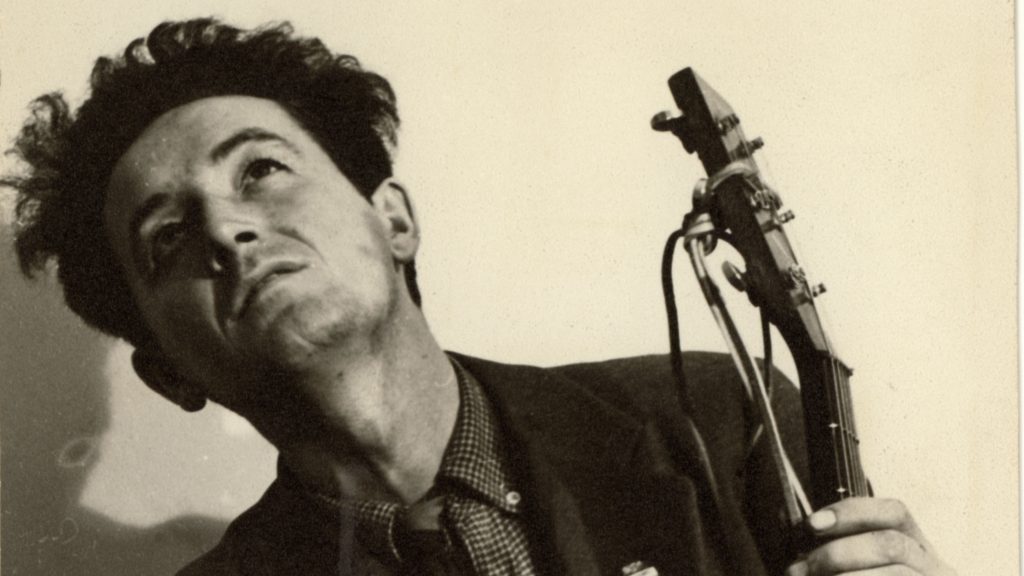 From Wikipedia:
Woodrow Wilson "Woody" Guthrie (July 14, 1912 – October 3, 1967) was an American singer-songwriter and folk musician whose musical legacy includes hundreds of political, traditional and children's songs, ballads and improvised works. He frequently performed with the slogan This Machine Kills Fascists displayed on his guitar. His best-known song is "This Land Is Your Land." Many of his recorded songs are archived in the Library of Congress. Such songwriters as Bob Dylan, Phil Ochs, Bruce Springsteen, John Mellencamp, Pete Seeger, Joe Strummer, Billy Bragg, Jeff Tweedy and Tom Paxton have acknowledged Guthrie as a major influence.
"…he paved the way for Bob Dylan, Bruce Springsteen and a host of other folk and rock songwriters who have been moved by conscience to share experiences and voice opinions in a forthright manner."
– Rock'n Roll Hall of Fame
BBC Documentary on the life of Woody Guthrie, the travelling songwriter and singer who paved the way for the likes of Bob Dylan and Bruce Springsteen, this is great stuff! :

Guthrie traveled with migrant workers from Oklahoma to California and learned traditional folk and blues songs. Many of his songs are about his experiences in the Dust Bowl era during the Great Depression, earning him the nickname the "Dust Bowl Troubadour." Throughout his life Guthrie was associated with United States communist groups, though he was seemingly not a member of any.
"I think that, of Woody's thousands of songs and verses, quite a large number are going to outlive this century, and this is a rare thing for a songwriter…I think maybe several dozen of Woody's songs are going to be sung by my grandchildren and their grandchildren. What better kind of immortality could a man have?"
– Pete Seeger
(some) Posthumous honors
in 1988 he was inducted into the Rock and Roll Hall of Fame
in 2000 he was honored with the Grammy Lifetime Achievement Award
in 1987 "Roll On Columbia" was chosen as the official Washington State Folk Song
in 2001 Guthrie's "Oklahoma Hills" was chosen to be the official state folk song of Oklahoma
On July 10, 2012, Smithsonian Folkways released the Woody at 100: The Woody Guthrie Centennial Collection, a 150-page large-format book with three CDs containing 57 tracks. The set also contains 21 previously unreleased performances and six never before released original songs, including Woody's first known—and recently discovered—recordings from 1937.
This Land is Your Land:

Album of the day:

I really like the movie Bound for Glory, it is maybe not the most factual rendition of Guthrie's life, but I believe it captures the spirit, the essence of what he was about. Take some time and seek out this buried treasure from American film history, here is the trailer:
– Hallgeir & Egil