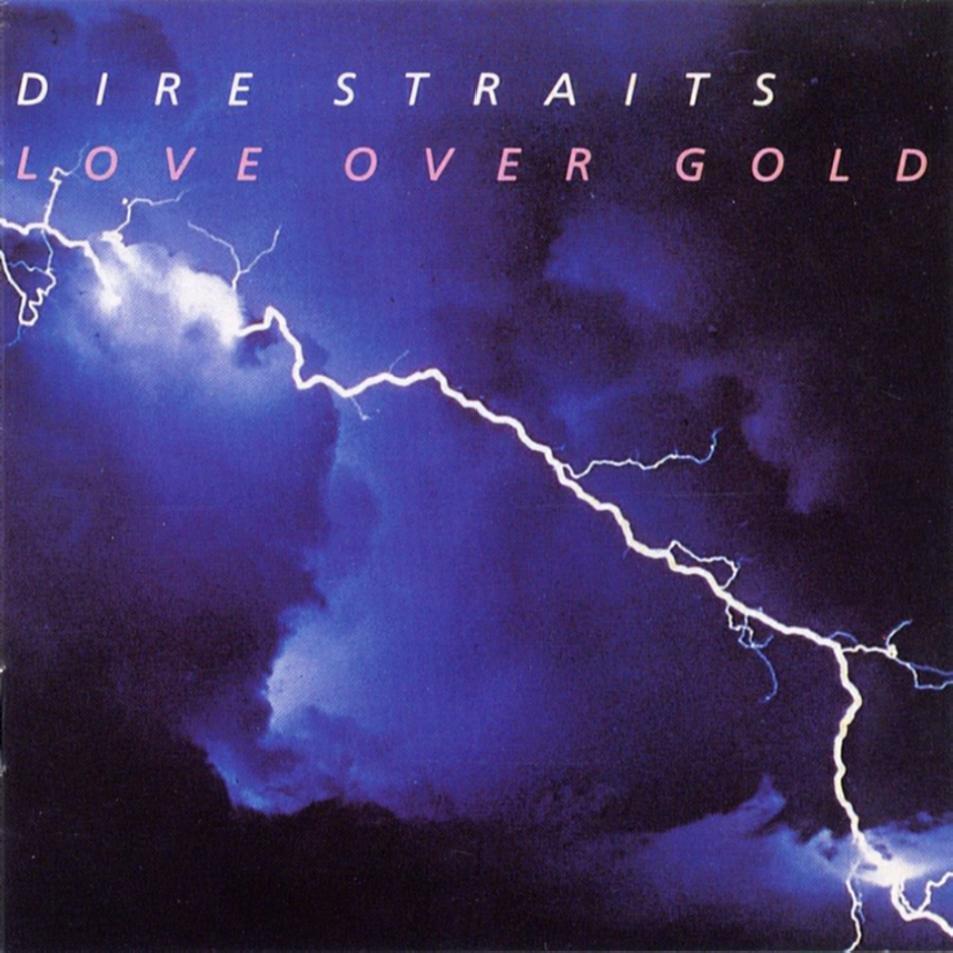 Love over Gold is the fourth studio album by Dire Straits, released on 20 September 1982 by Vertigo Records internationally and by Warner Bros. Records in the United States. The album featured two singles: "Private Investigations," which reached No. 2 on the UK Singles Chart, and "Industrial Disease," which reached No. 9 on Billboard's Hot Mainstream Rock Tracks chart in the United States. The album reached number one on album charts in Australia, Austria, Italy, New Zealand, Norway and the United Kingdom, and No. 19 in the United States. Love over Gold was later certified gold in the United States, platinum in France and Germany and double-platinum in Canada and the United Kingdom.
I would rate a few Dire Straits albums above this, but it is an album that has played a lot on my old turntable! I got it on vinyl the week it was released, like all other record-collecting Norwegians(…at least it felt that way.)
Telegraph Road (The Alchemy Tour, 1983):

"Adding a new rhythm guitarist, Dire Straits expands its sounds and ambitions on the sprawling Love Over Gold. In a sense, the album is their prog rock effort, containing only five songs, including the 14-minute opener "Telegraph Road." Since Mark Knopfler is a skilled, tasteful guitarist, he can sustain interest even throughout the languid stretches…"
– Thomas Erlewine (Allmusic)
Private investigations — Dire Straits, 1986, Sydney:

"A statement of purpose, an ambitious, sometimes difficult record that is exhilarating in its successes and, at the very least, fascinating in its indulgences.
Two drastically different moods dominate the new album. One is sharp and fiery (like the bolt of lightning on the cover); the other is soft and seductive. That dichotomy is particularly explicit in "Private Investigations," a long, unorthodox ballad in which Knopfler plays a private detective hardened by a life of combing through other people's dirty laundry. Over a discreet synthesizer ring, gurgling marimba and a delicately plucked acoustic guitar, he grumbles into his whisky glass like Bob Dylan in a trench coat: "You get to meet all sorts in this line of work; Treachery and treason, there's always an excuse for it," he recites in a raspy nicotine snarl. Then John Illsley sounds a quiet warning with a stalking bass line before the song erupts in dramatic bursts of guitar gunfire and tragic-sounding piano playing.
This wracking schizophrenia between the heart and the heartless, the loving and the pain, has always informed Knopfler's songs and arrangements. Love Over Gold, however, finds Knopfler casting further than ever for ways to articulate the frustrations that color his romantic streak."
– David Fricke (Rolling Stone Magazine)
Dire Straits:
Alan Clark – synthesizers, piano, organ
John Illsley – bass guitar
Mark Knopfler – vocals, guitar
Hal Lindes – guitar
Pick Withers – drums
Dire Straits – Love over Gold (Spotify):