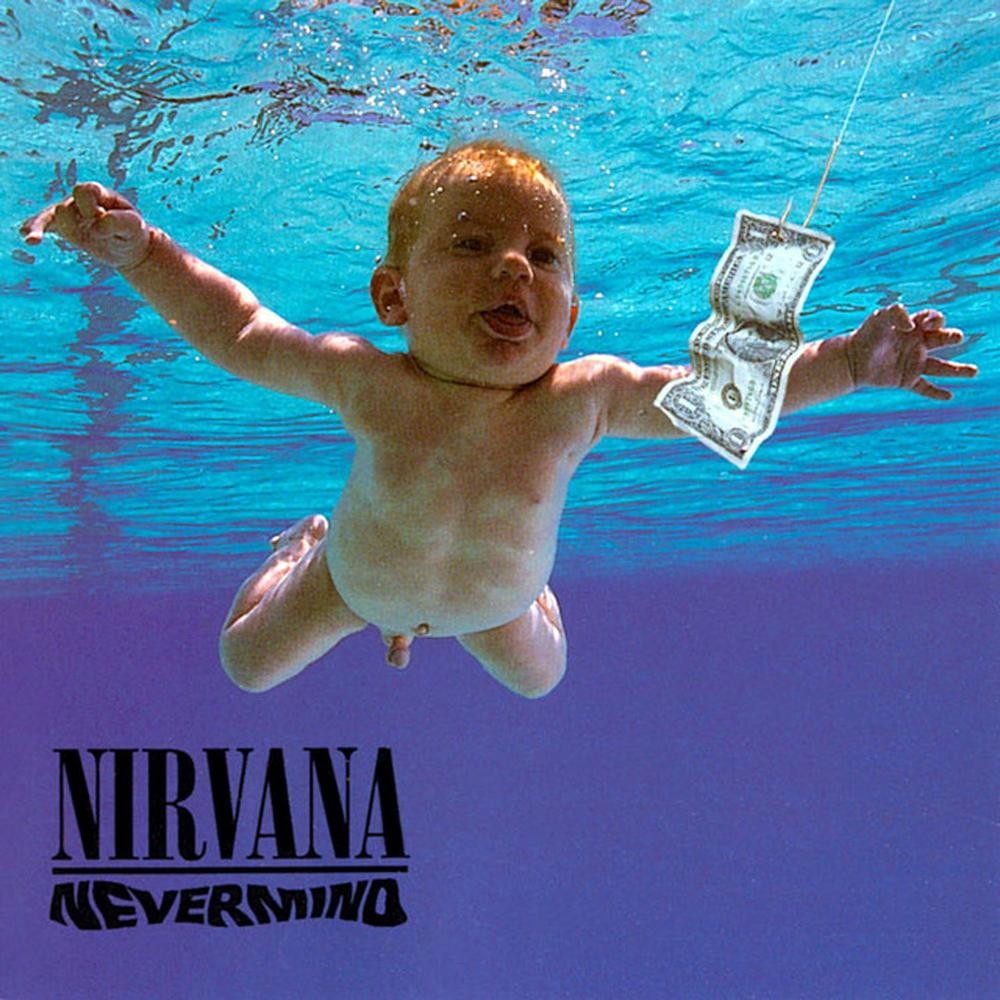 After years of hair-flailing sludge that achieved occasional songform on singles no normal person ever heard, Seattle finally produces some proper postpunk, aptly described by resident genius Kurt Cobain: "Verse, chorus, verse, chorus, solo, bad solo." This is hard rock as the term was understood before metal moved in–the kind of loud, slovenly, tuneful music you think no one will ever work a change on again until the next time it happens, whereupon you wonder why there isn't loads more. It seems so simple.
~Robert Christgau (robertchristgau.com)

Nevermind was never meant to change the world, but you can never predict when the Zeitgeist will hit, and Nirvana's second album turned out to be the place where alternative rock crashed into the mainstream.
~Stephen Thomas Erlewine (allmusic.com)
Smells Like A Teen Spirit:

Nirvana – Nevermind – Classic Album – documentary (youtube playlist):

From Wikipedia:
Released
September 24, 1991
Recorded
May–June 1991 at Sound City Studios, Van Nuys and Devonshire, North Hollywood,California
"Polly" recorded in April 1990 atSmart Studios, Madison, Wisconsin
Genre
Grunge
Length
42:38
Label
DGC
Producer
Butch Vig
Nevermind is the second studio album by the American rock band Nirvana, released on September 24, 1991. Produced by Butch Vig, Nevermind was the group's first release on DGC Records. Frontman Kurt Cobain sought to make music outside the restrictive confines of the Seattle grunge scene, drawing influence from groups such as the Pixies and their use of song volume dynamics.
Despite low commercial expectations by the band and its record label, Nevermind became a surprise success in late 1991, largely due to the popularity of its first single, "Smells Like Teen Spirit". By January 1992, it had replaced Michael Jackson's album Dangerous at number one on the Billboard charts. The album also produced three other charting singles; "Come as You Are", "Lithium" and "In Bloom". The Recording Industry Association of America has certified the album Diamond (over 10 million copies shipped), and the album has sold over 30 million copies worldwide. Nevermind was responsible for bringing alternative rock to a large mainstream audience, and critics subsequently regarded it as one of the best albums of all time.
From allmusic.com – Stephen Thomas Erlewine:
Nevermind was never meant to change the world, but you can never predict when the Zeitgeist will hit, and Nirvana's second album turned out to be the place where alternative rock crashed into the mainstream. This wasn't entirely an accident, either, since Nirvana did sign with a major label, and they did release a record with a shiny surface, no matter how humongous the guitars sounded. And, yes,Nevermind is probably a little shinier than it should be, positively glistening with echo and fuzzbox distortion, especially when compared with the black-and-white murk of Bleach. This doesn't discount the record, since it's not only much harder than any mainstream rock of 1991, its character isn't on the surface, it's in the exhilaratingly raw music and haunting songs. Kurt Cobain's personal problems and subsequent suicide naturally deepen the dark undercurrents, but no matter how much anguish there is on Nevermind, it's bracing because he exorcizes those demons through his evocative wordplay and mangled screams — and because the band has a tremendous, unbridled power that transcends the pain, turning into pure catharsis. … read more @ allmusic.com
Legacy:
Michael Azerrad argued in his Nirvana biography Come as You Are: The Story of Nirvana (1993) that Nevermind marked the emergence of a generation of music fans in their twenties in a climate dominated by the musical tastes of the baby boomer generation that preceded them. Azerrad wrote, "Nevermind came along at exactly the right time. This was music by, for, and about a whole new group of young people who had been overlooked, ignored, or condescended to." 
In its citation placing it at number 17 in its 2003 list of the 500 greatest albums of all time, Rolling Stone said, "No album in recent history had such an overpowering impact on a generation—a nation of teens suddenly turned punk—and such a catastrophic effect on its main creator."
 Time placed Nevermind, which writer Josh Tyrangiel called "the finest album of the 90s", on its 2006 list of "The All-TIME 100 Albums".
Pitchfork named the album the sixth best of the decade, noting that "anyone who hates this record today is just trying to be cool, and needs to be trying harder."
In 2006, readers of Guitar World ranked Nevermind 8th on a list of the 100 Greatest Guitar Recordings.
In 2005, the Library of Congress added Nevermind to the National Recording Registry, which collects "culturally, historically or aesthetically important" sound recordings from the 20th century.
All songs written by Kurt Cobain, except where noted.
"Smells Like Teen Spirit" (Cobain, Dave Grohl, Krist Novoselic) – 5:01
"In Bloom" – 4:14
"Come as You Are" – 3:39
"Breed" – 3:03
"Lithium" – 4:17
"Polly" – 2:57
"Territorial Pissings" (intro lyrics from "Get Together", written by Chet Powers) – 2:22
"Drain You" – 3:43
"Lounge Act" – 2:36
"Stay Away" – 3:32
"On a Plain" – 3:16
"Something in the Way" – 3:55
In Bloom:

–
Lithium:

Album of the day – Nevermind (1991):