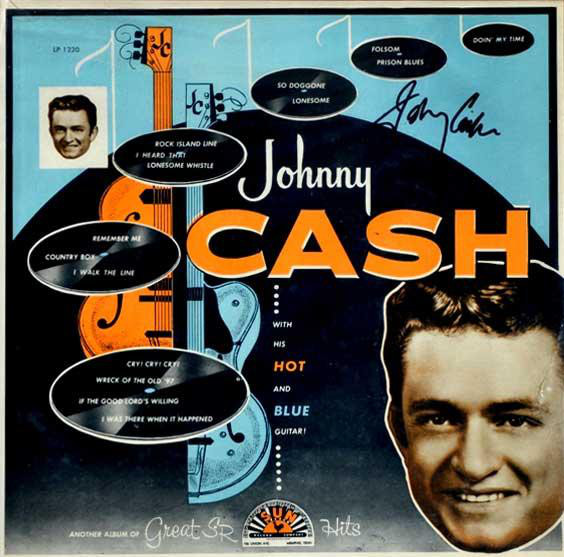 "The first Sun Records artist to release an LP and what a debut it was. An instant pop up country star to go. The song-writing is mature already and they're delivered with an infectious warmth in the vocal. A compelling listen and full of instant career standards like "I Walk The Line", "Cry Cry Cry" and "Folsom Prison Blues"."
– The Jukebox Rebel
Johnny Cash with His Hot and Blue Guitar! is the debut album by Johnny Cash, released on October 11 (wikipedia says October 14, but other sources says October 11), 1957. The album contained four of his hit singles: "I Walk the Line," "Cry! Cry! Cry!," "So Doggone Lonesome," and "Folsom Prison Blues." It was re-issued on July 23, 2002 as an expanded edition, under the label Varese Vintage, containing five bonus tracks, three being alternate versions of tracks already present on the original LP.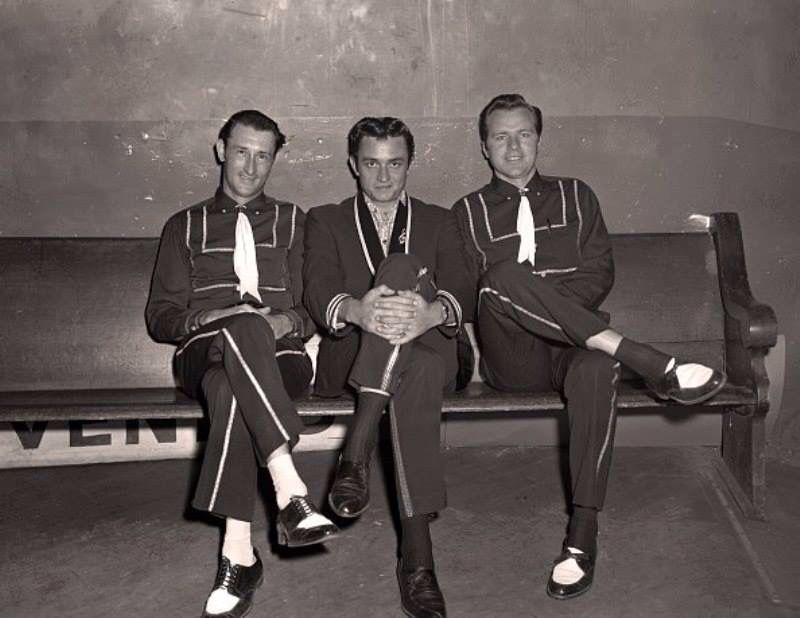 Johnny Cash – Main Performer, Vocals and acoustic guitar
THE TENNESSEE TWO:
Luther Perkins – Electric Guitar
Marshall Grant – Bass
"Johnny Cash's first album, released on Sun in 1957, is a little more folkloric and traditional than what he put on most of his singles, though not pronouncedly so. In fact, four of the tracks ("I Walk the Line," "Cry! Cry! Cry!," "So Doggone Lonesome," and "Folsom Prison Blues") had already been hit singles. For the rest of the set, Cash drew on some older folk ("Rock Island Line," "The Wreck of the Old '97"), country ("[I Heard That] Lonesome Whistle," "Remember Me [I'm the One Who Loves You]"), prison ("Doin' My Time"), and spiritual ("I Was There When It Happened") songs. Filling out the set is a good, rollicking Cash original, "Country Boy," and a rather sassy tune by the young Jerry Reed, "If the Good Lord's Willing." It's a good, solid record…"
– Richie Unterberger/Allmusic
Cash auditioned for a place on the music label Sun Records in 1955, but failed to impress its founder Sam Philips after presenting himself as a gospel singer. Cash was told to come back with a more commercial sound, as gospel wouldn't sell. He returned with the songs "Hey Porter!" and "Cry! Cry! Cry!" and subsequently released them as his debut single on Sun Records in July 1955. On the recording, he was backed by Luther Perkins on guitar and Marshall Grant on bass, dubbed "The Tennessee Two" by Philips.
"The rockabilly backdrop showcases pure youthful exuberance. Cash doesn't just "Walk the Line"; he runs roughshod over it. Aside from his famous At Folsom Prison LP and any of his Greatest Hits collections (take your pick), this might be Cash's most essential album."
– CollinsReviews
TECHNICAL CREW
Sam Phillips – Producer
Cary E. Mansfield – Reissue Producer
Bill Dahl – Liner Notes, Reissue Producer
Dan Hersch – Digital Remastering
Bill Pitzonka – Art Direction