He lived the outlaw lifestyle that others only sang about.
[vc_row][vc_column][vc_message message_box_color="mulled_wine" icon_fontawesome="fa fa-quote-left"]'Cause movin's in my soul, i guess a gypsy boy got a hold
Of somebody in my family long ago
If some night while half asleep you hear the back door softly squeak
You'll touch my empty pillow, then you'll know
That restless wind, is calling me again
– Billy Joe Shaver (from "Restless Wind" (one of his best songs))
«He's a real writer like Hemingway. He's timeless»
– Kris Kristofferson
"Billy Joe was already there before anybody was talking about an outlaw movement"
– Steve Earle
«Billy Joe is unique. One of a kind. They threw away the mold. The best.»
– Robert Duvall
I'm listening to Billy Joe Shaver And i'm reading James Joyce
-Bob Dylan (I Feel a Change Comin' On)[/vc_message][/vc_column][/vc_row]
Restless Wind:

Billy Joe Shaver was one of our greatest "Honky Tonk Heroes".
[vc_row][vc_column][vc_message message_box_color="mulled_wine" icon_fontawesome="fa fa-quote-left"]«Throughout my career as a songwriter, I've just written songs about me – the good and the bad, the funny and the sad….. The songs are my story»
– Billy Joe shaver
«..I've lost part of three fingers, broke my back, suffered a heart attack and a quadruple bypass, had a steel plate put in my neck and 136 stitches in my head, fought drugs and booze, spent the money I had, and buried my wife, son & mother in the span of one year… I'm not proud of my misfortune – I'm proud of my survival»
– Billy Joe Shaver[/vc_message][/vc_column][/vc_row]
From Wikipedia: 
Birth name
Billy Joe Shaver
Birth/Death
August 16, 1939/ October 28, 2021 (age 81)
Origin
Corsicana, Texas, United States
Genres
Country Music
Outlaw Country
Occupations
Singer and Songwriter
Instruments
Acoustic Guitar
Associated acts
Lee Clayton
Jessi Colter
Waylon Jennings
Kris Kristofferson
Willie Nelson
Mickey Newbury
Steve Young
Johnny Cash
Website
www.billyjoeshaver.com
–
From amazon.com: Willie Nelson says "Billy Joe Shaver may be the best songwriter alive today," and legions of fans agree that Billy Joe is the real deal. Many describe his songs as pure poetry. Shaver sings about a life that's been full of hard times, wild living, and a forty-year-long passion for his late wife Brenda. His songs are raw, honest, and so true that people hear the story of their own lives in his music. No wonder, then, that his songs have also been recorded by artists such as Johnny Cash, Willie Nelson, Waylon Jennings, Kris Kristofferson, George Jones, Bob Dylan, Elvis Presley, Patty Loveless, John Anderson, Tom T. Hall, the Allman Brothers, the Oak Ridge Boys, and Tex Ritter.
From Wikipedia:
Shaver was born in Corsicana, Texas, United States, and raised by his mother, Victory Watson Shaver, his father Virgil having left the family before Billy Joe was born. Until he was 12, he spent a great deal of time with his grandmother in Corsicana so that his mother could work in Waco. He sometimes accompanied his mother to her job at a local nightclub, where he began to be exposed to country music.
Shaver's mother remarried about the time that his grandmother died, so he and his older sister Patricia moved in with their mother and new stepfather. Shaver left school after the eighth grade to help his uncles pick cotton, but occasionally returned to school to play sports.
Shaver joined the U.S. Navy on his seventeenth birthday. Upon his discharge, he worked a series of dead-end jobs, including trying to be a rodeo cowboy. About this time, he met and married Brenda Joyce Tindell. They had one son, John Edwin, known as Eddy, who was born in 1962. The two divorced and remarried several times.
Shaver took a job at a lumber mill to make ends meet. One day his right hand (his dominant hand) became caught in the machinery, and he lost the better part of two fingers and contracted a serious infection. He eventually recovered, and taught himself to play the guitar without those missing fingers.
Shaver lost two fingers in a sawmill accident when he was young.
Shaver set out to hitchhike to Los Angeles, California. He could not get a ride west, so he went to the other side of the highway and headed east, accompanying a man who dropped him off just outside Memphis, Tennessee. The next ride brought him to Nashville, where he found a job as a songwriter for $50 per week. His work came to the attention of Waylon Jennings, who filled most of his album Honky Tonk Heroes with Shaver's songs. Other artists, including Elvis Presley and Kris Kristofferson, began to record Shaver's music. This led to his own record deal.
The first few recording companies he signed with soon folded. He was never able to gain widespread recognition as a singer, although he never stopped recording his own music. On his records, he has been accompanied by other major rock and country music musicians like Willie Nelson, Nanci Griffith, Chuck Leavell and Dickey Betts (of the Allman Brothers), Charlie Daniels, Flaco Jiménez, and Al Kooper.
After losing his wife, Brenda, and his mother to cancer in 1999, Shaver lost his son and longtime guitarist Eddy, who died at age 38 of a heroin overdose on December 31, 2000. Folk country artist Todd Snider wrote and dedicated his song Waco Moon to Eddy. Shaver nearly died himself the following year when he had a heart attack on stage during an Independence Day show at Gruene Hall in New Braunfels, Texas. After successful heart surgery, Shaver came back to release Freedom's Child in 2002.
In 1999, Shaver performed at the Grand Ole Opry. In November 2005, he performed on the CMT Outlaws 2005. In 2006, Shaver was inducted in the Texas Country Music Hall of Fame. He later served as spiritual advisor to Texas independent gubernatorial candidate Kinky Friedman. For his efforts, the Americana Music Convention awarded him their Lifetime Achievement Award in Songwriting. He currently lives in Waco, Texas.
Bob Dylan mentioned Shaver in his song "I Feel a Change Comin' On" (Bob Dylan and Robert Hunter) on the album, Together Through Life (2009) – "I'm listening to Billy Joe Shaver, And I'm reading James Joyce". Shaver is also the "hero" of the song, "Wish I Could Write Like Billy Joe" on the album "Stormy Love" by Bugs Henderson.
Shaver sings the themes to the Adult Swim Television show, Squidbillies. The opening themes, collectively called "Warrior Man", are only a stanza long and end with a sotto voce spoken word portion.
Here is Egil's list of Billy Joe Shaver's 15 best songs:
Live Forever
Restless Wind
Georgia on a Fast Train
When The Fallen Angels Fly
Fit To Kill And Going Out In Style
I'm just an old Chunk of Coal
Black Rose
Old Five & Dimers Like Me
Honkey Tonk Heroes
You Asked Me To
Ride Me Down Easy
Highway of Life
Heart of Texas
Willie The Wandering Gypsy and Me
Moonshine & Indian Blood
Some videos from youtube:
Live Forever:

[vc_row][vc_column][vc_message message_box_color="mulled_wine" icon_fontawesome="fa fa-quote-left"]I'm gonna live forever
I'm gonna cross that river
I'm gonna catch tomorrow now
You're gonna wanna hold me
Just like I've always told you
You're gonna miss me when I'm gone
Nobody here will ever find me
But I will always be around
Just like the songs I leave behind me
I'm gonna live forever now
You fathers and you mothers
Be good to one another
Please try to raise your children right
Don't let the darkness take 'em
Don't make 'em feel forsaken
Just lead 'em safely to the light
When this old world is blown us under
And all the stars fall from the sky
Remember someone really loves you
We'll live forever you and I
I'm gonna live forever
I'm gonna cross that river
I'm gonna catch tomorrow now[/vc_message][/vc_column][/vc_row]
Georgia on a Fast Train:

When the Fallen Angels Fly:

Black Rose – GREAT live version (Austin City Limits):

—
Recommended reading:
"Honky Tonk Hero" (Billy Joe Shaver)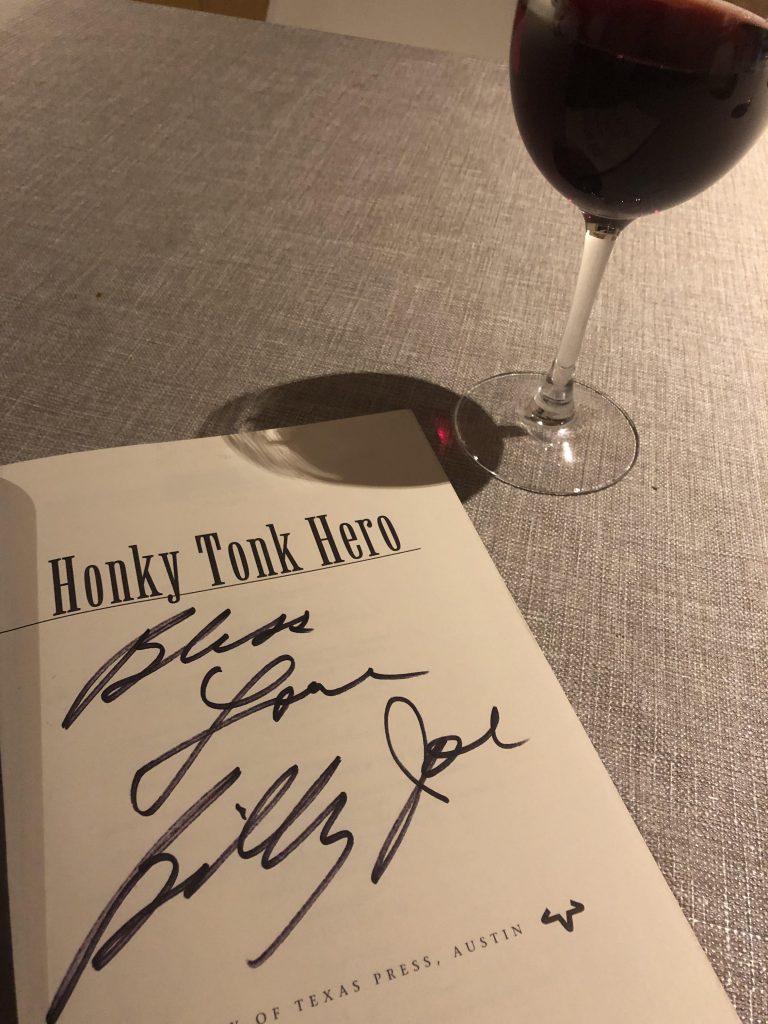 [vc_row][vc_column][vc_separator][vc_btn title="Borntolisten @ Facebook" color="blue" i_icon_fontawesome="fa fa-facebook-official" add_icon="true" link="url:https%3A%2F%2Fwww.facebook.com%2FJohannasVisions%2F||target:%20_blank|"][/vc_column][/vc_row][vc_row][vc_column][vc_message message_box_style="outline" icon_fontawesome="fa fa-link" css_animation="bounceIn"]Check out:
[/vc_message][/vc_column][/vc_row]