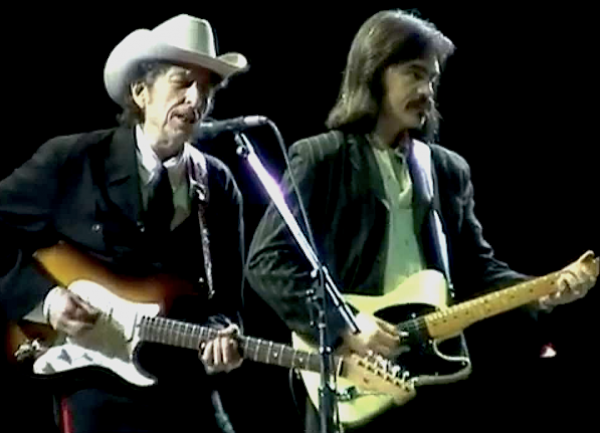 [vc_row][vc_column][vc_message message_box_color="mulled_wine" icon_fontawesome="fa fa-quote-left"]My friend Renée always likes to rush the stage, and find a place in the front row, literally at Bob's feet … she was making a bee-line for her favourite spot, she stopped dead. What the fuck? There, in the middle of the stage, where Bob ought to be, was an electric keyboard.
-Stephen Scobie[/vc_message][/vc_column][/vc_row]
Never ENDING TOUR 2002
Start date
January 31, 2002
End date
November 22, 2002
Legs
3
No. of shows
78 in North America
29 in Europe
–
107 in Total
A year of great cover versions dedicated to the dead and dying. All of these covers came in the last leg of 2002 – US Fall Tour (Oct 5 – Nov 22).
Philips Arena
Atlanta, Georgia
9 February 2002
Bob Dylan (vocal & guitar
Charlie Sexton (guitar)
Larry Campbell (guitar, mandolin, pedal steel guitar & electric slide guitar)
Tony Garnier (bass)
George Recile (drums & percussion).
Lay Lady Lay
[vc_row][vc_column][vc_message message_box_color="mulled_wine" icon_fontawesome="fa fa-quote-left"]Lay lady lay
Lay across my big brass bed
Lay lady lay
Lay across my big brass bed[/vc_message][/vc_column][/vc_row]

Continue reading "Bob Dylan: 5 Brilliant live performances from the year 2002" →